We use affiliate links. If you buy something through the links on this page, we may earn a commission at no cost to you. Learn more.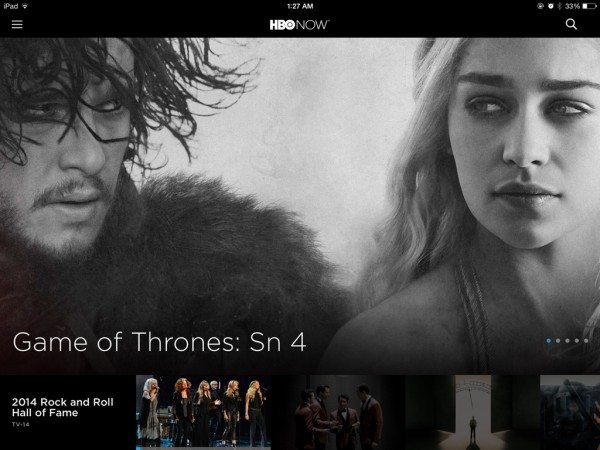 Yesterday we took a quick look at the new HBO Now streaming service on the Apple TV.  With HBO Now, you can access all of HBO's original programming plus a variety of movies without needing an HBO subscription through your cable company.  You only need a broadband connection, and you'll need the iPad connected to the internet via WiFi, of course.  It worked very well with my Apple TV, so today we'll give it a look on the iPad.  I am able to access the programming on both devices from the same user account, but I currently have two Apple TVs and three iPads that I'd like to use to access the programming, so I investigated the help information at HBO Now to see if that was allowed.  They said:  "There is no limit to the number of supported devices you can use with your HBO NOW subscription. However, the number of videos you can watch simultaneously across all your devices is limited for security reasons."  They don't say what that limit is, but I don't think we'd ever be watching more than two shows simultaneously.
Let's see if the HBO Now service works as well on the iPad as on the Apple TV.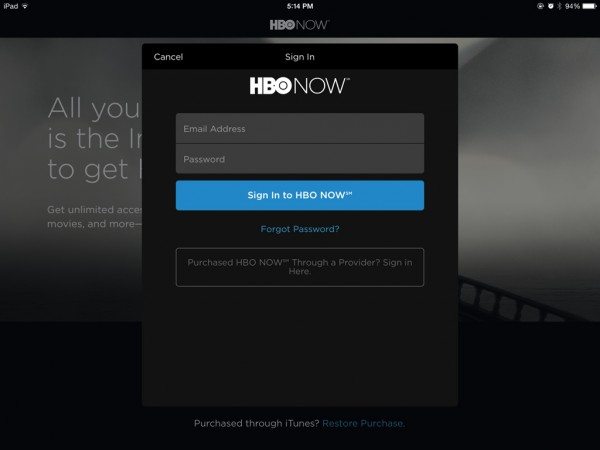 After I downloaded the HBO Now app to my iPad Air 2, I was able to just sign in with my current account.  The top image in this review shows the home screen for the HBO Now app.  It looks different than the home screen on the Apple TV, as you'd expect.  Touch the list icon, seen under the WiFi signal strength icon on the top left, to open up the list of app options.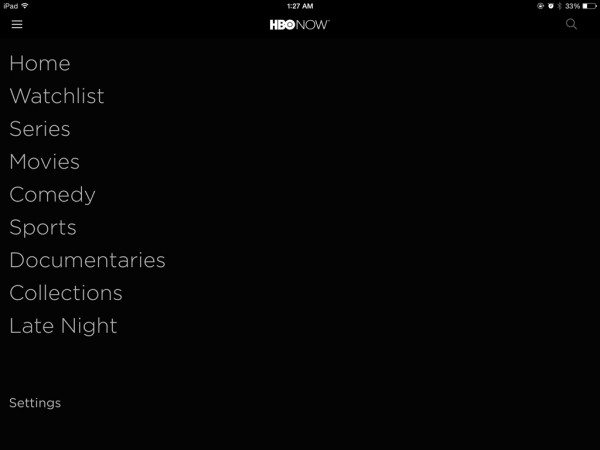 The same options are available in the iOS version of HBO Now as in the Apple TV option.
Again, the Watchlist contains lists of programs you've marked as something you want to watch in the future and a list of programs you've already watched.  If you stopped a program before it finished, you can come to the Watchlist to quickly find and restart the program when you're ready to finish watching it.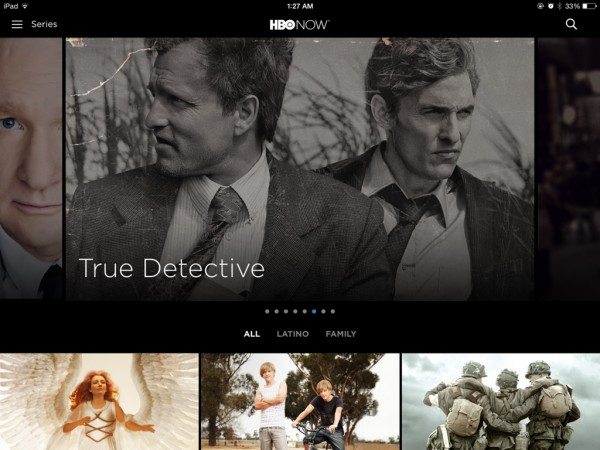 Just like on the Apple TV, the iOS app separates programs into categories.  Series shows the library of HBO original series, including True Detective, The Sopranos, True Blood, etc.  Both the Apple TV and the iOS lists show exactly the same offerings in the "All", "Latino", and "Family" subsets.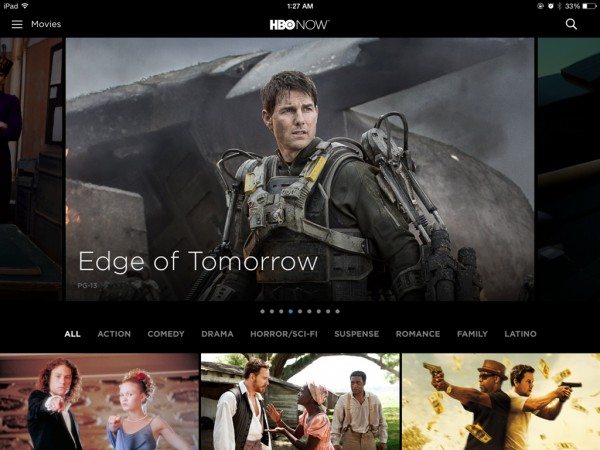 Movies shows the old and new movies that are currently available to watch through HBO Now.  There's a lot of movies in this list, but it's by no means every movie HBO has shown over the years.  I hope this list will periodically be updated with fresh offerings.  These may be the same movies that HBO has available in their standard cable offerings. If so, they should change monthly.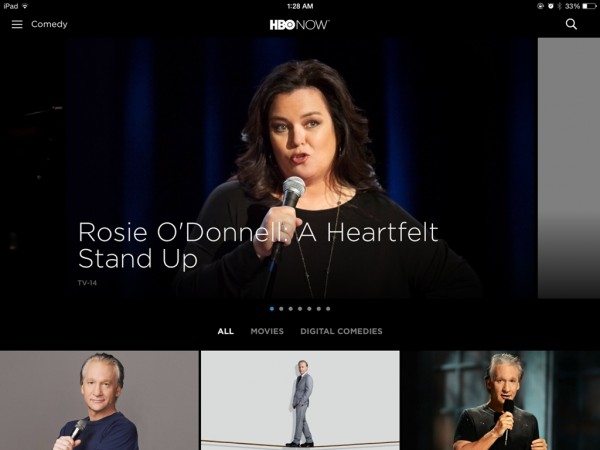 The iOS app doesn't have a More category, like the Apple TV does.  Those sub-categories are in the main list in the iOS app.  Comedy lists the same set of comedy specials that the Apple TV had.  I'm sure it's not a complete list of all of HBO's comedy specials, because I don't see Sinbad's Afros and Bellbottoms, and there's nothing by Robin Williams.  Again, I hope they'll refresh the offerings in this category periodically.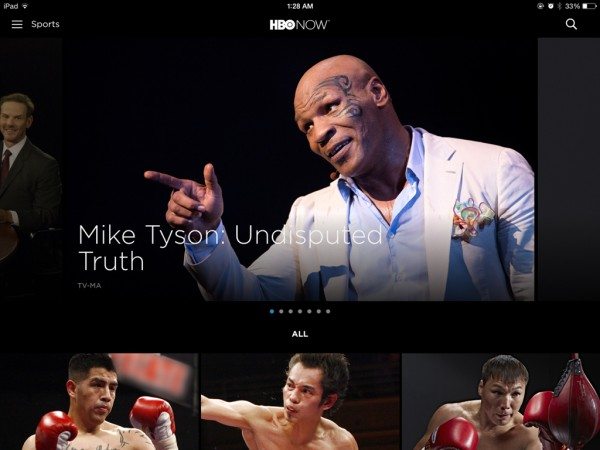 Sports has the same list of dozens of boxing matches and some sports documentaries we saw on the Apple TV.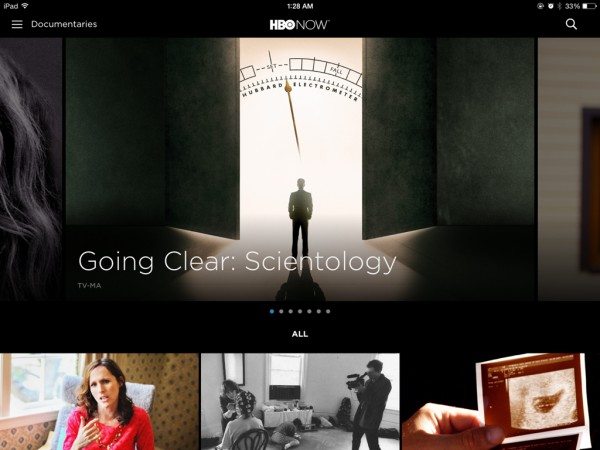 Documentaries has non-sports offerings, including HBO's new Going Clear documentary about the Church of Scientology.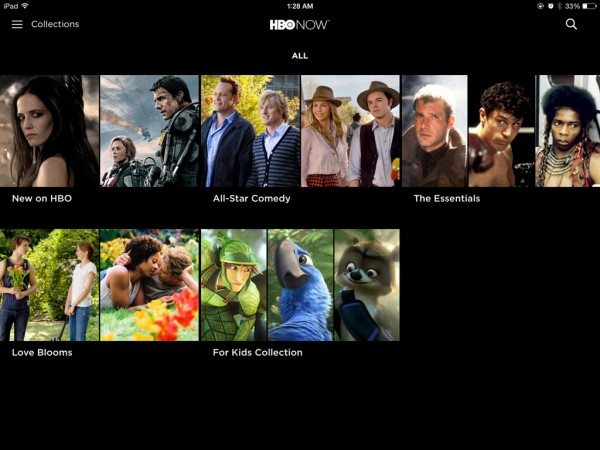 Collections is a location where you can find featured new offerings, a list of "The Essentials" that someone at HBO thinks everyone needs to see, family-friendly offerings, etc.
There's also a Late Night category in the iOS app, but I decided a screen capture here might be offensive to some readers.  Late Night is HBO's adult-oriented programming, like their Taxicab Confessions.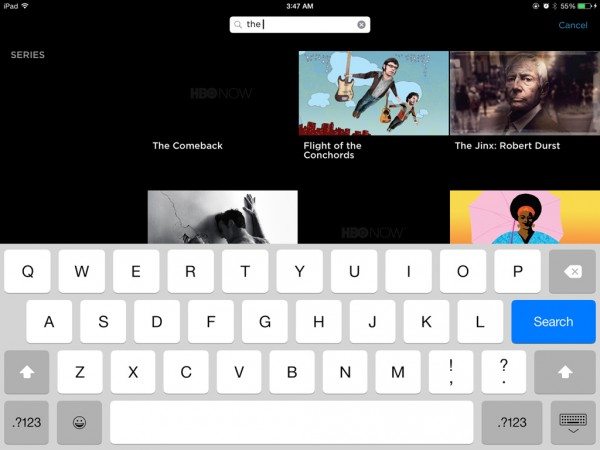 Search is much easier in the iOS app than on the Apple TV.  You don't have to navigate around an alphanumeric matrix using the remote in this app.  Here, you just touch the magnifying glass icon at the top right of all the screens to open up the search function and the on-screen keyboard.  It starts populating a list of possible matches as you type.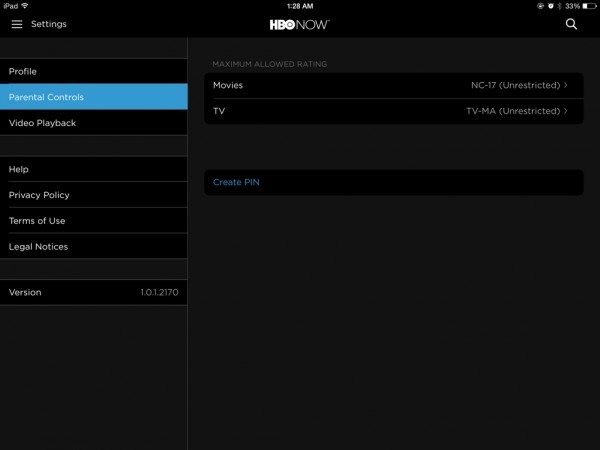 Settings lets you set parental controls to keep your kids from being exposed to programming that you don't want them to watch.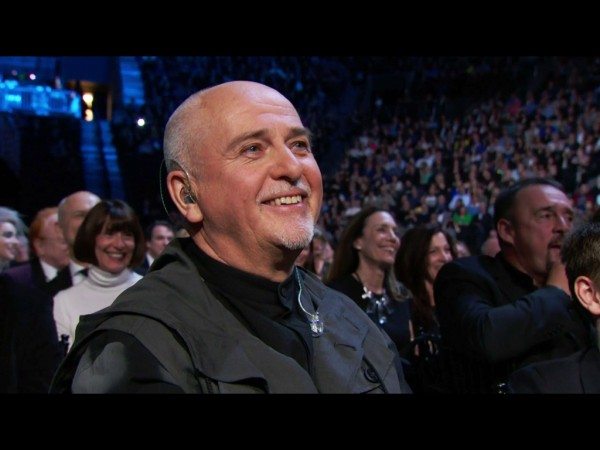 I watched a variety of programs on my iPad Air 2.  Because I never tire of Peter Gabriel's music, I watched part of the 2014 Rock and Roll Hall of Fame inductions again.  I grabbed a screen shot, so you can see that the video is letterboxed on the iPad.  The video is very sharp, clear, and high resolution.  I also watched some of a True Detective episode and snippets of other programs, and the video never glitched, paused, buffered, or pixelated.
Because this and yesterday's post are a review of the same service on two different devices, I thought I'd just reiterate my conclusions from the quick review of HBO Now on Apple TV.  The streaming service works very well on both my Apple TV and on my iPad.  It's easy and enjoyable to watch on my giant HDTV, and it's just as easy and enjoyable to use the app on my iPad Air 2.  My only consideration will be to determine if I like the series and movies offered on HBO Now enough that I'll want to continue the service for $15 per month after my free trial is over.  I would like to know how many programs can be streamed simultaneously from a single account.  Hopefully they'll allow two, so my husband and I can watch something in our living room while our daughter watches something different on either her Apple TV at home or on her computer in her dorm room.  HBO Now does warn that watching multiple programs on the same internet connection could result in reduced video quality.
You can also use the HBO Now app on iPhones and iPod touches, but I'll assume the app will function the same as it does on the iPad, with the only difference being the size of the screen.  You can watch HBO Now programming from a browser on PCs or Mac computers.  You'll need to use IE 10, Chrome 37, Firefox 31, or Safari 7.  You just go to the HBO Now website, log into your account, and you can access all these same features and watch programs on your computer.
At $15 a month, it's a good deal for the cord-cutter who is a big fan of HBO programming.  It won't replace Netflix, which has a bigger selection of movies, TV shows, and other non-HBO programming.  If you've got the money to burn, both HBO Now and Netflix together for less than $30/month could give you access to more programming than you could watch in a month without giving up work and sleep.
Source:  I'm using a free trial for this review.  Anyone with an Apple device or Optimum broadband can also receive the free trial at HBO Now.
Product Information
Price:
$14.99 a month after a 1-month free trial
Manufacturer:
HBO Now
Pros:

Works well with the Apple TV
Video was clear, sharp, and high resolution
Playback was smooth
Access to the entire library of HBO original series and a variety of movies, documentaries, sporting events, etc
Doesn't require an HBO subscription through a cable provider
You only need broadband to receive the service

Cons: