We use affiliate links. If you buy something through the links on this page, we may earn a commission at no cost to you. Learn more.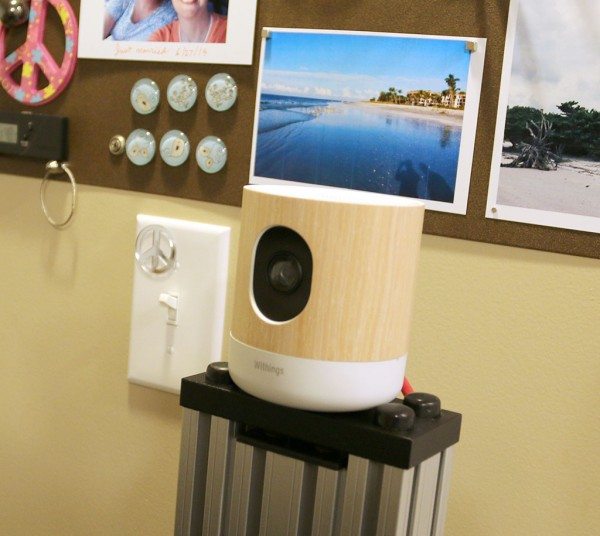 Julie and I have reviewed many Withings living-well products over the years, primarily smart-scales and activity trackers up to this point. Though in the past year, they have expanded their line-up to include baby, sleep, heart, and home products as well. In this case, Withings sent us several of their new high definition surveillance cameras to see if the Home is truly "…the most comprehensive house monitoring solution" as touted by Withings.
Note: Images can be clicked to view a larger size.
Julie's comments will be in black and Dave's will be initialized blue.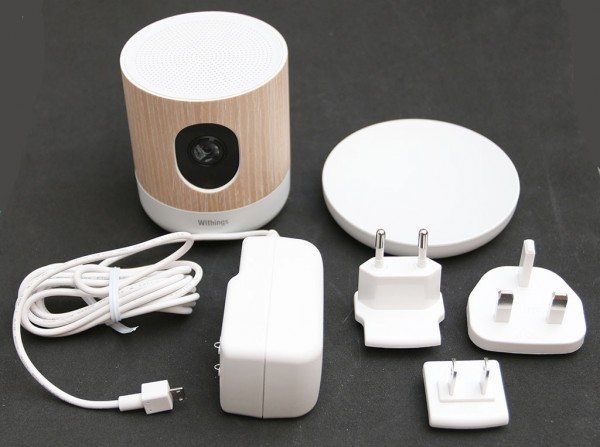 Package contents:
Withings Home HD camera with air quality sensor
AC Power adapter with US, Europe and UK adapters
Magnetic table stand
Quick start guide
Specifications:
Size and Weight
Height: 3.43 inches (87mm) Width: 2.95 inches (75mm) Depth: 2.95 inches (75mm)
Weight: 0.226 kg/0.498 lb
Connectivity
Wi-Fi: WiFi 2×2 MIMO 2,4GHz
Ethernet: 10/100 Mbit/s
Bluetooth: 4.0 (Bluetooth Low Energy)
Security: Secure Socket Layer (SSL) / DTLS end-to-end encryption.
Power: micro USB 5V 2A
 I/O
Camera:

5 MegaPixel CMOS Sensor
Encoding up to 1080p 30 fps
135° (diagonal) field of view – no fish eye
Night vision with IR mechanical filter

Sensors:

Air Quality (Volatile Organic Compound)
Triple axis accelerometer
Ambient light sensor

Audio

2 digital microphones
High quality 2W speaker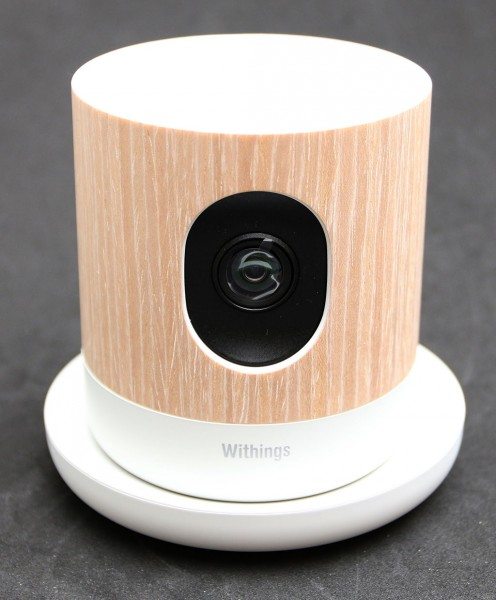 Dave: The Withings Home features a 135° (diagonal) field of view camera and lens setup that allows for (according to Withings) one of the widest fields of view on the market as well as automatic dewarping (aka no fish eye). The Home uses ePTZ-technology which enables you to pan, tilt and zoom in and out of the HD video feed via your smart-device. The Home automatically enhances images immediately after detecting movement to give greater detail.
Julie: Dave and I are both big fans of Dropcam cameras, so I wanted to see if the Withings Home camera might be a better alternative in both video quality and monitoring features. The fact that the Home camera has a 135 degree view had me immediately interested since that's a wider angle than Dropcam's 130 degree view.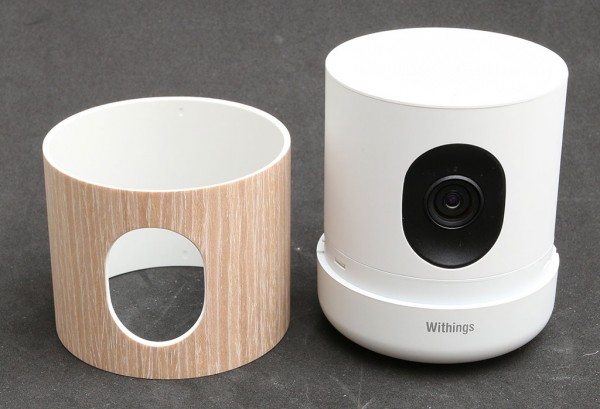 Julie: The camera itself is short, squatty and made of plastic. It has a thin plastic cylinder that can be turned to cover the lens for privacy and offers a way to customize the camera if Withings decides to offer different styles and colors. Right now the cylinder has a light wood grain pattern that should blend in with most homes and offices. Although the stark white may cause it to stick out.
The camera has an ambient light sensor above the lens and a night vision IR LED below it.  The base of the camera functions as a multi-colored night light and status light.
Dave: I agree, the Withings does blend into most home and office settings allowing your surveillance to hopefully go unnoticed (if that is your aim). The build quality of the Home is fine/ solid enough and considering it is meant to be used indoors. It should withstand normal use. Sadly, Withings does not currently have an outdoor camera solution.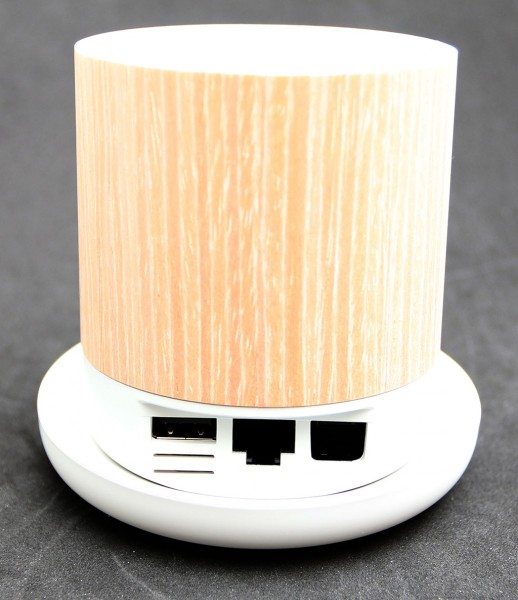 Julie: On the rear of the camera you'll find a USB 2.0 port with an air sensor below it, an Ethernet jack and the power connector. The USB port allows you to charge an iPhone or iPod through the camera. However, it will not charge an iPad.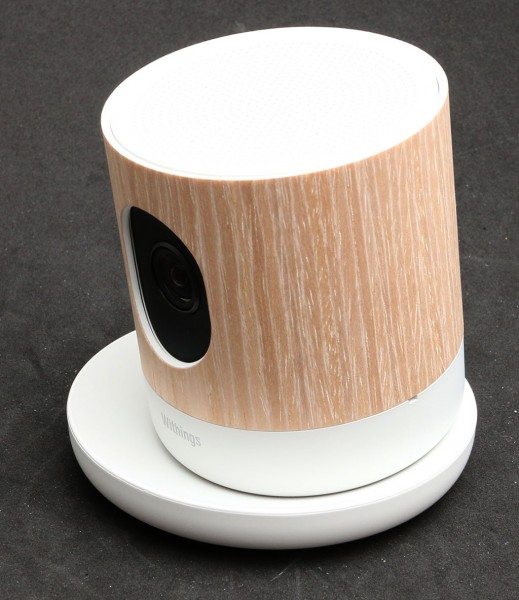 Julie: The Home has two digital microphones, one on each side, with audio echo cancellation and noise reduction technologies. The top of the camera houses a 2W speaker covering frequencies from 300 to 16,000 Hz.
The microphones are supposed to allow you to hear what's going on while you're watching the video stream. The problem is that there is a very bad echo/feedback problem. I noticed it with my test camera and so did Dave with his. Even worse is the fact that there isn't a way to disable the microphones.
Dave: Yes, the echo/feedback problem is REALLY bad especially when you are watching the video in the same space with the camera. Whatever noise there is keeps bouncing back and forth between the speaker of your device and the camera. I would hope/expect Withings to eventually allow you to disable the microphone or at least turn off the sound in the app.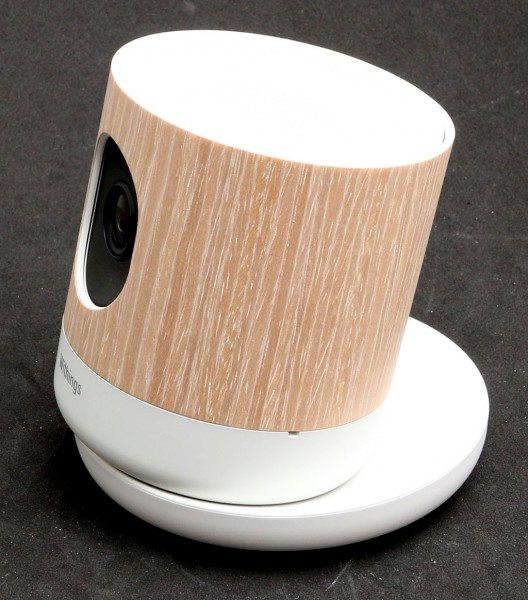 Dave: The parabolic dish-shaped magnetic base is a great design feature, enabling you to easily adjust the camera's orientation and angle.
Julie: I think the magnetic base is kind of dorky. I'd much rather have an attached base. The design of the camera is such that it needs to be placed on a large flat surface. You can't attach it to a wall or narrow windowsill.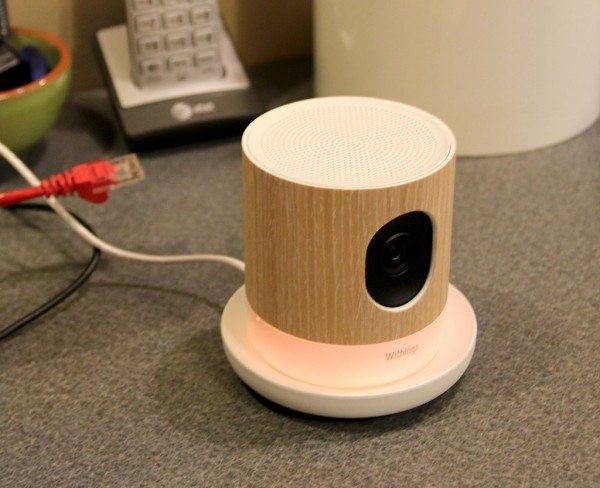 Julie: Setting up the camera is pretty easy (or it's supposed to be). All you do is plug the Home into power using the included power adapter. Download the app on your iOS device (sorry, there's no support for Android yet), make sure Bluetooth is enabled, launch the app and follow the prompts. Setup using an Ethernet cable took less than a minute. It took longer for me to find a lightning cable to charge up my dead iPad mini enough to turn it on than it did to unbox and connect the Withings Home.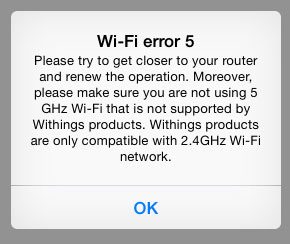 However, I was unable to get the camera to work via WiFi. The app would detect the camera via WiFi but was unable to then work via WiFi. The error kept telling me to get closer to the router, but I was within four feet of it when I was doing my setup. After a little research I then found that the camera is not compatible with the 5Ghz WiFi frequency so I put the 5Ghz connection from my Apple Airport Extreme on a different network name so it would only connect to the 2.4Ghz connection. This did not solve the problem and had no effect. After several tries the error persisted, so I gave up. I thought the camera that was sent to me was defective so they sent me a second one which had the same issue. I'm unsure what is causing the issue with my setup. I've not had problems with other WiFi devices, so it's a mystery.
Dave: I had a much easier time setting up the camera. It connected to both my Asus AC dual band router and 2 yr old Apple Time Capsule in minutes without any hassle. I did not have to tweak any settings along the way. My iPad Air passed all the access info to the camera so I did not even need to remember the passwords to my wireless routers.

Dave: The 5 mega-pixel CMOS sensor/camera produces a quality picture in both normal and low-light conditions.
Julie: The image quality is really good when the image has been optimized on the iPad. What is really impressive to me is that there's little to no distortion, which is a great considering the wide angle lens. But sometimes when you're looking at the live view, it's pixelated and very slow to update. This is probably an issue with the app itself because I've found it to be really buggy.
One cool feature is the time lapse feature that lets you see everything that happened in the last 24hrs. You're supposed to be able to share the video, but I've yet to get that to work which is disappointing.
Air quality feature: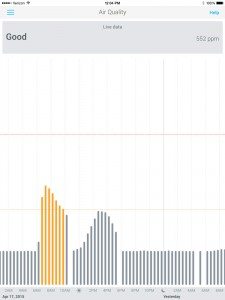 Dave: The air quality feature on the Withings Home measures and records VOC (Volatile Organic Compounds) levels in the ambient air. If VOC levels reach 'unhealthy levels', the Home blinks red and sends a notification to the app on your smart-device.
Julie: So far the air quality in my basement office has been good. I've not seen any yellow bars like you show in your screenshot.
Lullaby feature: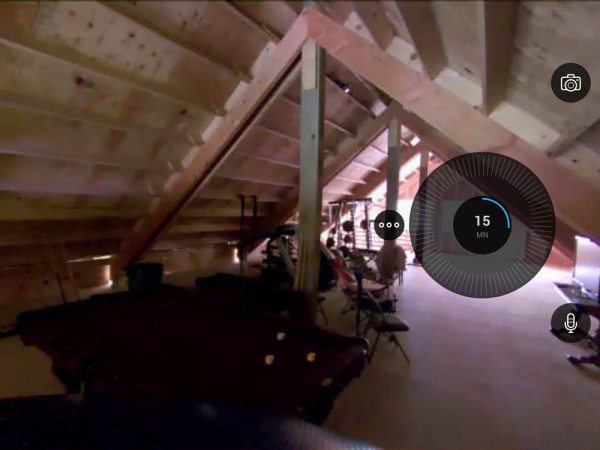 Dave: The lullaby feature enables you to play music from the Home's built-in speaker to help a young child go to sleep. In addition to playing a soothing nighttime melody, the base of the monitor also glows various colors to the music. The app allows you to set a count down timer to play the music for up to 60 minutes.
Julie: Too bad you can't choose from different music or even add your own using the USB port on the back of the camera. As it is, the only tune it plays is Brahms Lullaby.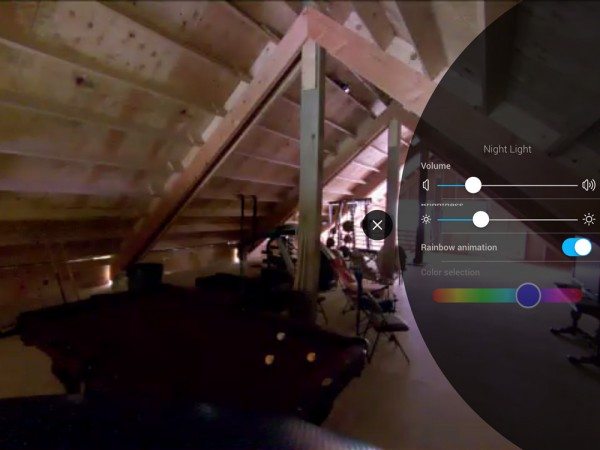 Dave: You are able to control the volume of the music plus the color and intensity of the LED's ambient glow.
Dave: I was not able to get the talk-thru feature working.
Julie: I wasn't able to get the two way communications feature to work either. Honestly, I am really disappointed with the Withings Home camera. It feels like an beta or even an alpha device that has been rushed to market without a lot of testing. There are just too many problems with it including WiFi router compatibility issues, audio feedback/echo issues, no Android or web support and buggy iOS app.
A firmware update for the camera came down today, so I was hoping things would improve before we posted this review, but I really can't tell any difference. The audio feedback problem that I like to call aliens attacking is still there as is the general flakiness of the app.
Dave: Yep, I totally agree…the Withings Home camera feels half-baked and unfinished. The device itself is fine enough with good picture quality. But the iOS app lacks control functionality and there is currently zero Android or web support as Julie said. 
Julie: My advice is to wait awhile before considering the purchase of the Withings Home camera. Hopefully they will fix the issues soon but until they do, it's not worth the hassle.
Source: The sample for this review was provided by Withings. Please visit their site for more info.
Product Information
Price:
$199.95
Manufacturer:
Withings
Requirements:

iOS device, Android app in development

Pros:

Good picture quality
Quick WiFi setup unless you're Julie :o)

Cons:

Currently no support for Android
Currently no web app access
Audio feedback / echo issues
Problems setting up with older Apple Airport Extreme WiFi router
Buggy app