We use affiliate links. If you buy something through the links on this page, we may earn a commission at no cost to you. Learn more.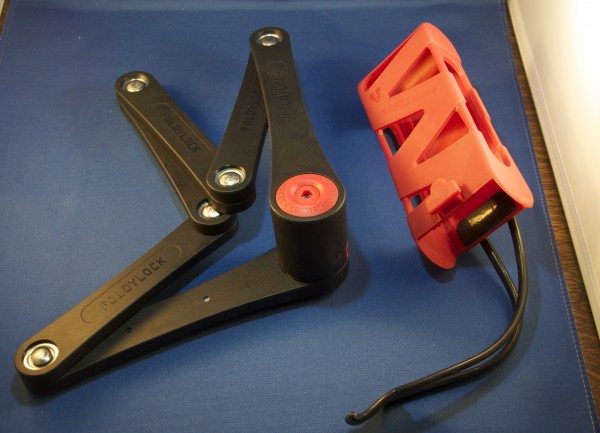 Securing your bike when you're out and about is perhaps the first thing a bike owner has to confront, once they've bought the bike and a helmet. As soon as you arrive at the post office, drugstore, or coffee shop on your first ride, you get off, and realize you'll have to prevent someone else from riding off with your new whip. Usually, this is handled with a chain, a cable, or a Ubolt lock. A new product on the market seeks to blend the flexibility of the chain/cable with the hardened rigidity of the Ubolt. Meet Foldylock.
Note: Photos may be tapped or clicked for a larger image.
First of all, kudos on the name. I laugh to myself every time I say it. OK, what is it? Virtually every biker who secures their bike uses one or both of the two tried-and-true methods of securing their bike while not on it: a locking cable/chain that secures the bike by passing through the bike frame and around something that is stationary or very awkward to carry, or a hardened UBolt that locks around the frame and wheel (and perhaps another object) to make it impossible to roll the bike off. I have a heavy-duty key-locking cable on a holder on my bike currently. (See photo below)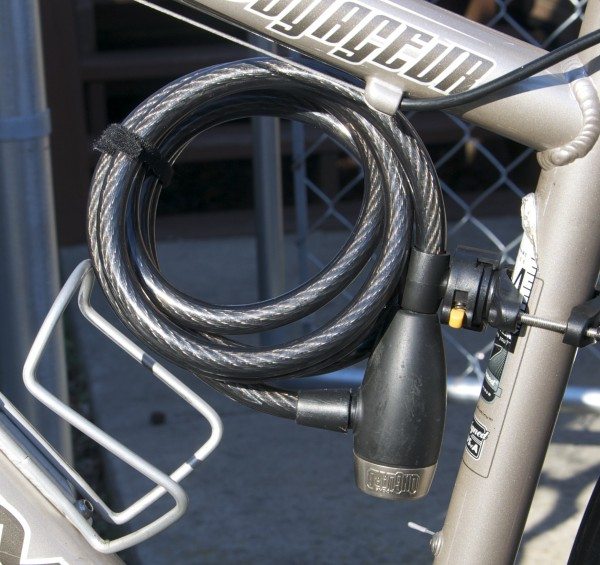 The Foldylock is designed to pass through the frame and (perhaps) other objects, but rather than being a traditional chain or cable, it is made of heavy gauge steel bars hinged together. It is quite a hefty piece of work.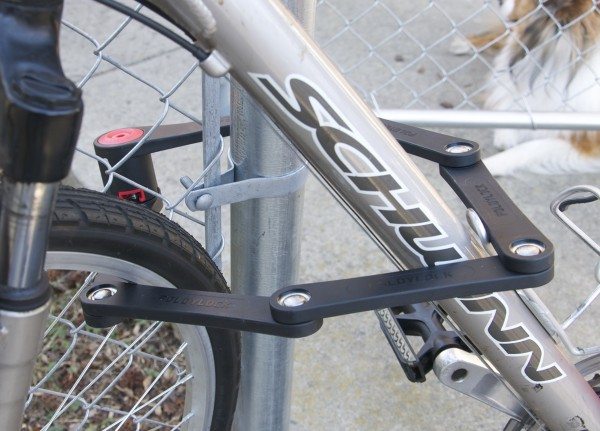 It comes with a plastic holder that attaches to your frame's via the included Velcro™ bands or using the water bottle holder posts. (For those who don't know, there are at least one pair of threaded holes welded into the posts in most modern bikes, set a standard distance apart, for attaching water bottle cages, pumps, or any other accessory inside the frame. Most bikes have one on the vertical post that goes from crank to the seat and another that goes on the bar from crank to the front wheel fork.)
There are 6 sections, a little over 8″ (21 cm) long. They are strongly bolted together, and can only swivel in one plane, so that the while chain unfolds similar to a carpenter's rule. The steel that each section is made from is substantial: bolt cutters or hacksaws are not going to go very far on these. (There are videos on the website. After about a half hour of sawing, they were about .25″ into the side of one of the bars. Bolt cutters didn't even do that much damage.) No one is going to defeat this system easily.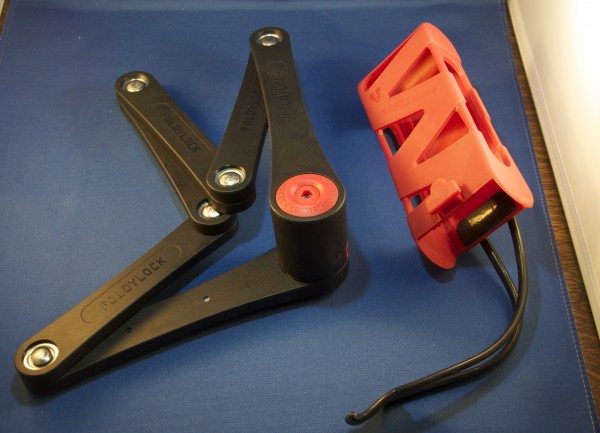 The lock is a brass keyed and weather resistant unit that turns a steel chamber around to allow the free end to pass. When the lock is engaged, the steel chamber again rotates around and prevents "the circle from being broken."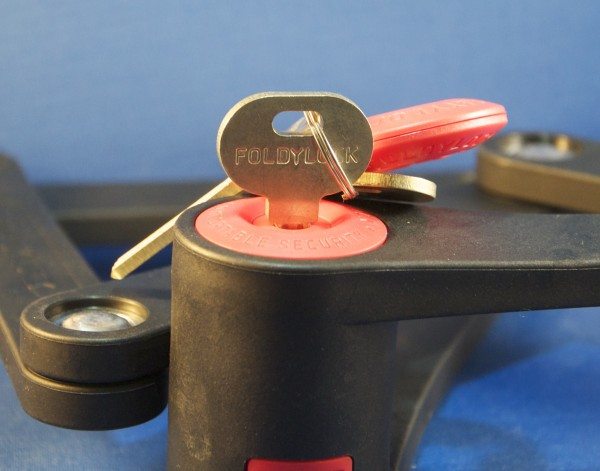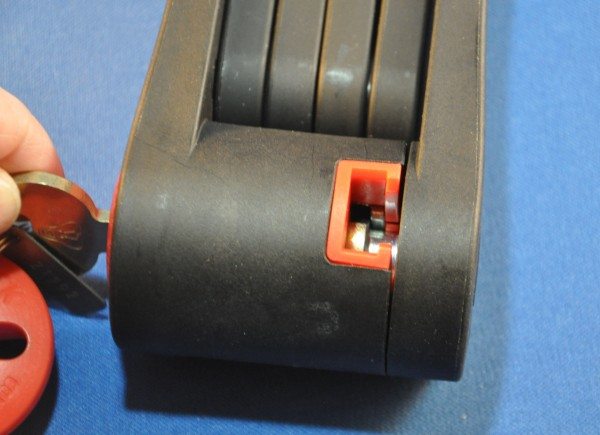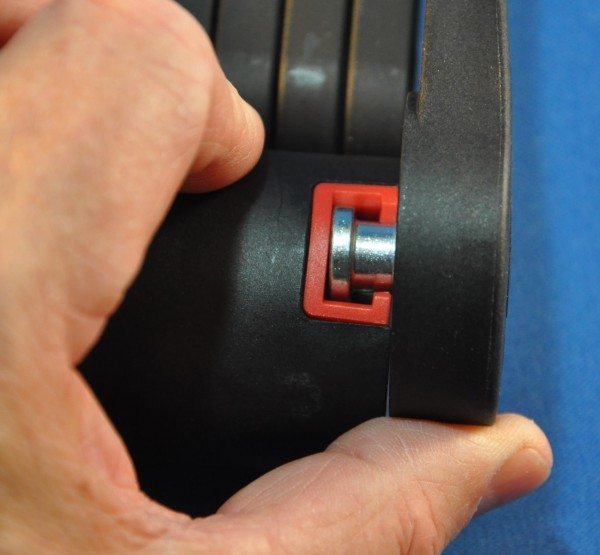 The fact that the links of this chain don't bend or flex may make tying to a post or other object a little tougher, because of the lack of flexibility. Case in point: I usually wrap my cable around the car carrier when I'm hauling my bike on a trip. I like the security and the knowledge that the webbing straps on that old carrier aren't the only thing preventing my bike from bouncing off the carrier and into someone's windshield. With the Foldylock, things are secure, but I can't wrap it as tightly around the carrier's frame.
The single thing that keeps the unit from being perfect is that, when attached to my seat post, I can't put the Foldylock into the case. Not a big problem, but an irritation, nonetheless. It could be due to the fact that this is a "comfort" bike, rather than a standard road bike. All in all, though, this is a fantastic improvement in bike security.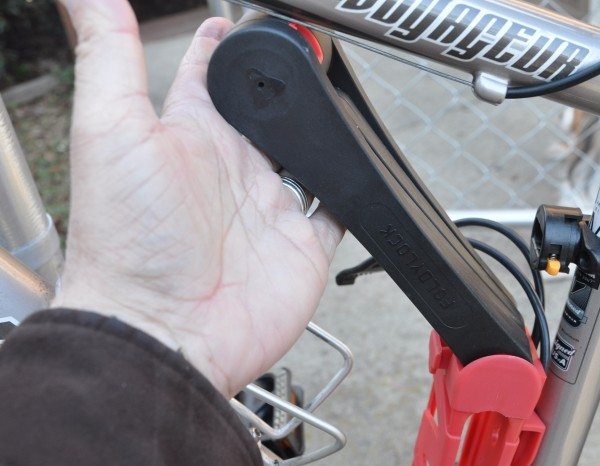 Source: The sample for this review was provided by Foldylock. Please visit http://www.foldylock.com/ for more info.
Product Information
Price:
$95
Manufacturer:
Foldylock
Requirements:

Bicycle, or something that needs to be secured.
Something to secure it to.

Pros:

Extremely strong.
Easy to use.
Collapsible into a small package.

Cons: