The Gadgeteer is supported by readers like you! If you buy something through links on our site, we may earn an affiliate commission at no cost to you. Thank you! Learn more.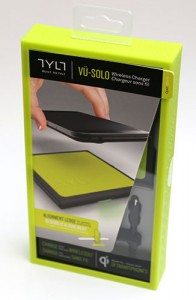 Now that Samsung, one of the world's most popular smartphone makers other than Apple, has decided to include Qi wireless charging capability in their new Galaxy S6 and Galaxy S6 Edge phones, I think this means we're finally going to see Qi charging take off in a big way. I was an early adopter of wireless charging and have been using it for the past couple years. I converted a few friends over to the technology and like me, once you start using a wireless charger, you wonder how you survived without it. Ok, that's a little dramatic, but Qi charging is truly convenient. My favorite wireless charging dock is currently the TYLT VÜ Wireless Charger that Dave Rees reviewed last year. After his review, I bought one for myself and later bought a second one for Jeanne. One of TYLT's newest chargers is the VÜ-Solo Wireless Charger. Let's take a look.
Note: Images can be clicked to view a larger size.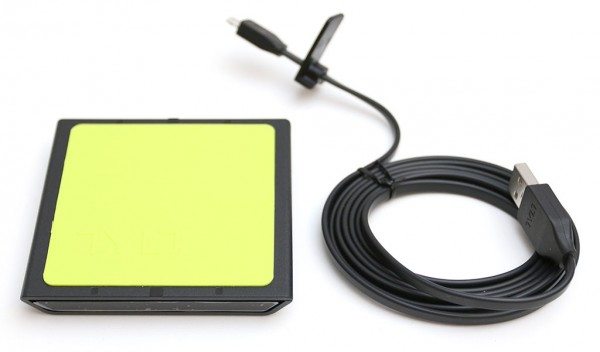 Package contents
TYLT VÜ-SOLO charger
micro USB Cable with alignment ledge
The TYLT VÜ-SOLO charger is a flat 3.5 x 3.5 inch charger that comes in four colors. They offer it in blue, red, black and the green version that was sent to me.
The charger has a plastic shell with a colored silicone pad on top and sticky feet on the bottom so you can stick the charger to a flat surface if desired.

On one side of the charger you will find a micro USB connector. This particular Qi charger does not come with its own AC adapter. You have to supply one yourself. An AC adapter rated at 5V 1.8A is recommend.  Or you can plug the included USB cable into an open USB port on your computer.

The opposite side of the charger has a status LED that glows green when the device is delivering power and turns off when in standby mode (when nothing is placed on top).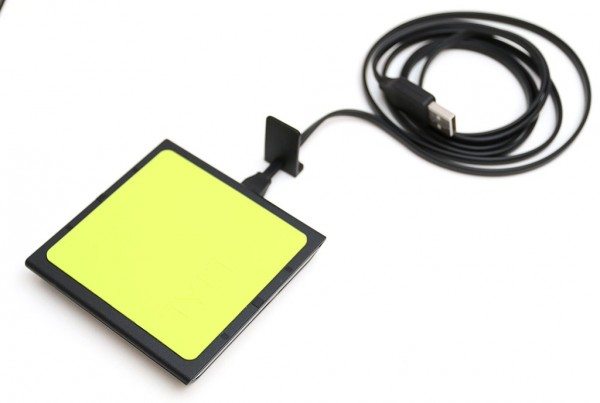 The USB cable included with the charger has an adjustable alignment tool attached to the end of the cable. TYLT calls this their ALIN  mobile phone alignment system. It's simply a flat piece of plastic that can be moved up and down the length of the cable to help you align the device over the charging sweet spot (aka Qi charging coil).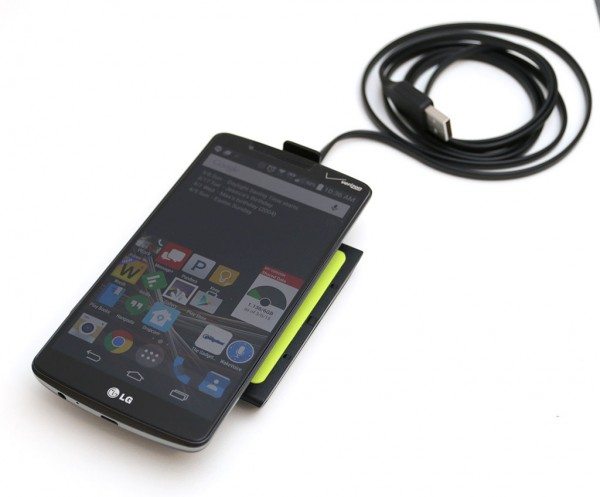 I tested the TYLT VÜ-Solo Wireless Charger with an LG G3, a Samsung Galaxy Note 2, Nexus 7 tablet and a Nokia Lumia 830. The LG and the Samsung both have third party Qi charging patches installed in them, but the Nexus 7 and Nokia Lumia have the Qi capability built in. All four devices charged perfectly. The charger does not make any noise when you place the device over the coil.
I personally prefer the TYLT VÜ wireless dock that Dave reviewed mainly because I can just drop it on the dock and not have to worry about alignment. That charger is more expensive than this one though. It's just a personal preference. Any of TYLT's chargers are well made and work great. I have no problems recommending any of them if you want a very high quality Qi wireless charger for your compatible device.
Source: The sample for this review was provided by TYLT. Please visit their site for more info.
Product Information
| | |
| --- | --- |
| Price: | $49.99 |
| Manufacturer: | TYLT |
| Requirements: | |
| Pros: | |
| Cons: | Doesn't come with an AC adapter |