We use affiliate links. If you buy something through the links on this page, we may earn a commission at no cost to you. Learn more.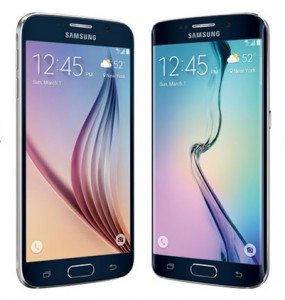 Today in Barcelona, Spain at the 2015 Mobile World Congress convention, Samsung took the wraps off of two new Galaxy smartphones, the Galaxy S6 and the Samsung Galaxy S6 Edge. These two devices feature a metal chassis, glass on the front and back, and a 5.1 inch Super AMOLED display with a resolution of 2,560 x 1,440. The phones are very similar to each other except for one notable difference, the S6 Edge has a dual curved display. I recently reviewed the Samsung Galaxy Note Edge, Samsung's first device with a curved display. But that device only had one curved edge which to me felt a little weird and asymmetrical. The soon to be available S6 Edge has curves on both edges. Unlike the Galaxy Note Edge, the curved edges on the S6 Edge are not separate displays and do not offer quite the same functionality. If you recall, the Note Edge used the curved edge as a launcher bar with customizable icons. Unfortunately, that functionality is not included on the S6 Edge. What you do get is the swipe to wake gesture, notification ticker, night clock and some new features like swipe in from the edge to call favorite contacts and special glowing notifications when the phone is face down. 
In addition to the curved display on the S6 Edge, both devices are now offering a 16MP camera on the back, 5MP on the front, wireless charging and Android Lollipop. There are a few disappointments though. The battery is sealed and there isn't a micro SD card expansion slot. You will be able to buy the Samsung Galaxy S6 and S6 Edge with 32GB, 64GB or 128GB, which helps ease the sting of the missing micro SD card slot. Pricing hasn't been announced yet, but both versions of this phone will be available from all four major U.S. carriers starting in April.
https://www.youtube.com/watch?v=CnYtWWDor2s
I have to admit that these phones look very nice, but I don't think I could go back to a 5 inch display. I'm hoping that the Note 5 adopts the same physical design as it might become my next smartphone. For more info visit Samsung.com.