We use affiliate links. If you buy something through the links on this page, we may earn a commission at no cost to you. Learn more.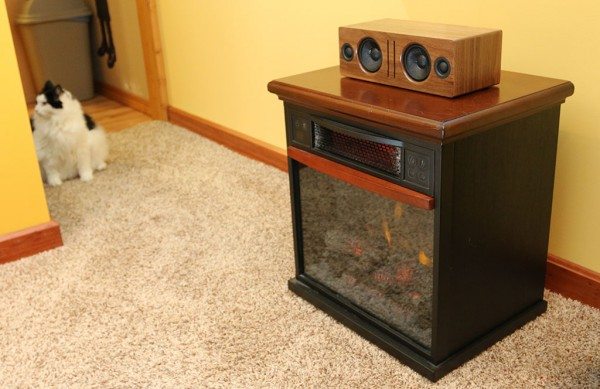 Bluetooth speakers come in a variety of shapes, sizes and colors. They make them small enough to carry in your pocket or on your keychain and design them to snap on your bicycle handle bars or fit in your car's cup holder. They even make Bluetooth speakers that can float in your swimming pool. All of these novelty speakers have their niche market, but when you want a Bluetooth speaker that looks nice enough for your living room while also providing exceptional sound quality, it's tough to find one that isn't made of black plastic with a thin sound that goes with it. Lucky for me, the folks at Audioengine have created what might be the nicest small Bluetooth speaker I've ever tried.
Note: Click on images to see larger view.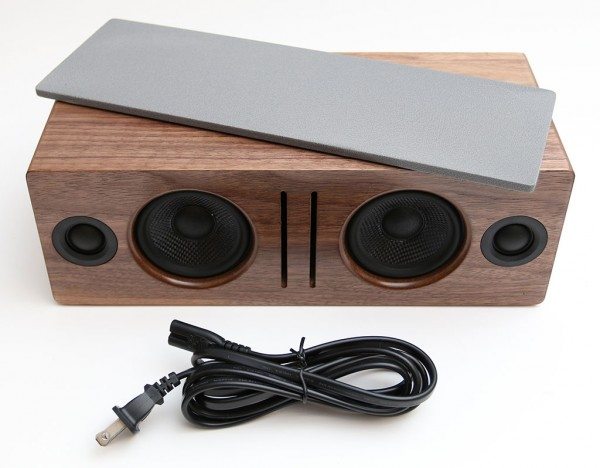 What's in the box
B2 Bluetooth speaker
Antenna
Power cable
Microfiber speaker bag
Quickstart guide
Hardware Specs
Type: Powered Bluetooth speaker
Amplifier type: Dual class AB monolithic
Power output: 60W peak total (15W RMS, 30W peak per channel), AES
Drivers: 2.75" Kevlar woofers, 3/4" Silk dome tweeters
Inputs: Bluetooth, 3.5mm stereo mini-jack analog
Analog input impedance: 10K ohms unbalanced
Frequency response: 65Hz-22kHz (±2.0dB)
SNR: >95db (typical A-weighted)
THD+N: <0.05% at all power settings
Crosstalk: -50dB
Power filtering: 3-stage redundant regulation
Input voltages: 100-240V, 50/60Hz auto-switching
Protection: Output current limiting, thermal over-temperature, power on/off transient protection
Bluetooth receiver type: Bluetooth 4.0 audio with aptX codec
Supported Bluetooth profiles: aptX, A2DP, and AVRCP
Wireless operation range: up to 100ft (30m) typical
D/A converter: TI PCM5102A
Input bit depth: 24-bit (upsampled)
Input data rate: Determined by Bluetooth
Wireless latency: ~30 milliseconds (ms)
Product dimensions: 4.25"(H) x 12.25"(W) x 5.50"(D)
Weight: 10 lbs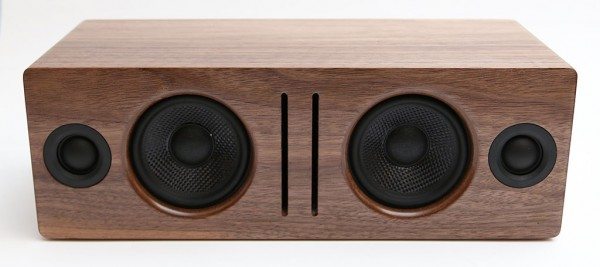 The word that came to my mind when I first unboxed the Audioengine B2 speaker was wow. This speaker looks very high end. The hand-built acoustically isolated wood cabinet looks like it has been carved from a solid block of wood. The B2 speaker is available in Walnut, Zebrawood and Black Ash. I was sent the Walnut version which has a beautiful grain and a smooth finish.
If you are familiar with Audioengine's A2 speakers, the B2 looks like conjoined A2's that have been positioned on their sides. The two slots in the center aren't there for decoration, they are specially shaped bass ports, one for each speaker that provide surprisingly low clean bass.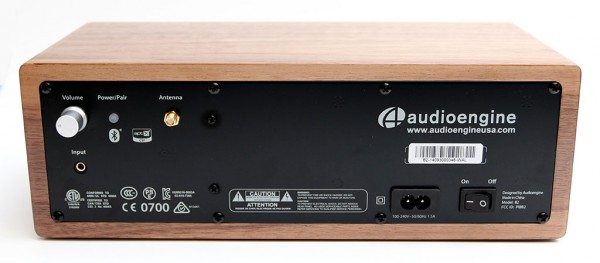 On the back of the speaker you will find a volume knob, pairing button / status LED, Bluetooth antenna connector, aux input, AC power port and power switch. I was a little disappointed that the volume knob was located on the back of the speaker, but I got over it quickly. I like the clean lines of the front of the speaker. I think having switches and knobs on the front would spoil the look. Also, this is the type of speaker that you can plug in, turn on, and leave it that way. You don't need to turn it off when you're done listening to music because it has a special power saving "idle mode" which activates right after you stop playing music. I'd also like to note that this speaker does not come with an ugly bulky AC power brick. All you need is the included power cord and that's all.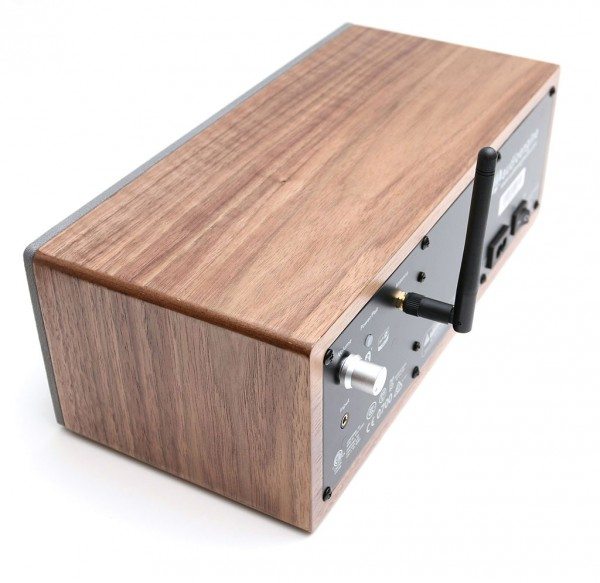 If you plan to stream music to the speaker from any distance, you'll want to attach the included Bluetooth antenna. The funny thing is that I didn't know it came with an antenna. I had been using it without one for a couple of weeks until I asked about it and then learned that it was in the same package as the instruction booklet which I hadn't opened 🙂 I had been testing the speaker in a small room so I had not run into any issues with Bluetooth connectivity.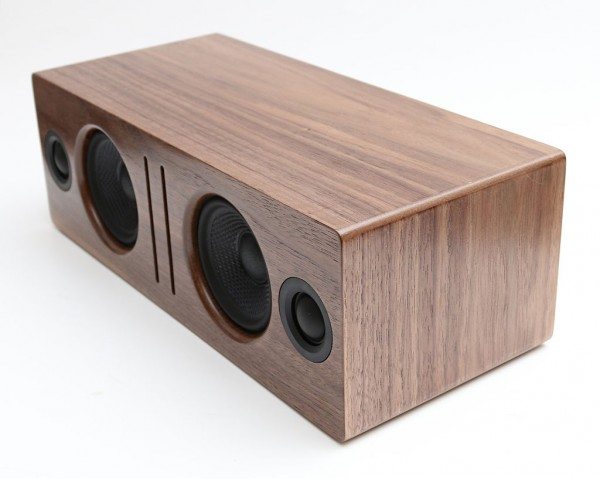 I like the look of the B2 speaker without the grill on the front.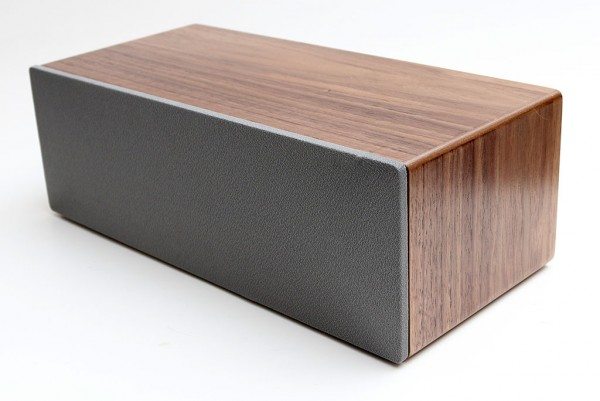 But if you prefer the grill, it comes with one that has a grey knit fabric over a plastic frame. The cool part is that the grill is magnetic and easily snaps on or off the front of the speaker.
The Audioengine B2 speaker has two connection choices. You can connect a device using the auxiliary input jack on the back or more likely, you'll pair the speaker with your computer, phone, tablet or other Bluetooth enabled audio device. I tested the B2 with my Macbook Pro and LG G3 smartphone. Pairing was simple for both devices. Basically you just turn on the speaker which puts it in pairing mode, go to your device and search for Bluetooth devices, click on Audioengine B2 when it shows up in the list and you're done. No special software, access codes, etc.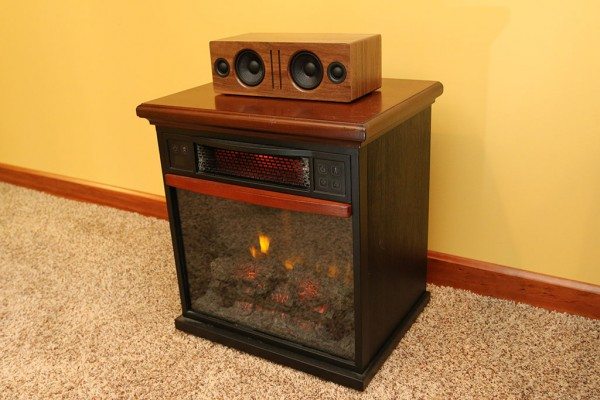 I have been testing the B2 speaker for several weeks and I can't find one thing about it that I don't love. I like to stream music through Pandora and usually have the audio coming through my LG monitor. I hadn't realized how mediocre the music sounded until I switched to the B2. Now I find that my music sounds so much better. Through this speaker music is full and rich with an excellent bass that isn't too thumpy, but still easily fills a room. Dubstep fans may find the bass somewhat lacking, but I have no complaints. And at higher volume levels audio remains clean and clear. One of the reasons why this speaker sounds so good is that it uses aptX (along with other codecs) which is a high-quality Bluetooth audio codec.
Some of the songs that I listened to during my review testing:
Hold on – Tom Waits
Gary Jules – Mad World
Sam Smith – Stay With Me
Taylor Swift – Blank Space
Meghan Trainor – All About That Bass
The White Stripes – Seven Nation Army
From Eden – Hozier
Sweater Weather – The Neighbourhood
Ben Howard – Oats in the water
In addition to listening to music either streamed from Pandora or from my own MP3 library on my MacBook Pro, I also used the speaker while watching videos on my laptop. Bluetooth has a delay of about 30ms (milliseconds), but I did not notice any lag in audio while watching videos. Even videos that showed people taking directly to the camera did not have any problems that I could see.
Yes, you can find lower priced Bluetooth speakers for your home, but good luck find one that combines high-end looks with equally high-end sound quality. That is what makes the Audioengine B2 Premium Bluetooth speaker a real stunner. It impressed me and I happily recommend it.
Source: The sample for this review was provided by Audioengine. Visit their site for more info.

Product Information
Price:
$299.00
Manufacturer:
Audioengine
Pros:

Gorgeous wood cabinet
No bulky AC adapter
Great sound
Power saving idle mode

Cons: