We use affiliate links. If you buy something through the links on this page, we may earn a commission at no cost to you. Learn more.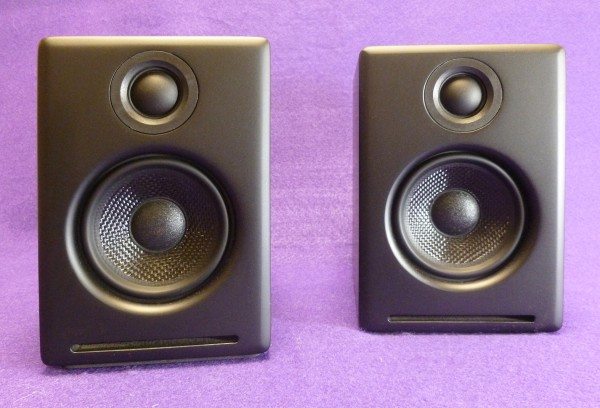 A year ago, I reviewed the monstrous but wonderful Audioengine A5+ speakers. These behemoths will rattle not only your windows, but the neighbor's as well — yet still sound good doing it. But let's be real, unless you have a big desk (I do), the A5+ speakers are just too big and loud for most home offices. Audioengine has solved that bit of a dilemma with the smaller A2+ speakers. Not only are these speakers perfectly sized for desktop use, Audioengine has improved upon their original A2 speaker's components.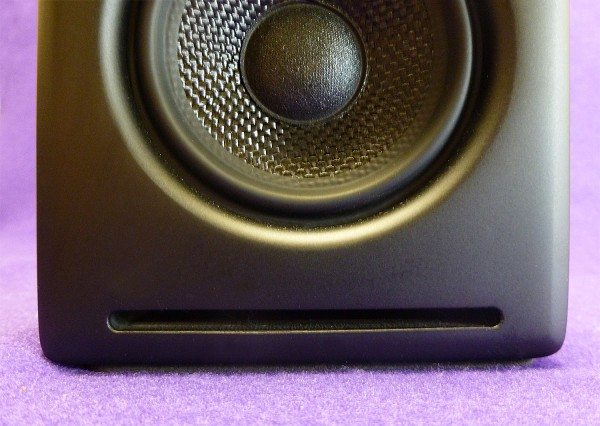 The original A2 speakers were a hit for a good reason. They were affordable (but not cheap), sounded great for their size and were attractive in a "we mean business" kind of way. Yet, as good as they were, Audioengine still decided to improve them. More importantly, a digital audio convertor (DAC) was added – allowing the speakers to be connected to the computers USB port instead of the headphone-out jack. This is better for two reasons: The A2+ speakers receive a clean digital signal through USB — as opposed to the headphone port — insuring better audio. Also, the A2+ speaker's built-in DAC is better quality than what comes with your laptop or desktop computer – again, resulting in better audio. However, the A2+ speaker's DAC is not as flexible or powerful as most standalone DAC's, such as Audioengine's own D1 or D3. There are tradeoffs.
The A2+ speakers are powered vs. passive, which simply means that they will run without a receiver or separate amplifier. That's pretty standard with desktop computer speakers. While not as big a deal as a few years ago, the A2+ speakers have kevlar woofers and silk tweeters denoting higher build quality. The cabinets are hand-finished with care and look it. The matte-black finish helps hide fingerprints.
As with other Audioengine products, the A2+ speakers are shipped in microfiber draw-string bags. There's even little bags for the wires! A nice touch, but once the speakers are set up, what do you do with all the bags?
Here's what is included in the box plus some specs:
A2+ powered (left) speaker
A2+ passive (right) speaker
Speaker wire, 6.5 feet
Power supply
AC power cord
Mini-jack audio cable, 5 feet
USB cable, 5 feet
Microfiber speaker bags
Microfiber power supply bag
Microfiber cable bag
Setup guide
60W peak power total (15W RMS / 30W peak per channel)
Signal to noise ratio: >95dB
Total harmonic distortion: <.05%
Frequency response: 65Hz-22kHz
DAC: TI/Burr Brown PCM2704C
Input bit depth: 16 bit
Input sample rate: 48KHz (a bit better than CD)
Dimensions (each): 6"(H) x 4"(W) x 5.25"(D)
Weight: 3.15lbs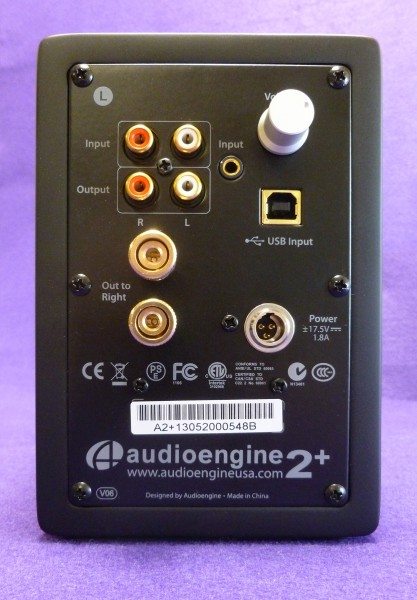 The A2+ speakers have a three connection choices: USB for the previously mentioned digital connection, standard RCA inputs and minijack for connecting an iPod or other portable player.
Setting up the A2+ speakers is as simple as it gets. Connect the USB cable to the computer and speaker. Wire the speakers together. Plug it in. That's it. Since the outgoing signal is digital, you may need to tell the computer where to send the sound. This was true on my iMac.
When listening to the A2+ speakers, I was constantly reminded that bass was somewhat lacking. Part of the reason is because I've been exposed to the big brother A5+ speakers. Seen side-by-side, the massive A5+ speakers obviously have the laws of physics on their side. More mass moves more air resulting in bigger sound. Simple. Even though the A2+ speakers can't break those physical laws, they sure do bend them. They will fill a medium-sized home office quite well. The clarity and power is impressive, especially at this size. The similarly-sized Bowers and Wilkins M1 desktop speakers were able to go a bit deeper in the bass department, but not as much as their double-the-price would suggest.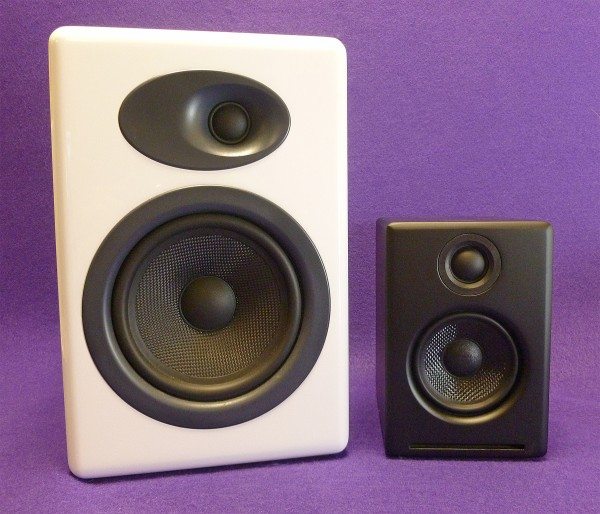 Sidenote: I managed to combine the A2+ speakers with their big brother A5+ using Audioengines W3 wireless connection. As good as the A2+ speakers are, when combined with the A5+ there is an added fullness to the sound that is better than either speaker set alone. It's pretty amazing. I would think that adding the A2+ speakers to a subwoofer such as the Audioengine S8 might even be a better and more affordable addition than the A5+. I haven't heard such a setup, so I can't say for sure.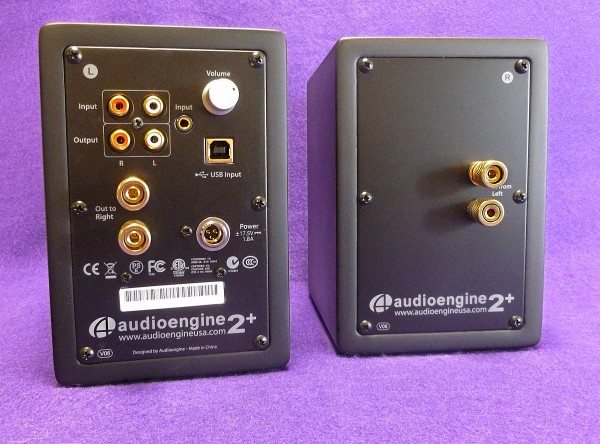 The A2+ speakers are designed to be on a desktop next to a monitor. When that close, the sound is more personal. However, I have them on a shelf above eye level. The reason for this is because I have three monitors and they will block any speaker deflecting the sound – not good.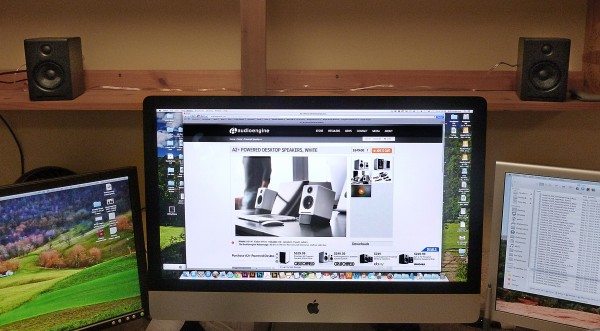 When used on a desktop, Audioengine offers angled stands (an extra cost option) for the A2+ that aim the speakers slightly upward at the listener's head. The advantage of this is obvious: The sound is more directed to the listener. While not important if the A2+ speakers are placed on a bookshelf, it can make a big difference for near-field listening on a desktop. The speakers also have threaded holes on the non-skid bottom for attaching to a speaker stand.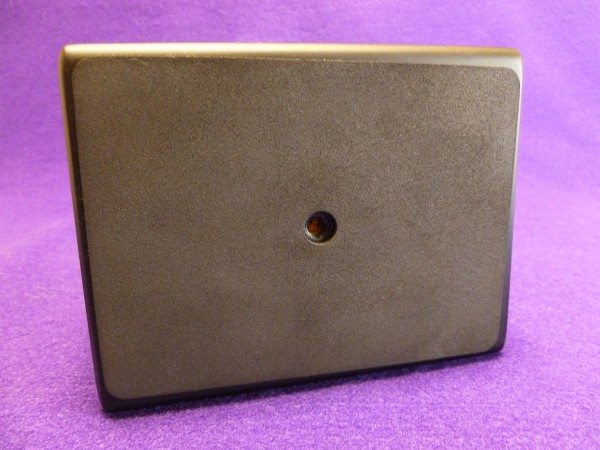 My listening tests included a sampling of the latest Scott Walker album, "Bish Bosch."  Walker was a popular pop artist in the 60s ("The Sun Ain't Gonna Shine Anymore") who totally reinvented himself into an unrecognizable avant-garde artist. His song, "See You Don't Bump His Head," features heavy and incessant drums overlaid by Walker singing/speaking the line, "While plucking feathers from a swan song… ." It's all very weird, but somehow alluring. The A2+ speakers are able to keep the drumming from sounding muddy unlike some speakers. Each drum beat attack is distinct and separate, as it should be.
Another song that depends on repetitive drumming is former Peter Gabriel backup singer Ane Brun's "Do You Remember." Like Walker, Brun's voice is also unusual, but in her case, much more accessible. Her singing is heart felt as she recalls lost love. The A2+ speakers let you feel her melancholic yearning for the past. Her vocals cover a wide frequency range which represented well on the A2+.
"Madman Across the Water," Elton John"s masterpiece album (and title song) exhibits slightly echoed sonics that add to the song's dramatic theme. The song is grandiose in that progressive rock tradition which helped define the 70s. The strings are first-rate and the A2+ speakers portray the haunting echo clearly and convincingly. The weak link is bass. It's there and it's tight, but a bit on the light side, which is understandable with any smaller speaker. Again… physics.
"Tell Me Why", from Neil Young's "Live at Massey Hall 1971" album never had a lot of bass (many older recordings don't), so the sound from the A2+ speakers is very natural and intimate with its live feeling. It just proves that desktop speakers don't have to sound cheap or crummy.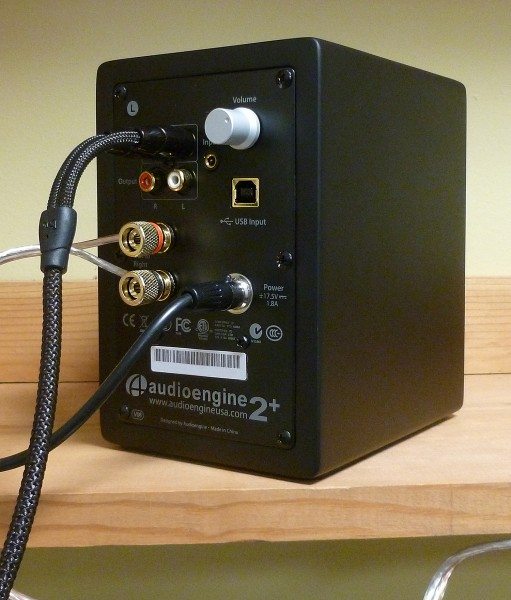 If you are upgrading from those awful built-in laptop speakers or even the (now) halfway decent iMac speakers, then you will love Audioengine's A2+ speakers. Full sound, decent bass and volume to spare in such a small package is astounding. But don't compare them to the A5+ unless you have money to spare, because if you do … well, don't say I didn't warn you.
Updates
This is about the Audioengine A2+ speakers, but it's really about ALL of Audioengine's products. I love the products they make simply because their products just work. Whether it's speakers or DACs or whatever, I use each and every Audioengine product I've reviewed every single day. Their wireless W3 system allowed me to connect 4 speakers to my iMac in my studio building and I get to listen to music LOUD while I work. How cool is that? The A2+ speakers are perfect for computer use. I placed them on a shelf above my monitors and they sound great coupled with a pair of A5+ speakers located behind me. Wow.
Source: The sample for this review was provided by Audioengine. Please visit their site for more info.
Product Information
Price:
$249 US
Manufacturer:
Audioengine
Pros:

Amazing sound for the size
Perfect size for desktop
Pair well with A5+ or wireless W3 option
Included DAC

Cons:

Somewhat weak bass
Not cheap
DAC limited to bit depth up to 16 bits and sample rate up to 48KHz