We use affiliate links. If you buy something through the links on this page, we may earn a commission at no cost to you. Learn more.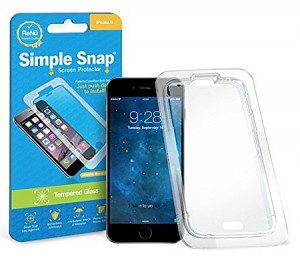 I never have screen protectors on my devices.  I can never get a screen protector on without dust and air bubbles underneath or without misaligning it, and I simply cannot tolerate seeing those blemishes on the screen.  I also refuse to use any screen protector that requires use of a liquid for application.  I've already paid to replace one laptop that my daughter accidentally spilled a cup of water on, and I refuse to risk another device by putting a dripping wet screen protector on it.
Simple Snap simplifies installing a screen protector with their disposable mold that fits perfectly around the device.  You just "push the mold over the device until it snaps off and leaves the screen protector flawlessly installed."  Simple Snap has a line of Tempered Glass or oleophobic HD Anti-Fingerprint skins to fit iPhones (5/5s, 5c, 6, 6 Plus), iPad Air, iPad mini, and Samsung Galaxy phones (S4, S5).  Some of the screen protectors can be purchased at Simple Snap, and Amazon seems to have the complete line available for purchase.  Prices range from about $10 to $50.