We use affiliate links. If you buy something through the links on this page, we may earn a commission at no cost to you. Learn more.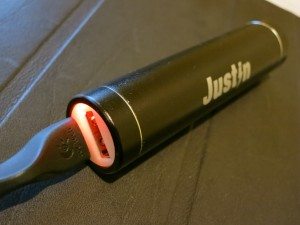 For those of us old enough to have noticed, it's amazing how quickly phones have transitioned from stationary devices to portable toys for the rich-and-famous to in-case-of-emergency gear to essential, inseparable extensions of ourselves. Along with that dependency, we've developed a primal fear of, running down our life-giving phone batteries. One of the many companies providing products to save us from this catastrophe is Innovative Technology, with their line of Justin Power Products. They sent me a travel pack to review that includes the means to resuscitate my phone via wall outlet, car outlet or battery backup – all in a little black zip pouch. Read on for details and my impressions. 
Note: All images can be clicked to view a larger size.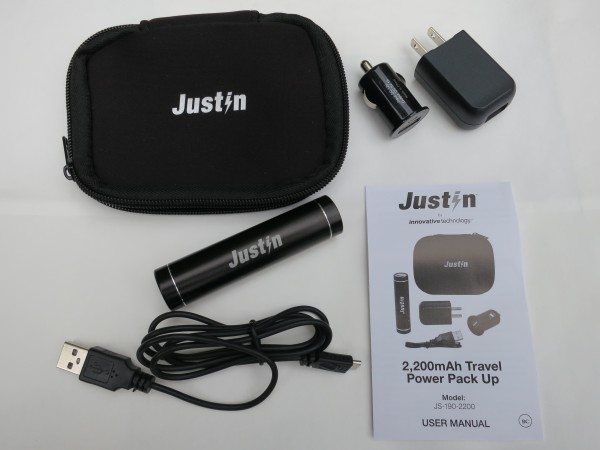 The Justin 2,200mAh Travel Power Pack Up contains five components, all coordinated in basic black:
2200mAh Power Stick
AC Wall Charger
12V Auto Adapter
3' Micro USB Cable
Zip Pouch
First off, a quick note to explain that I'm not going to be consistent in what I call this product, because the package, documentation and website all have slightly different names for it. But let's focus on the contents. The first three items in the list each have a single USB port that delivers 5V 1.0A output for charging. The star of the show is the power stick. Rated for 2200mAh capacity, it delivered 1612mAh to my Samsung Galaxy S4 before running out of juice. This efficiency of 73% is about average, or slightly higher, compared to other power banks I have tested. The Micro USB cable is used both to charge the power stick and to deliver power to attached devices.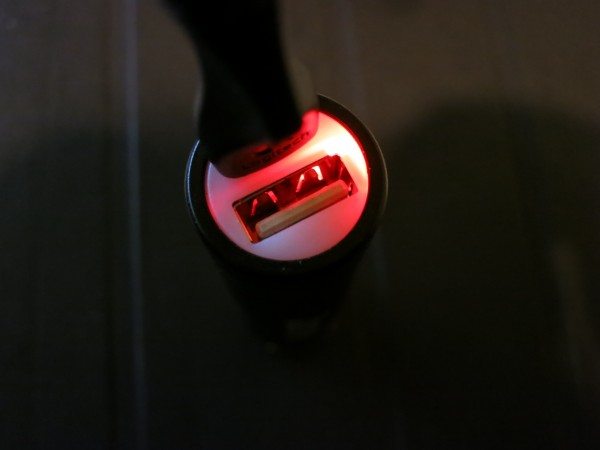 When charging the power stick, the standard USB plug connects to a USB power source, which can be the included wall charger or car adapter, or a laptop. When connected and charging, a red LED glows until the battery is fully charged and the LED indicator shuts off. The power stick charges at 500mA and takes 4-5 hours to charge completely.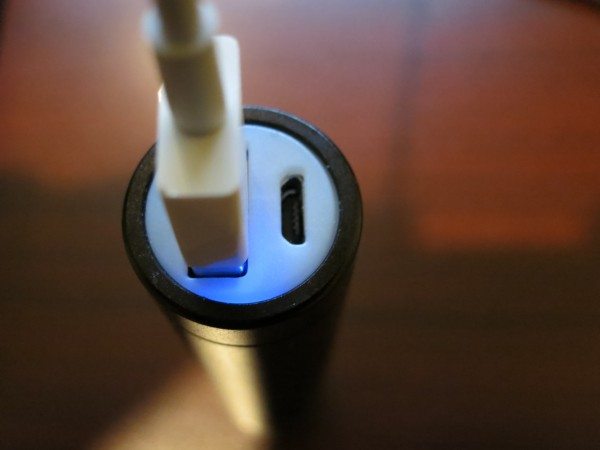 To charge a device, change the cable so that the USB end is plugged into the standard USB port and connect the Micro USB plug to your device. If you have an Apple device, you'll need to provide your own legacy iPhone or Lightning cable, but they are supported. I successfully initiated charging of my Retina iPad through my Lightning cable. When charging, a blue LED indicator glows, and it shuts off when either the device is fully charged or the power stick battery is drained. Based on their battery indicators and the charging time, both my smartphone and iPad charged at about 900mA, which is close to the output specification.
The AC Wall Charger is very basic, with a fixed US-style two-prong plug rated for 100-240V AC and only a single USB port. Like the wall charger, the 12V Auto Adapter has just a single USB port.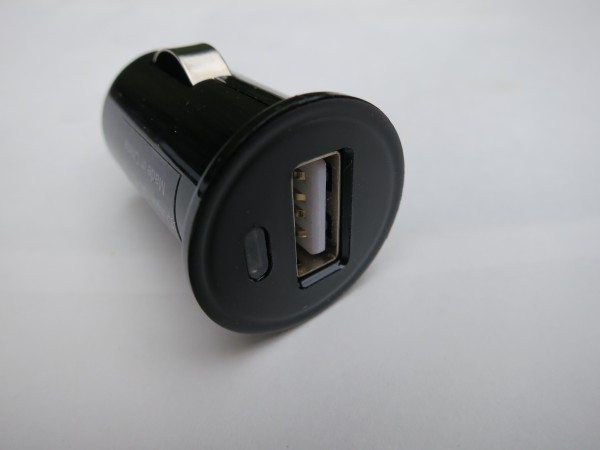 The car adapter does have a red LED light to indicate when an attached device is drawing power.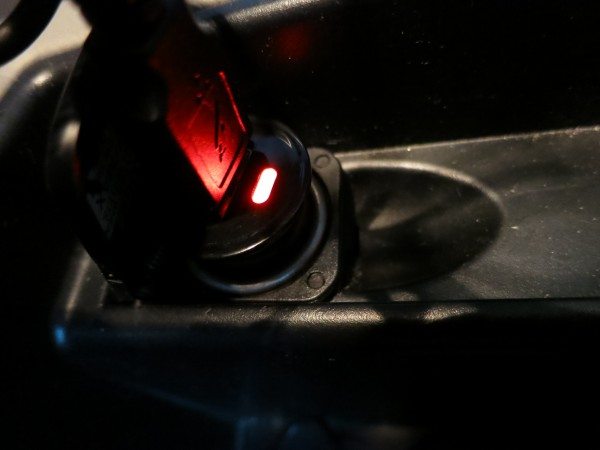 Each component – power stick, wall charger, and auto adapter – delivers a maximum of 1A, so they are not designed for features or power. Rather, they are designed to be small components to carry together in the travel kit.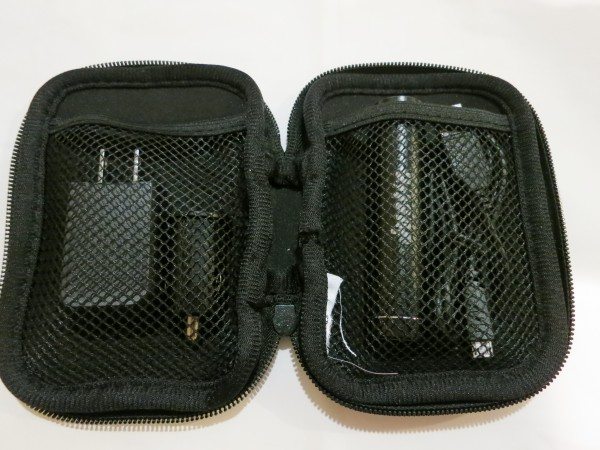 The zip pouch is a compact 4.9" long by 3.5" wide, with a wraparound zipper that allows it to lay flat when open. The components fit easily into two mesh pockets that make it easy to find what you're looking for. I would have preferred some elastic in the band at the top of the pouches to help keep the pieces from falling out, but it works okay and would be easy to throw in a carry case. (Ignore the dangling white threads in my picture above – there used to be a large white tag with washing instructions for the pouch. Impatient to take the picture, and not ever foreseeing a future that included laundering the zip pouch and wondering if I can use bleach to do so, I ripped off the tag. I may get around to tidying up the damage with scissors later.)
Both my smartphone and iPad will charge twice as fast with their own 2A wall chargers, so you may also see a performance compromise if you rely on this kit for regular charging duties. Also, the power stick's capacity is limited – it will recharge my Samsung Galaxy S4 about 60% and my iPad about 10-15%. Keep in mind, then, that this travel kit may better serve as an emergency standby kit, tucked away in your car or suitcase in case you forget your regular charger at home. (Note, however, that the manufacturer recommends recharging the power stick every two months when not in use.)
The decision on whether to buy the kit comes down primarily to the power stick. I've reviewed larger power banks, which provide the security of two or more full phone charges. But, at 68 grams, this power stick is much lighter while still giving me a 60% charge. I carried the power stick in my pocket during a round of golf in case my GPS app drained the battery (and thus my electronic score-keeping ability) during the round. It turned out that I didn't need it, but I felt better and didn't even notice the extra weight. Similarly, I could see bringing this along for day hikes or kayak trips just to make sure that I can power up a dying phone in an emergency.
The Justin Power Stick Travel Pack-Up sells for $30. That's a pretty reasonable bundled price. If you travel frequently, you may prefer to carry more premium charging accessories. For instance, I use a car adapter with two USB ports, and I've seen them with four ports. Similarly, I now bring my Bolse 5-port USB wall charger (with 3 x 2A ports) with me when I travel, unless I'm going ultra-light. Alternatively, you may already have accumulated more USB adapters and Micro USB cables than you know what to do with. In either case, you can still purchase the Justin 2,200mAh Power Stick by itself and save $10. However, spending ten bucks for the cable, two adapters and a carry pouch isn't a bad deal, even if you only need a couple of those items.
If you've made it this far through the review (!), then the breadth of basic functionality in this convenient and compact travel kit probably interests you. If so, then I can recommend the Justin Power Travel Pack. It's sure to keep those fears of a dead phone at bay. If you've already got a drawer full of these widgets, or if you have carefully assembled select components for your own custom travel kit, then there is little here to excite you.
Update 12/24/14
Of the power banks I've reviewed, this is the smallest, and the one I still keep handy. I no longer get out of outlet range long enough to really need the larger power banks, and I can stick this in my pocket, attached to the phone, when I'm on a hike or golf round and want to make sure my phone's GPS doesn't fail me. One thing I can say is that the availability of universal power banks means that I'm happily not investing in expensive, phone-specific extra batteries. And I no longer consider a phone without a removable battery quite the non-starter that I used to.
Source: The samples for this review were provided by Innovative Technology. Please visit their site for more info about this product.

Product Information
Price:
$29.99
Manufacturer:
Innovative Technology
Retailer:
Staples
Requirements:

Device such as phone or tablet which charges via USB
Device-compatible USB cable if not Micro USB

Pros:

Supports three USB charging options: AC wall outlet, DC car outlet, external power pack
Compact and convenient
Consistent 5V/1A power delivery from each component
Reasonable price for complete bundle

Cons:

Components may be too basic for those with many or power-hungry gadgets
1A power supply will charge some devices slower than their own chargers
The bundle may not provide value for those who already own most of the components