We use affiliate links. If you buy something through the links on this page, we may earn a commission at no cost to you. Learn more.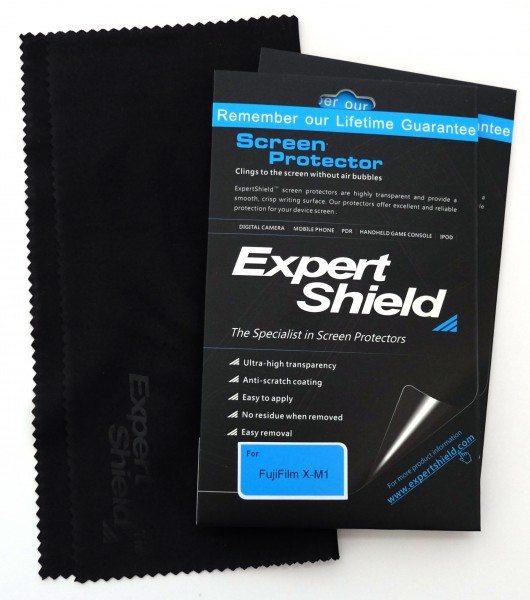 I have a Fujifilm X-M1 camera that I purchased not too long ago. I thoroughly enjoy using this camera and intend to take good care of it. I had been thinking about purchasing a screen protector for the LCD screen to protect it from scratches, especially when I wear the camera around my neck and it rubs against me as I move about. Before I had the time to seriously go hunting for one, lo and behold, one was offered to the Gadgeteer to review. I have not had the best experience with previous screen protectors, but from the sound of the Expert Shield Screen Protectors' descriptions, I was definitely interested in trying it out.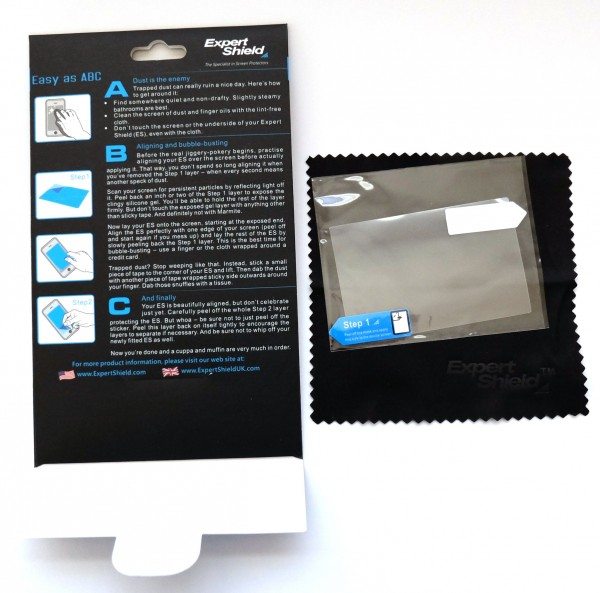 Package Contents
Two Expert Shield Screen Protectors for my Fujifilm X-M1 camera (each packet of protectors contained one protector and a small 10 cm x 10 cm microfiber cloth)
One large microfiber cloth (20 cm x 20 cm)
NOTE: Even though my package came with two screen protectors and a large microfiber cloth, when ordering your's, it appears that you will only receive one packet containing one screen protector with the small microfiber cloth.
Application & Use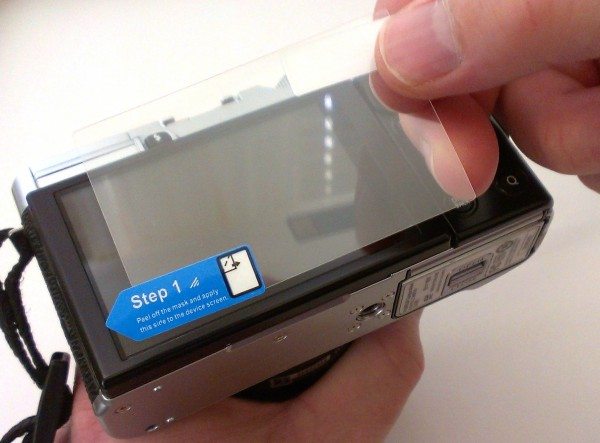 The screen protector is not flimsy and is relatively rigid and thicker than I had expected. It has a smooth shiny surface (which will not help with glare) and was also cut out to the precise size of my X-M1 camera's LCD screen (68 mm x 44 mm).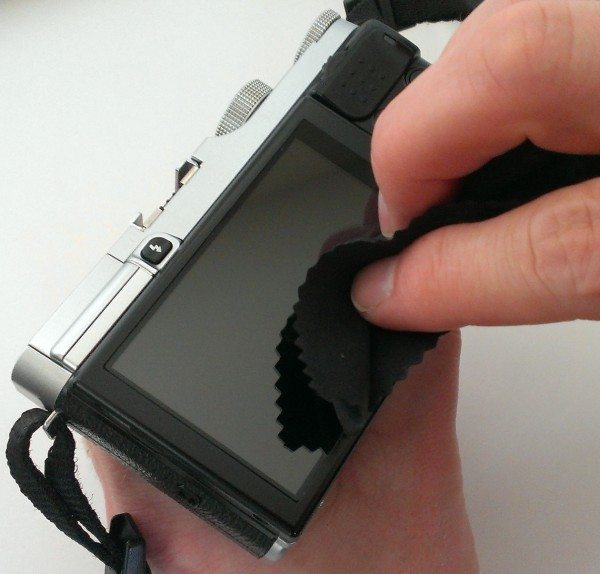 According to the directions on the back of the envelope that the screen protector comes in, the first step in applying the screen protector is to use the provided microfiber cloth in a slightly humid, draft free room (like a bathroom) to wipe away any dust or fingerprint oils.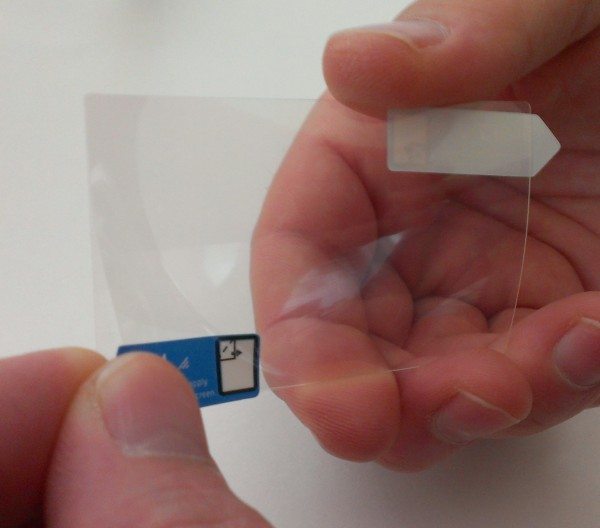 The next step is to pull up on the blue tab labeled number 1 to remove a thin plastic sheet from the silicone gel layer of the protector. Since this screen protector uses a gel adhesive and not glue, it leaves no residue when it is removed and thus it is easy to adjust if necessary.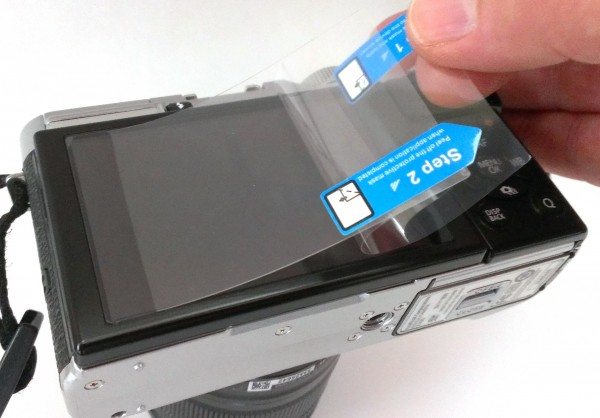 The next step is to carefully align the protector to the screen.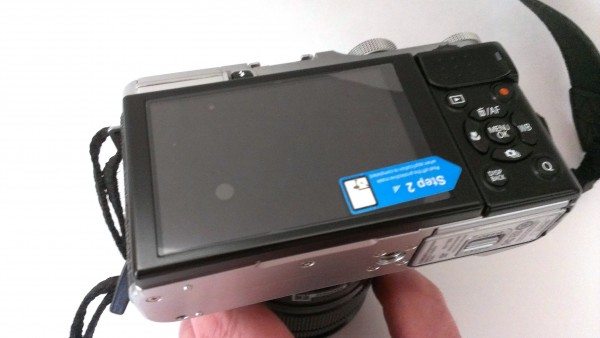 Because the screen protector was accidentally dropped onto the LCD screen when the protective film was pulled away, there were a couple of air bubbles to address.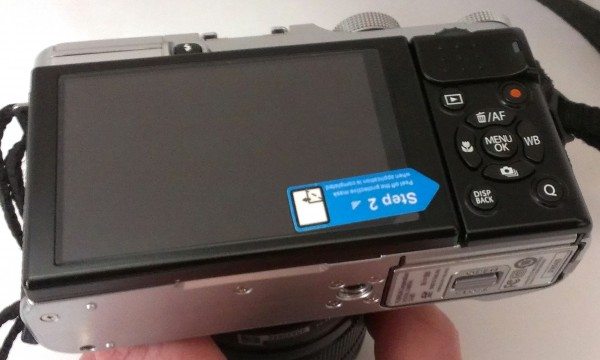 It was very easy to lift and peel the screen protector from the LCD screen with the aid of the thin plastic sheet that was removed from the protector earlier. I also found that there was no residue after doing so. The screen protector was then carefully rolled onto the screen using the length of a finger as a roller to press out any potential air bubbles. Success! Absolutely no bubbles! Because it was so easy to apply, I'm confident it would have been successful after the first time if it hadn't been dropped onto the LCD screen. Expert Shield's website also states that these screen protectors may be removed, washed, and reused so if you should make any mistakes during the application process, it is easy to fix.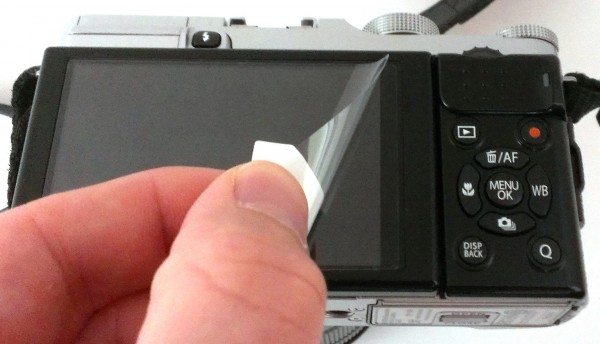 The last step is to lift up on the blue tab labeled number 2, to peel off the last thin plastic layer that covers the screen protector. This was a little tricky. I had to use one of my fingernails to gently push on the corner of the protector to get the thin plastic layer to separate from the screen protector.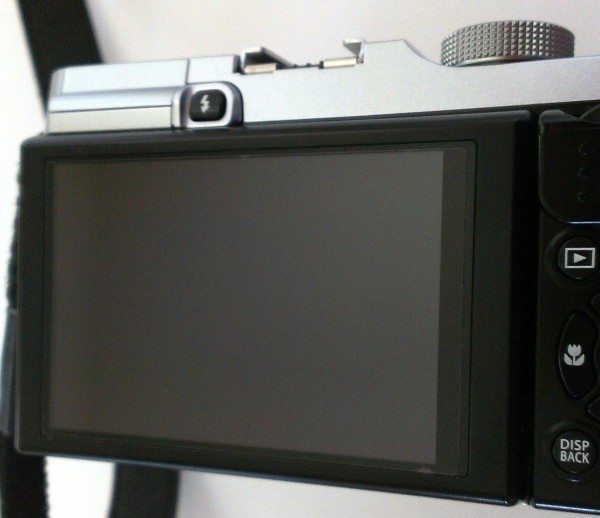 Voila! If you look closely you can see the edge of the screen protector on the LCD screen. It fits rather well.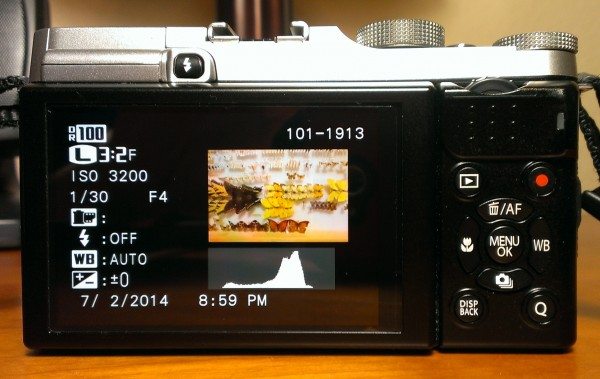 It's as though I am looking at the LCD screen without the screen protector, it is so clear!
Although this camera does not have a touch screen, I did test the effect of the screen protector on the touch response of my iPod and the Nexus 7 (2012) tablet. To do this test, I placed the extra screen protector with its protective films still on over the screen of the devices so that it was loose. Even with the protective films on the front and back of the screen protector, I was able to open apps and even draw a picture in Draw Something 2.
To test the scratch resistant coating on the screen protector, I wore the camera around my neck for a few days which included hiking to and from the 4th of July fireworks show. After these tests, the screen protector did not show any scratches. It remains to be seen how well it will work after months of use, but Expert Shield offers a lifetime guarantee on their screen protectors that cover scratches, problems with bubbles, or fitting issues, so I'm optimistic.
Thumbs Up or Down?
I'm completely sold on the Expert Shield Screen Protector for my Fujifilm X-M1 camera. It was extremely easy to apply and there were no air bubbles – NONE! It's a fairly rigid piece of plastic that has excellent clarity and the thickness bodes well in increasing the durability of the protector. With a lifetime guarantee, how can you go wrong?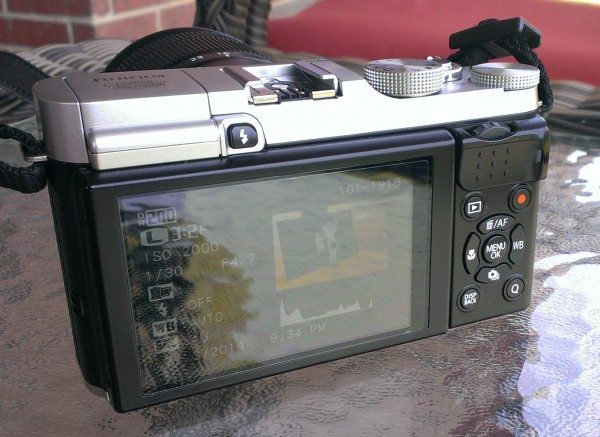 It does have a shiny reflective surface which makes it difficult to see the screen in bright sunlight and does attract fingerprints; however, I've tried an anti-glare screen protector before and did not like the grainy effect on the screen. Even though I have to deal with the glare, my priority is protecting the LCD screen from scratches and maintaining clarity.
Expert Shield also provides screen protectors for all kinds of mobile devices (including game systems and GPS devices) and cameras. There are screen protectors for smartphone brands like iPhone, LG, Samsung, HTC, Nokia, and Sony; tablets like iPad Air, Amazon Kindle Fire HDX 7″, Amazon Kindle + 3G + Touch + Keyboard + Paperwhite, Samsung Galaxy Note 10.1, Sony Xperia Z, and Asus Transformer Prime; and camera brands like Canon, Nikon, Fujifilm, Leica, Pentax, and Olympus.
Update 01/01/15
I've been using the Expert Shield Screen Protector on my Fujifilm X-M1 camera now for a total of five months and it is working like a charm – no scratches and I don't even notice it's there! I love it and highly recommend it as long as you don't mind that it is as shiny and reflective as the bare LCD screen.
Update 07/13/16
This screen protector has been protecting my Fijifilm X-M1 camera's LCD screen for two years now. There are a few minor barely noticeable scratches on the screen portector. Even though Expert Shield sent me an additional screen protector, I am still using the original one. I love it and would say it has performed admirably.
Updates 09/11/18
It's been four years now and I'm still using the Expert Shield Screen Protector for my Fujifilm X-M1 camera. It has minor scratches on the screen protector but has protected the camera's LCD screen well, especially since I have worn my camera around my neck countless times. I still love it!
Source: The Expert Shield Screen Protector sample for my Fujifilm X-M1 was provided by Expert Shield. There are many screen protectors available at Expert Shield's website to fit your smartphone, tablet or camera. The Expert Shield Screen Protector for the Fujifilm X-M1 camera is available through Expert Shield for $13.95.
Product Information
Price:
$8.95 - $22.95 depending on device; $13.95 for the Fujifilm X-M1 screen protector
Manufacturer:
Expert Shield
Pros:

Made for Android devices, Apple devices, and cameras
Extremely easy to apply
No bubbles
No residue when removed
Lifetime guarantee

Cons:

Shiny surface makes using it in bright sun difficult (but it is the same as a bare screen, right?)