We use affiliate links. If you buy something through the links on this page, we may earn a commission at no cost to you. Learn more.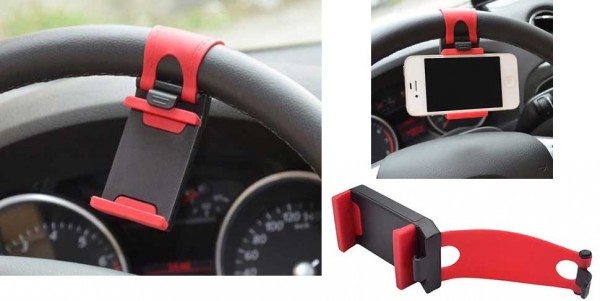 If you like to use your phone's GPS capabilities to help you navigate to your destinations, here's a universal steering wheel mount from Allputer.com that looks easy to use. This mount uses a rubber strap that wraps around your steering wheel and offers a clip with jaws that open a max of 75mm, allowing it to work with a wide variety of phones from the iPhone to larger phones like the Samsung Galaxy S5.
I'm always a little leery of posting news and reviews for phone accessories that strap to your vehicle's steering wheel. It seems like whenever I do, at least one or more people will throw up their hands and run around screaming that it's a horrible location to strap something. But, I figure that if you're old enough to drive a car, you're old enough to make your own decisions. Just don't blame me if your phone ends up smacking you in the head if you get into a collision.
The Universal Car Steering Wheel Mount / Holder is priced at a very reasonable $2.95. For more info about this product, visit Allputer.com.