We use affiliate links. If you buy something through the links on this page, we may earn a commission at no cost to you. Learn more.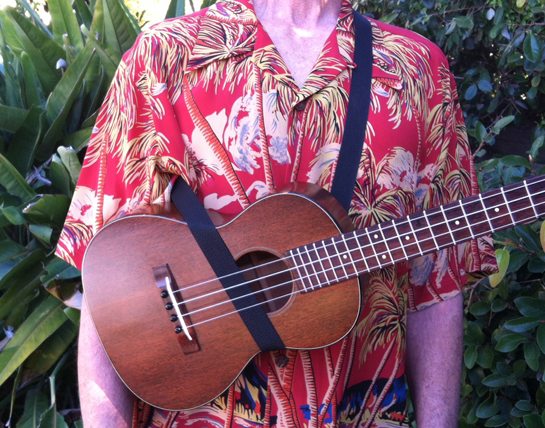 I've wanted to play guitar for years, but I just cannot seem to get the hang of it.  I finally decided to take a page from Julie's ukulele book and thought I'd try one in the hopes that I could manage with four strings.  And just like with any gadget or gizmo I have, I've made it my mission to try to find as many accessories as possible for my new little instrument.  Unfortunately, there don't seem to be a lot of accessories for ukes.  Since most of them don't even have the strap buttons, there aren't even many straps available for the instruments, and the ones that are available look like whistle lanyards with a hook you slide over the bottom of the sound hole.  I finally found a strap that doesn't look like it would scratch the finish around the sound hole – the Mobius Strap.  The strap is made of a soft, durable polypropylene webbing; it has no metal parts to damage your instrument, only some plastic adjustment buckles.  
A Mobius strip is a surface with only one side, and you can illustrate that property by taking a single strip of paper, giving one end a half twist, and then taping the ends together.  The Mobius Strap uses that twist principle.  You wrap the strap around your ukulele, give one of the ends a half twist before Velcroing them together, and put the strap over your neck.  The strap lays flat around your neck and back and around the uke.  (It only works for instruments with a "waist".)  It puts no stress on the uke's neck and safely frees up both your hands for your playing technique.  (Hey, even Jake Shimabukuro uses a ukulele strap now, and he's got a heck of a good playing technique!)  It comes in one length (60″) that can be adjusted to fit most people and most ukulele sizes.  The Mobius Strap is available only in black for $16.95.