We use affiliate links. If you buy something through the links on this page, we may earn a commission at no cost to you. Learn more.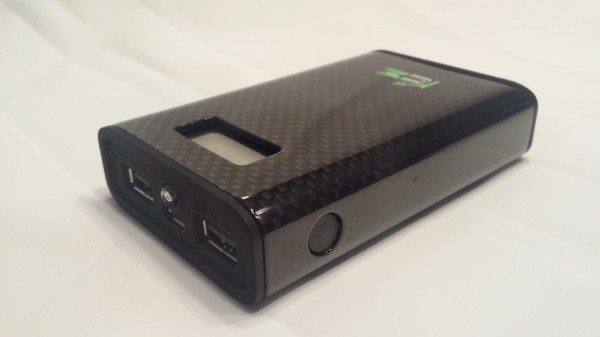 Portable battery packs are hitting their stride nowadays, with so many great options available to you that it will surely make your head spin.  I have reviewed many of them here on the Gadgeteer, and I still use most of them.  But I am always in search of better batteries… bigger capacity, faster charging, smaller footprints!  So next up to bat is the RCE External Battery – Carbon Fiber Edition from Brando.  With a 10,200 mAh capacity and dual charging ports, how will the RCE measure up to my stable of power packs?  Who will win the race and take home the roses? (Sorry, couldn't resist. The Kentucky Derby was this past weekend).  Let's find out!
Initial thoughts
No instructions of any kind came in the box.  No list of specs inside the box or on the outside, so I had to look at the end of the device itself to see how many mAh the device holds. I also had to go to the retailer's website to see the details and specs on the device.  If they want to sell this more broadly in the retail space I think they need better packaging. The ports are labeled, so that is good.  It feels nice and solid with rounded edges, and the LCD panel on the front is nice and bright.  It comes with a neoprene zippered pouch, with an outside pocket, so that is nice as well.  That's actually very useful.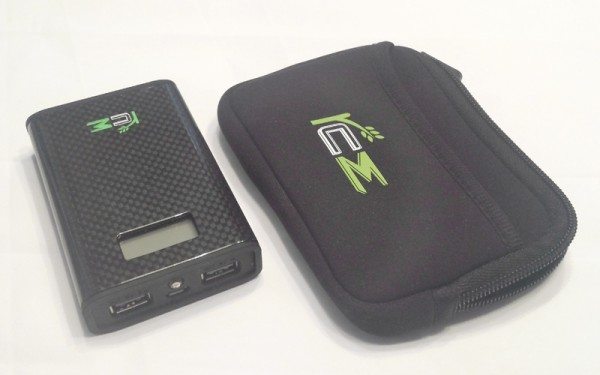 I have complained numerous times in the past about device manufacturers no longer including power adapters and instead just going with a regular USB cable.  This device doesn't even come with a USB cable.  And this thing costs $162.  Seriously?
Specs
Ok, first the specs.  As you can see from the picture below, it is barely thicker, slightly longer, and almost the same width as a deck of cards.  So it is very portable. And the neoprene zippered pouch it comes with is really nice to have.
Model: BT-01
Capacity: 10,200 mAh
Battery: Panasonic cell Battery
Input: 5V/1A
Output: 5V/1A + 2.1A
Size: 4 in x 2.6 in x .9 in
Weight: just slightly over ½ pound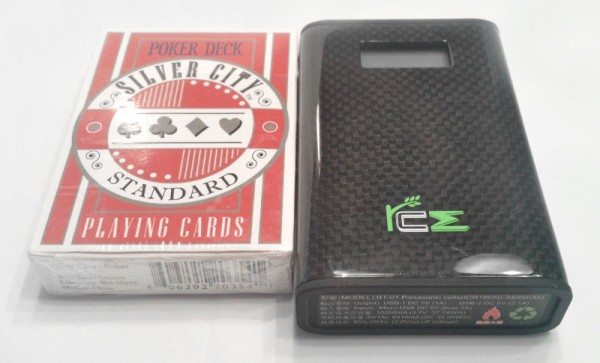 The outside of the device comes in glossy and matte carbon fiber finishes (I got the glossy), and you can have any color you want, as long as it is black.  The edges are rounded, which makes it easy to hold.  The charging ports are on the top end of the RCE and the power button is on the side of the device.  The battery also protects your device from overcharge, overheat and short-circuit, which are nice features to have as not every portable charger has these features.
Performance
My cellphone is a Galaxy S4 with a 2,600 mAh battery.  The RCE charged my completely dead S4 to 100% in 2 hrs, 15 min.  And I was able to charge my cellphone 3 times with the RCE before it ran out of charge.  That isn't quite as fast as my Mophie Powerstation Pro (my current reigning champion for speed) but it is faster than most of my other chargers like my RAVPower Dynamo and my Lenmar Helix. Charging the RCE took about 10 hrs, which is pretty average I think.  I charge it overnight whenever it needs to be charged.
The RCE comes with an LED flash light, which I never use. You press the power button twice to turn it on and twice again to turn it off.  It is important to note as well that the RCE does not automatically come on when you plug up a device. You have to press the power button for it to come on. The display on the front of the device is nice because it shows more than the average display.  It shows not only the battery level but also the battery pressure, currency and temperature.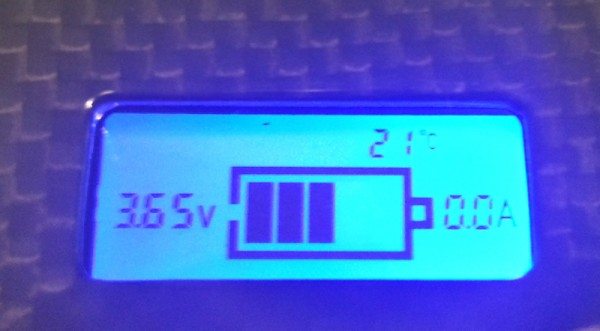 You'll find 2 USB 'out' ports on the end that you use to charge your devices, and each port is labeled. You'll find a 5V-1A port and a 5V-2.1A port, used to charge cellphones (and other misc devices) and tablets, respectively. In between those 2 ports you'll find the flash light and the micro-USB 'in' port used to charge the RCE.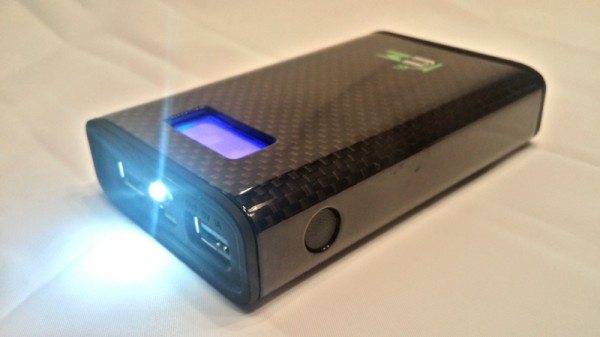 The bottom line
The performance is very good for the RCE. The build quality is very good, and the included pouch is a nice touch. The display shows great information, but honestly, I only look at the power indicator to see how much juice I have left.  All the other info is really overkill for me.  And paying over $160 for a device that doesn't come with a power adapter, much less a USB cable, is just offensive to me.  If this device were like $75 or so then I might feel differently about it, but at that huge price I just don't see any reason to buy this device over others that are much, much cheaper.
For more info about the RCE External Battery – Carbon Fiber Edition, visit Brando.
Product Information
Price:
$162
Manufacturer:
RCE
Retailer:
Brando
Requirements:
Pros:

Solid build
Good performance
Handy carrying pouch

Cons:

Very expensive
No USB cable
No power adapter