We use affiliate links. If you buy something through the links on this page, we may earn a commission at no cost to you. Learn more.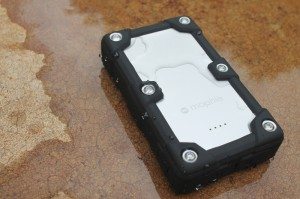 If a superhero needed a portable charger to make sure that he (or she) always had backup power for his (or her) smartphone and gadgets, I imagine the Mophie Juice Pack Universal Powerstation Pro would be their go-to charger of choice.  With rugged looks and a rock-solid feel the Powerstation Pro is intimidating just to look at, but would the performance be something that even Superman could be proud of?  Let's find out!
Initial Thoughts
It feels heavy, obviously, but this is the most solid portable battery charger I have ever held. It feels very premium. One of the selling points of this device is that it is water-resistant. Not water-proof, just resistant. So you won't be taking this thing scuba diving with you, but you can take it with you outdoors in just about any environment and not worry about dropping it somewhere.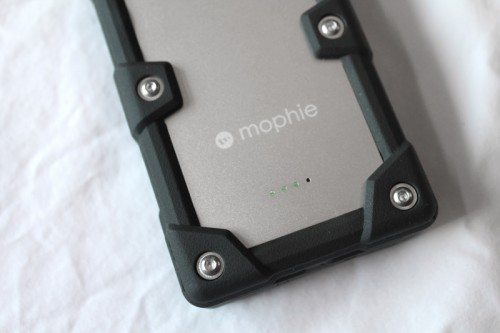 Inside the box you'll find the Powerstation Pro, a microUSB cable, and a small manual. The manual states that the Powerstation Pro has short-circuit, overcharge, and temperature protection. So if you charge your device overnight like I sometimes do, the Powerstation Pro will not overcharge your gadget.
Specs
It has a 6,000 mAh battery inside. The manual states that it is rated at IP65, which is an international standard for dust- and water-resistant. So the IP65 rating means it is totally dust-proof and resistant to water being spayed at it when sealed. It is covered in a very thick, soft-rubber case, with the exception of the face of the device, which is a silver brushed metal. Around the face of the device are metal rivets embedded in the soft rubber that I assume are for disassembling the battery pack if ever needed, but it does add to the industrial look of the device.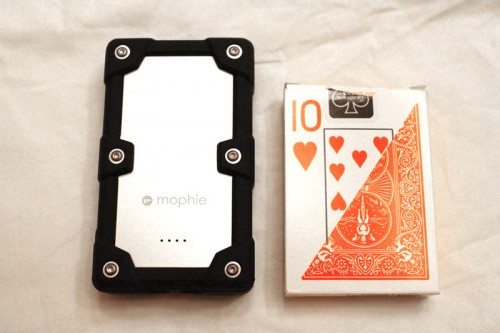 As you can see above, it is slightly bigger and thicker than a deck of cards. It only has one button on the side, which will illuminate the indicator lights on the front. The bottom of the Powerstation Pro has the flaps covering the micro USB port for charging the device and the full-size USB port for plugging up your devices needing juice. The flaps covering the ports are very tight.  It takes some effort to open them, but this is the trade-off  for having the added feature of being dust- and water-resistant.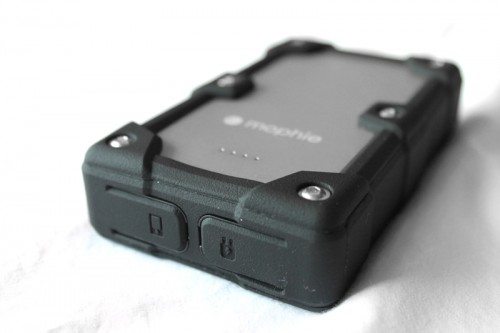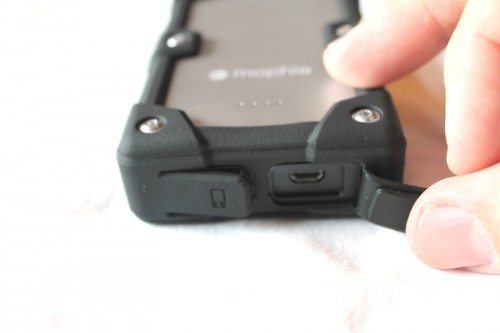 Those flaps have to remain tightly sealed to keep dust, dirt, and water away from the electronic components.
Performance
You don't have to turn the Powerstation Pro on to use it. Simply plug up your device and it automatically comes on. The Powerstation Pro charged my new Samsung Galaxy S4, which has a 2,600 mAh battery, in 2 hours. It charged it completely one more time and still had 1 indicator light on the front. My current backup battery of choice is the RAVPower Dynamo, which has dual USB ports and 10,400 mAh of power, but the Powerstation Pro charged my devices at 2.5x the speed of the Dynamo. Holy smokes. This thing charges your gadgets fast! Seriously fast. The manual in the box says it can charge at "super-fast speeds".  I rolled my eyes when I read that, but they are right.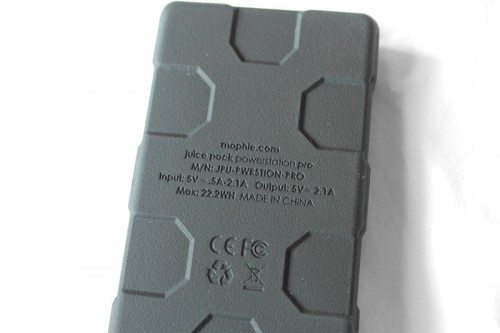 To test the water-resistance, I took the Powerstation Pro outside on the back patio and doused it with lots of water. I sprayed it, and threw water at it from every direction, and it held up as advertised. When I opened the flaps on the bottom that cover the ports, they were dry as a bone. Very nice. But the manual does say that if you are charging anything, and thus have the flaps open, you can't expect it to be dust free and water-resistant.
It is also important to note that you can't be charging the Mophie and have a device plugged up to the Powerstation Pro at the same time. It can't be used as a pass-through device.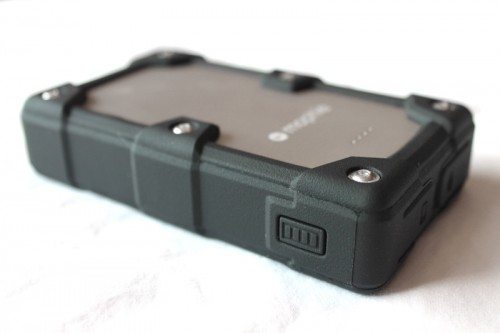 Bottom line
The Powerstation Pro is a fantastic device. If you want super-fast charging and a rugged design, look no further. But it is a little pricey at $99, and it can only charge one device at a time. If you don't need the rugged factor, you can opt for the Powerstation Duo by Mophie and get 2 USB ports with the same performance as the Pro, for the same price. Superman and Batman not withstanding, some people might question whether or not you really need this type of rugged protection to charge your devices anyway, because while your device is charging you lose that protection. But still, for a 6,000 mAh device that charges this fast, the added rugged protection is going to justify the steeper price for some people.
Update 12/18/14
After 15 months, the Mophie Powerstation Pro still lives in my car daily.  After about a year, I noticed that I can't get a full 2 charges from the Mophie anymore.  I only get about a charge and a half.  It still charges extremely fast, but I can tell the battery isn't as robust.
Source: The sample for this review was provided by MobileFun. Please visit their site for more info.

Product Information
Price:
$99.00
Retailer:
MobileFun
Pros:

Solid, rugged design
Amazingly fast charging for your devices
Dust- and water-resistant

Cons:

You can only charge one device at a time
Pricey compared to competition