We use affiliate links. If you buy something through the links on this page, we may earn a commission at no cost to you. Learn more.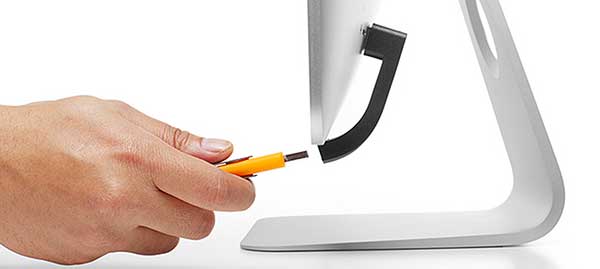 When I was using an iMac as my main computer, I loved almost everything about it except for one thing… It was always a pain in the you-know-what when I needed to plug a cable or flash drive into one of the USB ports. In Apple's infinite wisdom (or lack thereof) they located the USB connections on the back bottom edge of the display. This usually meant having to stand up, and look over the top of the computer to visualize the port or to turn the iMac around. The Jimi adapter from Bluelounge is a much more elegant solution to this problem. It's a small J shaped extension cable that plugs into a USB connectors on the back of the iMac and snaps into one of the air vents along the bottom edge. This relocates a USB connector to the front of the iMac so that you can easily access it. The Jimi has been designed for the iMac Slim Aluminium Unibody models 21.5″ and 27″ released in November 2012 or later.
The Jimi is available for $14.95 from Bluelounge.