We use affiliate links. If you buy something through the links on this page, we may earn a commission at no cost to you. Learn more.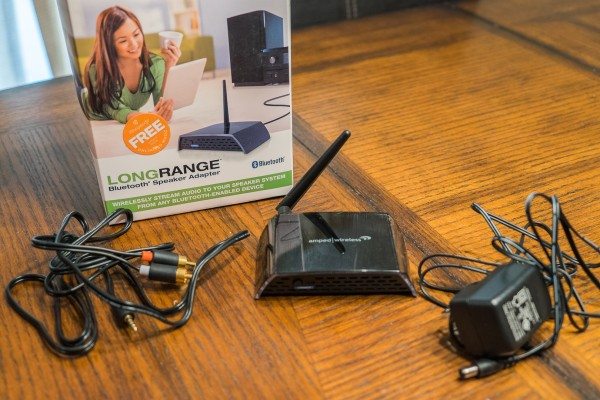 I have an older DVD player/receiver/amplifier that I used to play CDs on.  I got tired of swapping CDs in and out a long time ago and my CDs have gone dusty on the shelf.  Then I got an opportunity to review the Amped Wireless Long Range Bluetooth Speaker Adapter and music once again pours forth from my speakers! 
So what do I think about this tiny device that hooks up directly to any speaker and captures the audio feed from your Bluetooth device?  If you are thinking about getting it, stop thinking and get it.  It's small, it's simple and it does exactly what it's advertised to do.
What does it do?  It's so simple.  It acts as a Bluetooth antenna and audio output for any speaker, speaker set or audio amplifier that takes either a 1/8″ stereo jack or two RCA stereo plugs.  It's a really ingenious solution and I don't know why someone didn't think of this sooner!
So what's so special about this?  Well, as you can see in the picture below: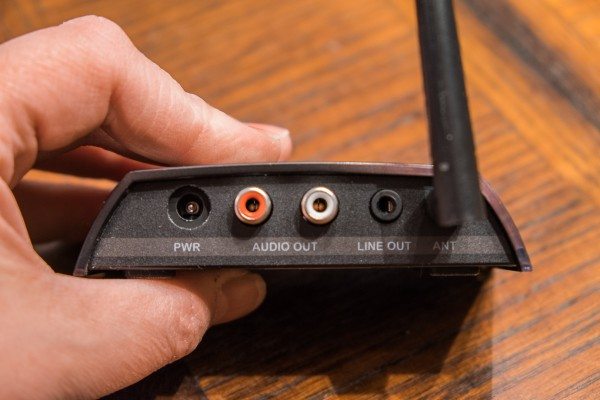 There are two RCA stereo outputs and one 1/8″ stereo output.  The cable that comes with this device is a 1/8″ stereo to L/R RCA plugs.  If your speakers have RCA inputs, then plug the cable into the 1/8″ output on the device.  If the speakers have a 1/8″ audio input, then connect the input to the RCA outputs on the device.  One cable, one solution and it works magnificently.  Here it is connected to a pair of Bose Companion speakers: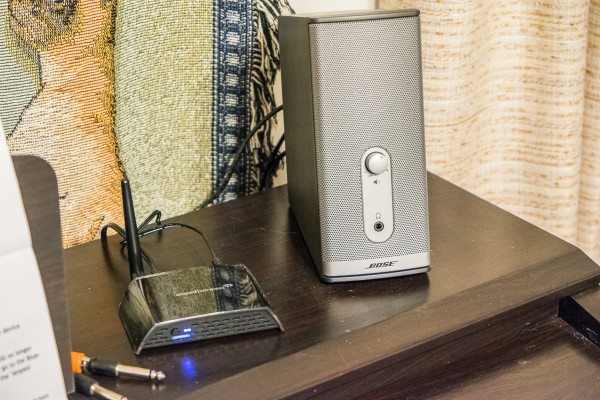 And here it is hooked into my old Panasonic receiver/DVD player.  It sits unobtrusively in the A/V cabinet and even the cats don't notice it!  It's on the top shelf, to the left of the center speaker.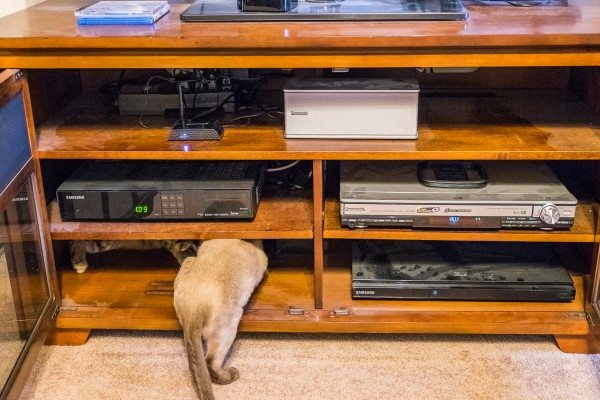 Pairing this with your device takes moments, like it should.  The indicator light on the front is lit red at first, then when you press the CONNECT button on the front of the unit…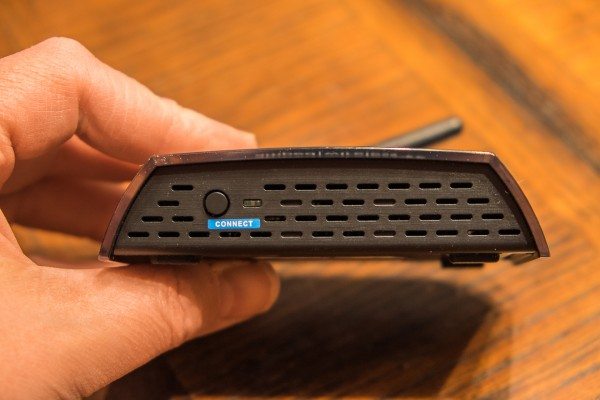 …it blinks blue.  When you pair it from your Bluetooth device, it will glow solid blue.  That's it.  And the best part?  Walls don't seem to matter to this thing.  Even distance doesn't seem to matter.  I installed it on the far northern wall of my home and there wasn't a corner in my house that diminished the signal in the slightest.  No Bluetooth receiver I have ever had can match this.  The sound it delivers is flawless, without a hitch or hiccup.
So, I reiterate my initial statement…at $69.99, if you are thinking about buying this, just buy it.  It's a fantastic little piece of equipment that will change the way I use my living room.  Get it at Amazon.com or direct from Amped Wireless!
Product Information
Price:
$69.99
Manufacturer:
Amped Wireless
Requirements:

Bluetooth-capable device (smartphone, tablet, and so on)
Powered speakers or stereo systems with 3.5mm (1/8") or RCA inputs

Pros:

Incredibly long range, even through walls
Delivers excellent fidelity sound
Unobtrusive, will fit pretty much anywhere
No-hassle pairing with device