We use affiliate links. If you buy something through the links on this page, we may earn a commission at no cost to you. Learn more.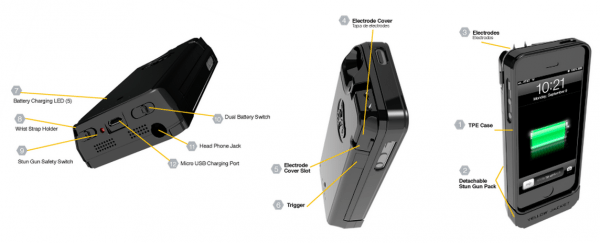 Now there's protection for your phone AND you with the Yellow Jacket rechargeable backup battery case /stun gun. This case comes with a removable stun gun pack and provides protection for your iPhone 5/5S using TPE soft plastic (PC/ABS hard plastic on the iPhone 4/4S case) and doubles the life of your phone's battery (1800mAh).  The iPhone 5/5S stun gun case has dual push triggers which allow you to activate the stun gun with either hand and deliver 950,000 volts at 1.3mA to an attacker (650,000 volts with the 4/4S case). The Yellow Jacket case has a swiveling electrode cap and a safety switch to prevent accidental discharge and measures 5.6″ x 2.6″ x 1″.
It should be pointed out that this stun gun is not a taser. A taser will launch probes that attach to an attacker then deliver electric current at a higher amperage than a stun gun and will incapacitate the attacker via loss of muscle control. The Yellow Jacket stun gun case is a direct contact weapon. It does not eject its electrodes and it delivers electric current at a much reduced amperage (1.3 mA or less) which creates a short burst of pain when the electrodes come into contact with an attacker.
The Yellow Jacket iPhone 4/4S case is available through Amazon for $99 in black, pink, white, and yellow and the iPhone 5/5S case is available for preorder from Yellow Jacket online for $149.99.