We use affiliate links. If you buy something through the links on this page, we may earn a commission at no cost to you. Learn more.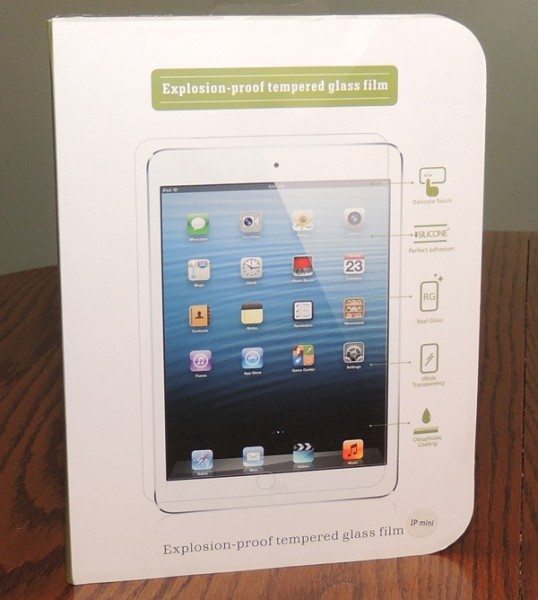 Although many today believe the Corning Gorilla glass on their smartphone is strong enough to protect itself, I love glass screen protectors.  Just the other day, a friend told me the tempered glass protector I gave (aka forced on) him as a Christmas gift had protected his screen from a long gash that some unknown object (I am betting his keys) had put on the front face of his Nexus 5. Thankfully, the screen protector did its job. The folks at PDair have jumped into the frey, creating glass screen protectors for many of today's smart devices. In this case, they sent me their Premium Tempered Glass Film Screen Protector for the Apple iPad mini to give it a try.Note: Most images can be clicked to view a larger size.
I found it interesting their packaging had no PDair labeling. It was also relatively humorous that PDair believes their glass is "explosion-proof" and say so on the front face of their packaging, twice no less.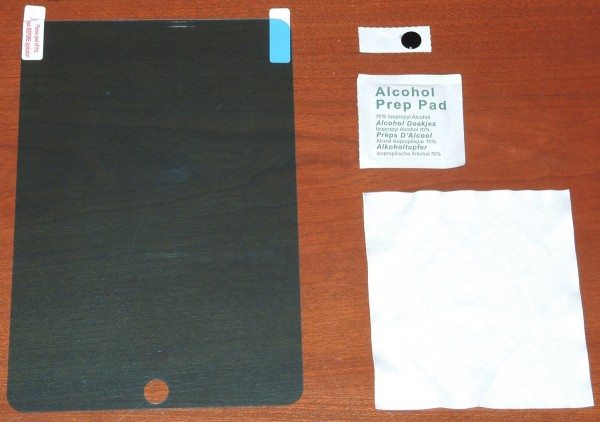 Package Contents:
Premium Tempered Glass Film Screen Protector for Apple iPad mini
Alcohol Prep Pad
Lint-free cleaning cloth
Two plastic buttons
Features:
Ultra Slim screen protector for Apple iPad mini
Improve the existing disadvantage of LCD Protection Film.
Light Penetration Ratio 93.7% (Comparison: Glasses 92%, General protective film 80%).
Bubble Free, Anti-Fingerprint, 9H Strong Hardness Anti-Scratch.
Offer durable protection from scratches, shock or any kind of damages.
Not affect the touch screen's sensitivity.
Extremely easy to install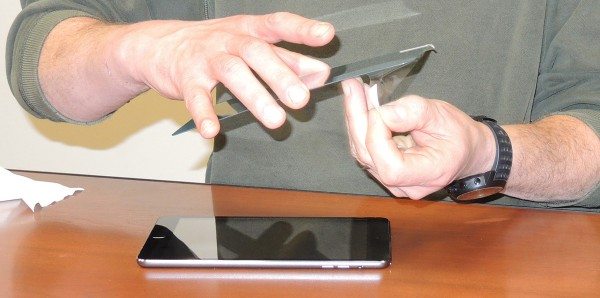 As you would with any screen or full-body protection (glass or not), cleaning the surface that the protector is going on is absolutely key to a successful installation. I learned the hard way that the rigid glass is MUCH less forgiving (as compared to a plastic film) when it comes to dust trapped between it and your device. I have been very fortunate that up to this point, I have had no issue with dust when applying past glass protection to my devices. This is surprising, as I have typically done the screen application at our dining room table in our kid-, pet-, and construction-filled home, but I digress…  Once the face of my iPad mini was clean and dust-free (at least for that moment), I removed the plastic covering from the silicone adhesive side of the glass protector.

Compared to plastic sheet/film screen protectors, applying the glass kind is extremely simple, easy, and stress free (once again if dust is not an issue). Placement, however, is critical in the application process. The PDair glass screen protector is perfectly fitted for the iPad mini with about a millimeter on either side. But since it is a rigid piece of glass, getting its placement correct first try is easy compared to a plastic film, though it is a bit more challenging than on a smaller device where the edges are not so long. The primary reason I mention this is that you do not want even the smallest portion of the glass over hanging the face of your device; it would definitely come back to haunt you.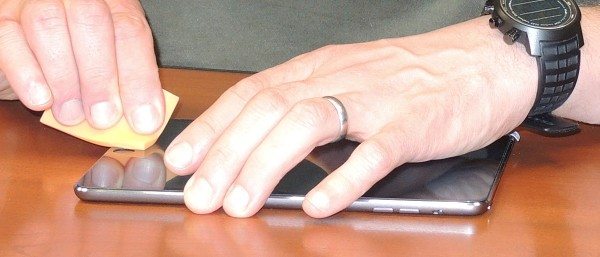 Overall, applying glass is so much faster and less messy than plastic films that require the use of liquid solutions during installation. Once the tempered glass screen protector is situated, you simply force out the air bubbles from between the two pieces of glass.
Many folks ask me if the layer of glass impacts the screen's sensitivity, and my answer is an unequivocal "no".

As I mentioned earlier, I typically apply my screen protection at home, but in the case of the the PDair premium tempered glass screen protector, I did my best to install it in an office setting. To my surprise, there was SOOO much dust that once I had the screen cleaned off I would blink and more would appear. I should not have made this rookie/tactical error and just been patient and done it at home. The results were approximately a dozen bits of dust and lint trapped between the two sheets of glass. And since the glass is so rigid, bubbles of air were left around each bit. Fortunately about half the bubbles (those around the lint) disappeared but the ones associated with the dust did not. Overall is it a livable situation. You can only see the imperfections when the screen is off. When the iPad mini is on, you can only see the bubbles and dust if you really are looking for them.
All of that said, it is no fault of the screen protector – it works as advertised. The PDair premium tempered glass screen protector provides great protection that is perfectly fitted for the iPad mini. The glass is crystal clear, and I find the slick, fingerprint-resistant oleophobic coating feels a bit nicer than the actual front face of the iPad itself. Plus, glass being so easy to install, nearly anyone can install this type of screen protection, something you could not say about plastic films. I continue to advocate this kind of premium screen protection to any who will listen, with PDair definitely being on the list of those I recommend.
Product Information
Price:
$39.99
Manufacturer:
PDair
Requirements:
Pros:

Excellent screen protection
Extremely thin
Great "naked/not even there" feel
Easy stress-free installation
Does not effect touchscreen sensitivity
Oleophobic coating reduces the appearance of fingerprints
Does not interfere with Home button
Perfectly fitted for the iPad mini
Works with most cases

Cons:

If trapped dust gets under the glass, it creates bubbles