We use affiliate links. If you buy something through the links on this page, we may earn a commission at no cost to you. Learn more.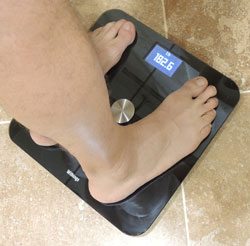 Throughout my life I have worked out diligently in a never ending effort to run faster/further, jump higher, hit harder, etc. As many longtime athletes know, to maintain that same fitness level requires an ever increasing effort and perseverance as the years and decades roll by. Historically I have rarely measured my weight, BMI, or body fat. Typically it was as simple as my last run pace and how my jeans fit. But sadly, I find it time to raise the bar on the management of my fitness. It is my hope that Withings' latest high-tech weight and body management tool will help me do just that. The Withings Smart Body Analyzer WS-50 is a follow on to their WiFi Body Scale Julie reviewed a few years back, that is even better at gathering and presenting body/health data.
Note: Many images can be clicked to view a larger size.

I am a numbers guy, a pure statistical geek. The Withings Smart Body Analyzer provides you with your weight, body fat, heart rate, ambient temperature and "air quality". The smart-device wirelessly sends this information to your Withings' account not only on their website but your smartphone as well.
The scale's top is a relative thick piece of tempered glass with the main body and bottom constructed of a thick, rigid piece of plastic. The built in rubber feet are meant to sit on hard surfaces like tile. Withings includes a set of larger slip-on feet for using the smart-scale on carpeting.
Specifications:
Sensors

Four weight sensors

Weighing range: 5 -> 180kg (9 -> 396lb)

Patent-pending body position detector for highly accurate weighing

100g (0.2lb) graduation

Units: kg, lb, st lb

Body Fat

Bioelectrical Impedance Analysis

Athlete and non-athlete mode

Unit: body fat %

Heart Rate

Patent-pending heart rate measurement technology
Unit: bpm (beats per minute)

Air Quality

Temperature and carbon dioxide (CO2) measurement

Units:

- temperature: °C, °F

- carbon dioxide: ppm (parts per million)

Range:

- temperature: 15°C – 30°C (59°F – 86°F)

- carbon dioxide: 300ppm – 8000ppm

Accuracy:

- temperature: ±1.5°C

- carbon dioxide: ±10%

Display

Large graphical display (2.4″x1.6″)

128×64 pixels

Backlighting

Wireless Synchronicity

Wi-Fi 802.11 b/g/n, WEP/WPA/WPA2-personal security
Bluetooth Smart Ready (Bluetooth 4.0) connectivity, compatible with iOS devices

Size, Weight, & Materials

Weight: 2 kg (4.4 lb)
Large tempered glass platform

32.5×32.5×2.3cm (12.8"x12.8"x0.90")

Battery & Power

4x 1.5V AAA alkaline batteries
Average battery lifetime of 1 year

Memory

Stores up to 116 readings if it can't sync wirelessly

User Profiles

Up to eight users with automatic recognition, easy user profile creation from the Withings app. No button to press on the scale.

Environmental Requirements

Temperature Range for Use: 5 à 35 °C /  Relative Humidity: – 30% – 80% (without condensation)
Temperature Range for Storage: -10°C – +50°C Range of Relative Humidity: 10% – 90% (without condensation)

Compatibility

iPhone (3GS or later), iPad (all versions) or iPod touch (3rd generation or later), with iOS 5.0 or later and Internet access (mobile data or Wi-Fi)

Bluetooth-enabled Android smartphone or tablet with Android 2.3.3 or later, Internet access (mobile data or Wi-Fi)

Cannot be setup from a computer

In the Box

Smart Body Analyzer

Carpet feet for high-accuracy on carpet or rug

Quick installation guide

4x AAA Alkaline included
Initial Setup: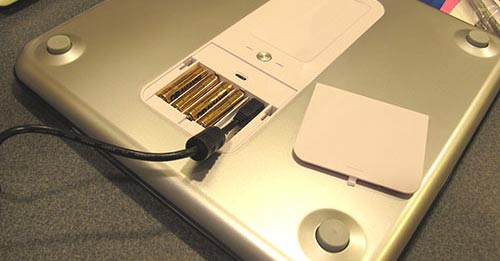 Back in 2010, Julie had to connect the Withings WiFi Body Scale to her computer to initially setup/configure the device. While not a huge hassle, the WS-50 Smart Body Analyzer is even easier to get up and running. The Smart Body Analyzer does not use any wires or need a computer to get setup and operational.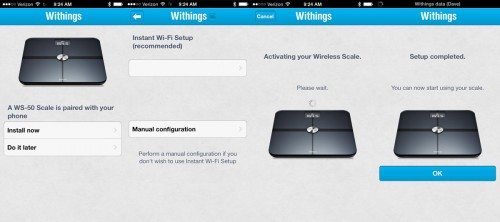 You simply download the Withings app and pair your smartphone/device (in my case, an iPhone 5 but there is also an Android app) with the WS-50 via Bluetooth. During the pairing/setup, the process asks you if your smartphone can provide the smart-scale your WiFi password and Withings profile. A minute or two later, you are configured and good to go. Setting up your account with your age, gender, height and weight info is quick and easy. The entire process is remarkably simple and straightforward.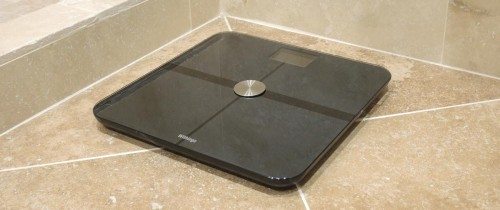 The Withings Smart Body Analyzer WS-50 looks very nice in our just remodeled bathroom. It has very modern look with its shiny black glass top that matches our travertine and black granite bathroom. Like its predecessor, the WS-50 is able to accommodate up to 8 individual profiles/people. That's more than enough for a typical family.
Operations:

The LCD will first display your weight, percentage body fat, heart rate and finally the "air quality"/CO2 concentration and temperature in your home. Body fat is measured through invisible electrodes embedded into the surface of the scale. When you step onto the smart-scale with your bare feet, your body's impedance is measured. A small and harmless electrical current is passed through your body. The electrical current passes more quickly through muscle tissue than it does through fat or bone tissue. The amount of resistance to the electrical current relates to how much fat-free mass a person has and their body density. Not knowing how accurate the sensors are, I am using the body fat measurement/data qualitatively versus quantitatively, as a trend indicator.
Website Interface:

The Withings web interface/application is great. You can see/analyze your progress and daily data on intuitive graphs. You are also able to set individual goals (i.e., weight, body fat, and BMI) that are visible on each graph plus their system shows a tread line through the individual data points/noise.
Mobile Interface: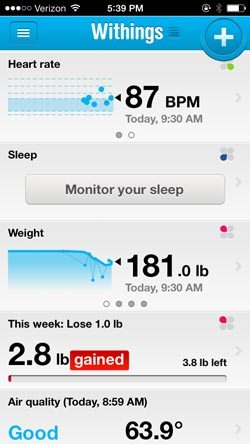 The smart-device app is equally as good and nearly as information packed as the web interface.  It is nice to have your data on the fly. Like the web interface, the Withings smartphone app tells you your last weight, body fat, BMI, heart rate, and air quality reading with a small graphic showing your past data points. It also nags you (in red no less) when your weight goes up and how far you are from your current goal.

The data the WS-50 collects can be used with many (according to Withings 100+) other fitness apps. Withings has partnered with these other health programs to ensure their data is usable no matter which high tech fitness world you live in.
Truth be told, I really like the Withings Smart Body Analyzer, from its simple and intuitive setup to its easy to understand and data packed mobile and web-based interfaces. It is a great tool for monitoring your body's physical makeup. Nothing beats cold hard numbers in the never ending fight to either stay or get in shape.
Product Information
Price:
$149.99
Manufacturer:
Withings
Requirements:
Pros:

- Well constructed
- Easy to setup
- Simple to use
- Provides great fitness data
- Excellent tool to help stay or get in better shape

Cons: