We use affiliate links. If you buy something through the links on this page, we may earn a commission at no cost to you. Learn more.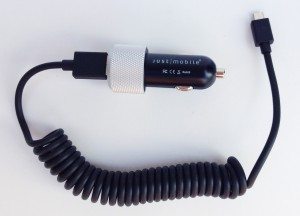 Mobile devices are among the most useful, fun and ubiquitous of all our gadgets.  But the one task they can't perform (yet) is generating their own power.  For that, we need accessories like chargers and cables suited to various locations where power is available.  The Just Mobile Highway Max is a charger with a 12 Volt DC input and dual USB 2.1 Amp outputs to charge two devices at once and includes a coiled USB to micro USB cable.  Let's take a look.
Options and Specs
2x USB ports
2x 2.1A output – fast charging for phones and tablets
1m USB-to-micro USB coiled cable included
Fused for surge protection
Green micro-LED power light
 Packaging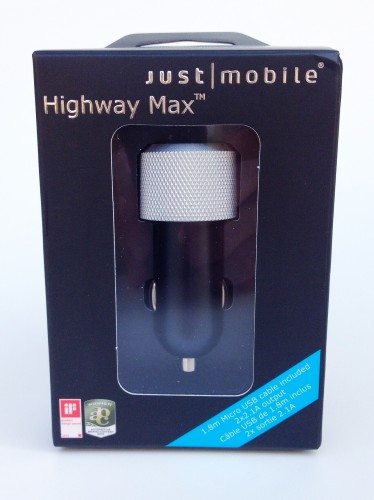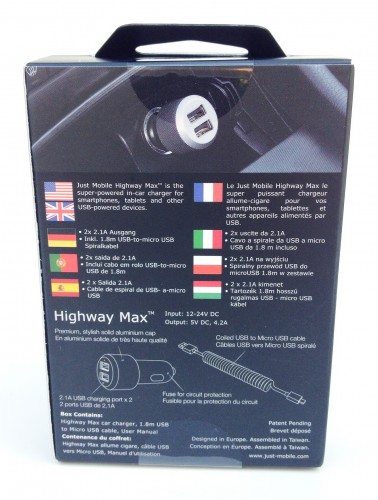 The Highway Max's packaging is simple.  It explains the main features of the device and it includes a window to view the product from one side.  I'm not a huge fan of this type of packaging, but it is better than having no visual of the product at all.
Contents

Highway Max charger
Coiled USB to micro USB cable
User manual
Just Mobile decal
Product registration card
Features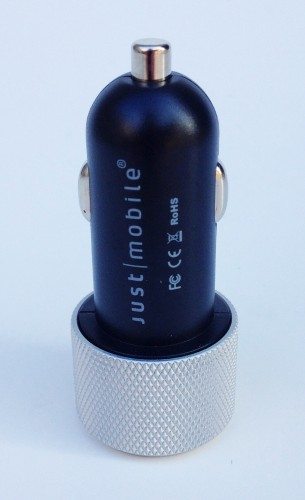 The Highway Max is constructed from a two-part plastic body with an aluminum ring at the base. The aluminum ring has a diamond knurl which provides a good place to grip when inserting, removing or rotating it to adjust its position while in the charging outlet.  The construction feels fairly robust and solid.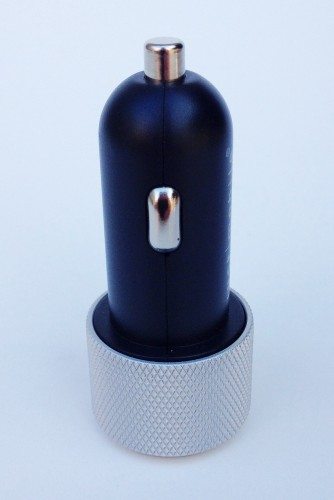 According to the Just Mobile site, the Highway Max is "fused for surge protection" which I assume means that it is designed to protect your devices from a power overload which could damage them.  However, if this situation would happen to occur, there does not seem to be a way to replace the fuse, so I would assume that the Highway Max would become scrap at that point.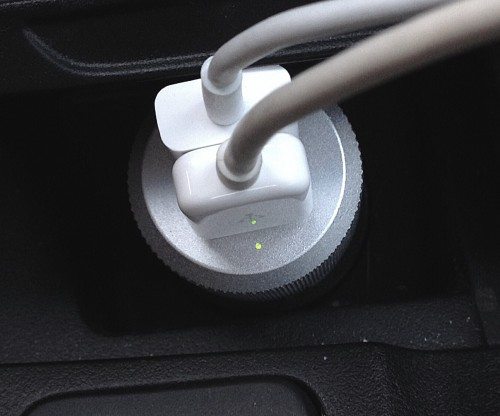 The Highway Max features a tiny green micro-LED that illuminates when it is plugged into a power outlet.  This LED is tiny, I mean really tiny.  It is a bit difficult to see in broad daylight unless you are looking directly at a right angle to the face of the charger, but it is significantly more visible in lower lighting conditions.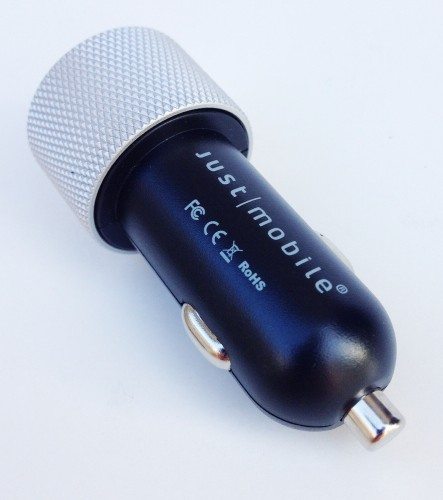 As is standard with products of this type, the Highway Max features spring-loaded contacts at the tip and one on along either side.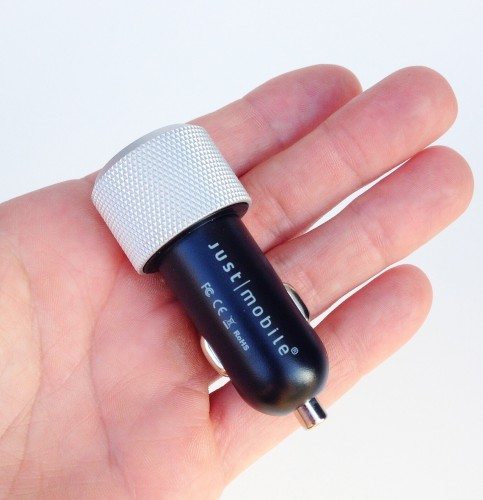 The Highway max is relatively small and compact in size, though I have seen (and used) smaller ones.  It seems slightly longer than other devices and this additional length may be due to the fused surge protection in its innards which lower-priced devices are less likely to have.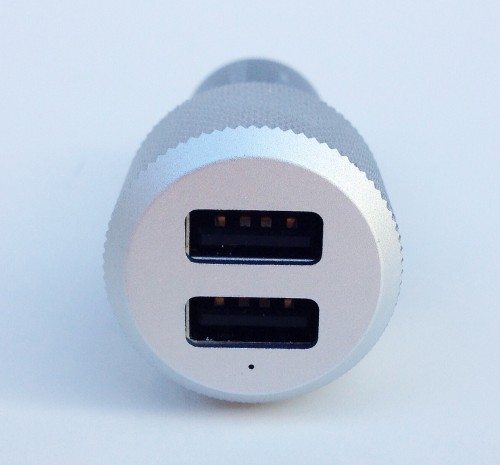 The Highway Max includes two USB charging ports, both of them rated 2.1A.  This means that it can not only charge two smartphones at a time, but it can also charge up to two tablets at a time.  Most similar dual charges will allow charging of two phones or even a phone and a tablet, but the ability to charge two tablets simultaneously is a fairly unique feature.  And considering the growing popularity of tablets, this feature makes the Highway Max more versatile than many of its competitors.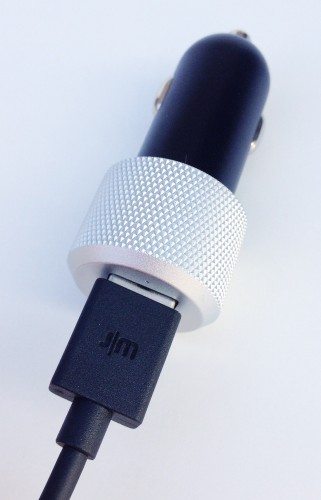 The Highway Max's included USB to micro USB cable performs typically enough, but because it is coiled, it works well in automobile applications because it avoids the hassles of a straight cable getting caught on things.

My 2002 Honda Accord has a small, spring-loaded cover over the 12V power outlet located in the console.  When I plug two USB cables into the Highway Max, the length of the charger is just long enough for the cover to rest on it, keeping the USB cables free and clear without the cover pressing on them.  And yet I would also consider the Highway Max a fairly low profile device because it does not protrude from the power outlet all that far.
Conclusion
The Just Mobile Highway Max dual USB car charge allows you to charge your mobile devices from a 12V DC power outlet in a car or plane. While it is slightly longer than some of its competitors, its construction from plastic and diamond-knurled aluminum band grip seem to make it a bit more solidly made and from higher-quality materials than some of the other similar products I've used.  It is also capable of charging either two phones, a phone and a tablet or even two tablets simultaneously with its dual 2.1A max USB ports.  It also includes a coiled USB to micro USB cable. The Just Mobile Highway Max dual USB car charger offers a good combination of features for the price.
Updates 04/09/15
This USB charger is still in use in my car and I use it daily to charge my iPhone during my commute.
Source: The sample for this review was provided by Just Mobile. Please visit their site for more info.
Product Information
Price:
$29.95
Manufacturer:
Just Mobile
Requirements:
Pros:

+ Charge two phone or two tablets simultaneously
+ Solid construction
+ Knurled aluminum grip band

Cons:

- Slightly longer than other similar devices