We use affiliate links. If you buy something through the links on this page, we may earn a commission at no cost to you. Learn more.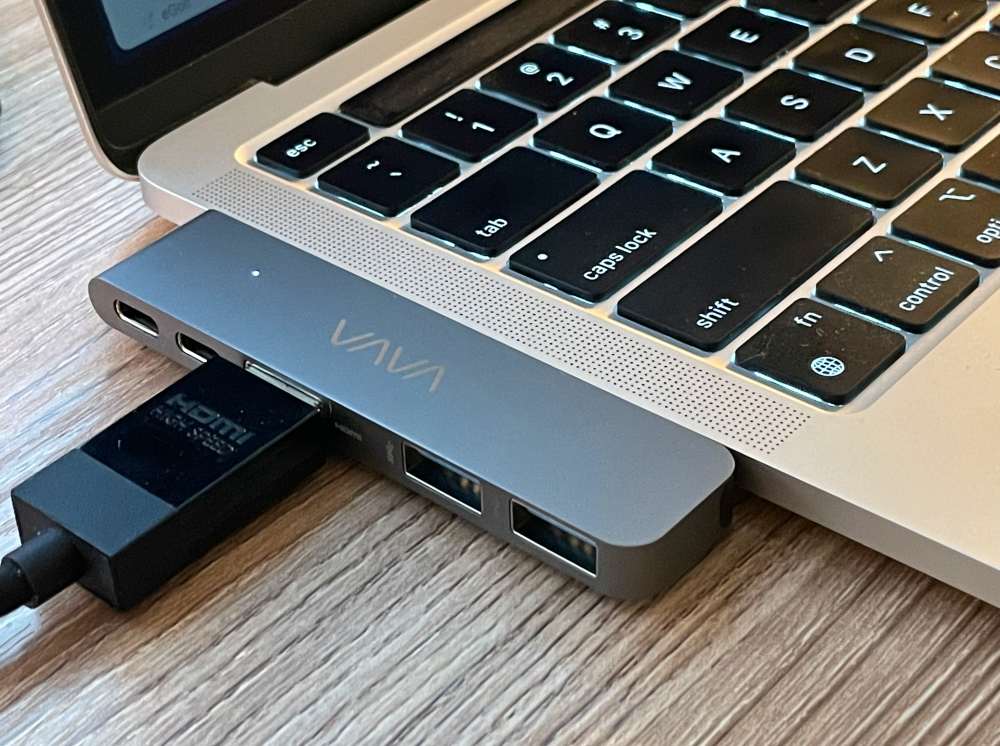 REVIEW – Apple misplaced a bunch of ports when they switched from MagSafe to USB-C on their MacBook line a few years ago. Even if you have one of the Intel machines with 4 ports, they're all USB-C. It's nice and clean, but means you need to plan for compatibility whenever you need to connect to monitors, webcams or any accessory for that matter. #DongleLife amiright? Hubs are a great solution and as you might expect there are lots available and they come in all sizes and shapes. Vava's USB-C Hub falls on the svelte side of the range and just might be what you're looking for.
What is it?
The Vava USB-C hub is pretty diminutive and adds an HDMI and 2 USB-A ports while passing through the two ports you already have including the ability to charge at full speed.
What's in the box?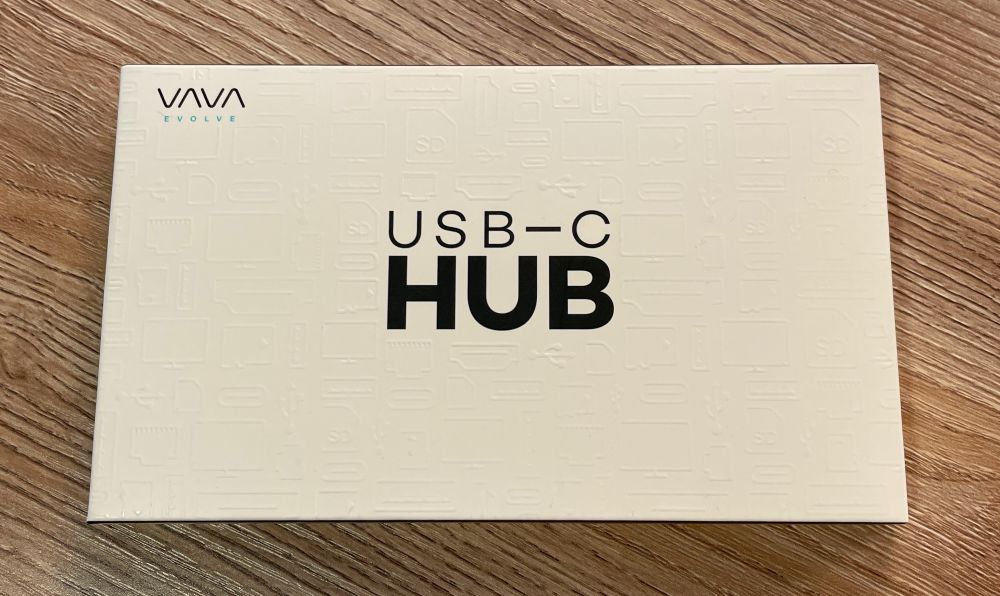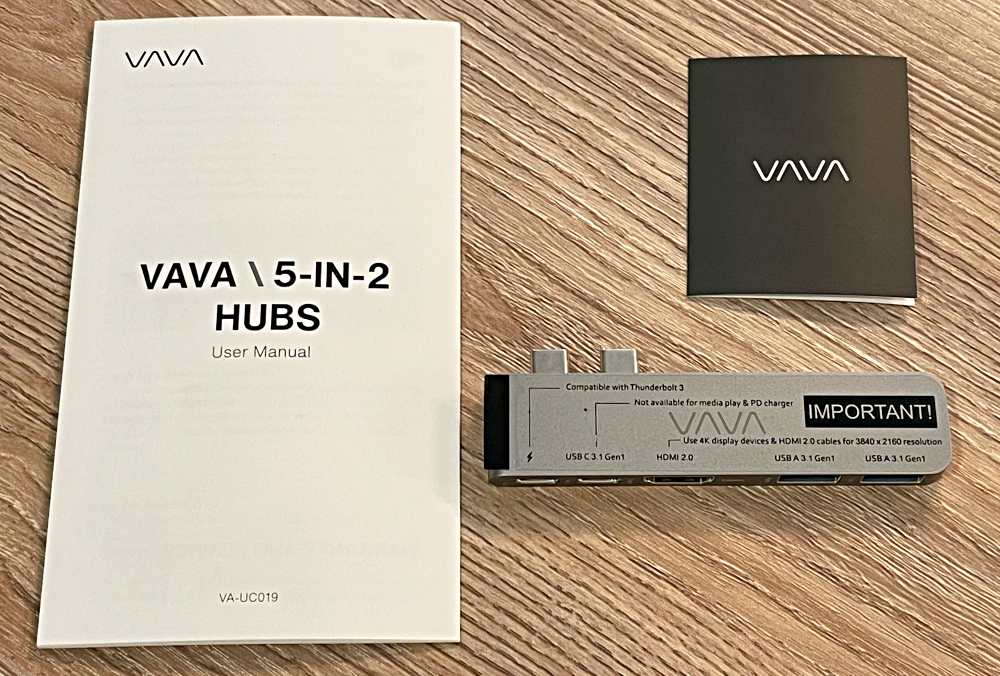 USB-C Hub
User manual
Warranty card
Hardware specs
Laptop Connection: Dual USB-C/Thunderbolt 3 connector specific to MacBook
Pass-Through Charging: Up to 100W if using a 100w charger
Dual Monitor Support: Only on Intel MacBooks (Apple M1 MacBooks do not support dual monitors)
Ports:
(1) HDMI (4k video at up to 60Hz)
(1) Thunderbolt 3 (5k video support up to 60Hz) (Data transfer up to 40Gb/s)
(1) USB-C (data only / no charging)
(2) USB-A (up to 5Gb/s)
Dimensions: 97 x 30 x 9mm (only adds 23mm to width of MacBook when connected, not 30mm)
Design and features
Vava's hub is designed for compact, portable performance.

The two ports on your laptop instantly gain three, adding 2 USB-A and an HDMI port while duplicating the two you had.

The USB C Hub is reversible in that you can flip it 180 if needed. In fact the LED is visible from both sides for this reason.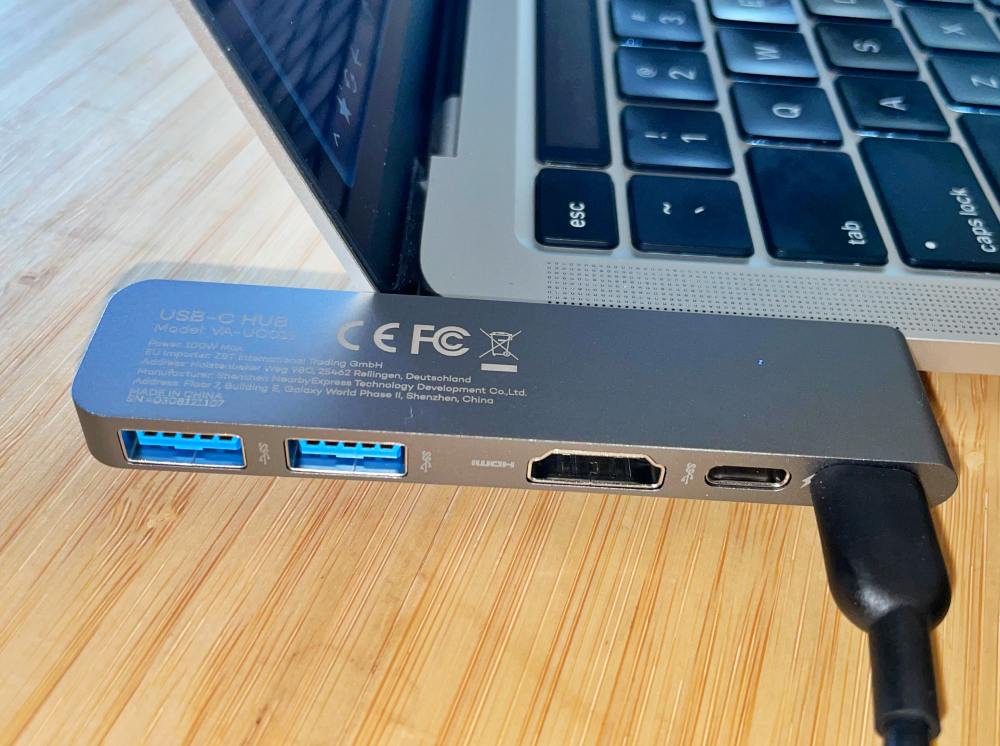 It also supports up to 100w of pass through power when using the Thunderbolt 3 port shown above and that does still work when flipped 180 even though the ports swap locations on the Mac.
Setup
Plug it in to the left side of your laptop. MacBooks only here as the spacing between the two ports is specific.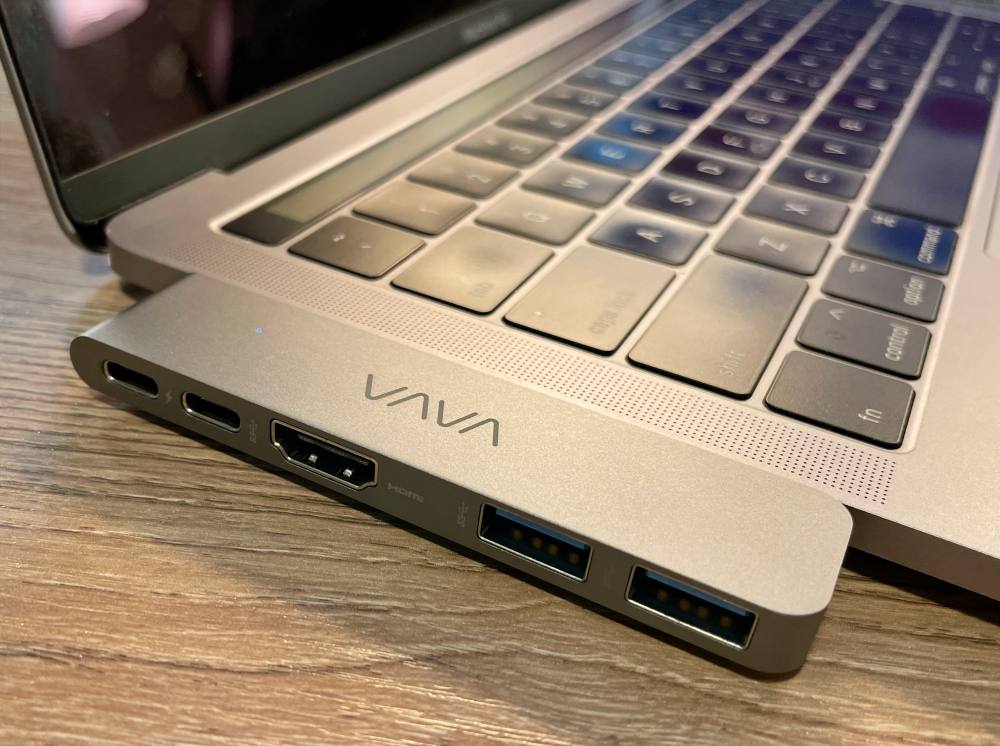 To charge while using the hub, connect your power adapter to the Thunderbolt port. To connect an external display, use either the HDMI port or the Thunderbolt 3 port with a corresponding cable. Use the USB-A ports to connect any of those peripherals
Performance
The Vava USB-C MacBook hub is a great little unit. For most users, it's a perfect solution as it adds HDMI and two USB-A's which is what you're likely to need in most circumstances.
Here's what you need to know. There's a couple of limitations that the removable sticker calls out pretty well.

For charging, the Thunderbolt 3 port will pass through to your MacBook. If you've got other devices connected to the hub, you'll start to eat into the max available power so it's recommended to connect a 100w charger which may be more than the one that came with your particular MacBook.
For video, the HDMI port works as it should. Up to 4k at 60Hz. I had no issues connecting to my monitors, one at 3440 resolution and one at 4k. The Thunderbolt 3 port does support video and lets you display gorgeous video up to 5k, but you unless you need USB-A ports, you would just connect that directly to your laptop. To charge your laptop simultaneously you'll need to have a Thunderbolt 3 monitor that's providing power through that one connection which narrows the compatibility quickly. The USB-C port doesn't help here as it is data only so it doesn't work the same way the second port on your MacBook does. This means that while you could run dual monitors it would be limited to a quick presentation that will need to finish before your battery dies.
For data, you've got USB-C, two USB-A's and that Thunderbolt 3 (if you're not charging again). The USB-As are your best bet for charging a phone or battery since the USB-C is again data only. Here's what it looks like connected to a newer MacBook Air.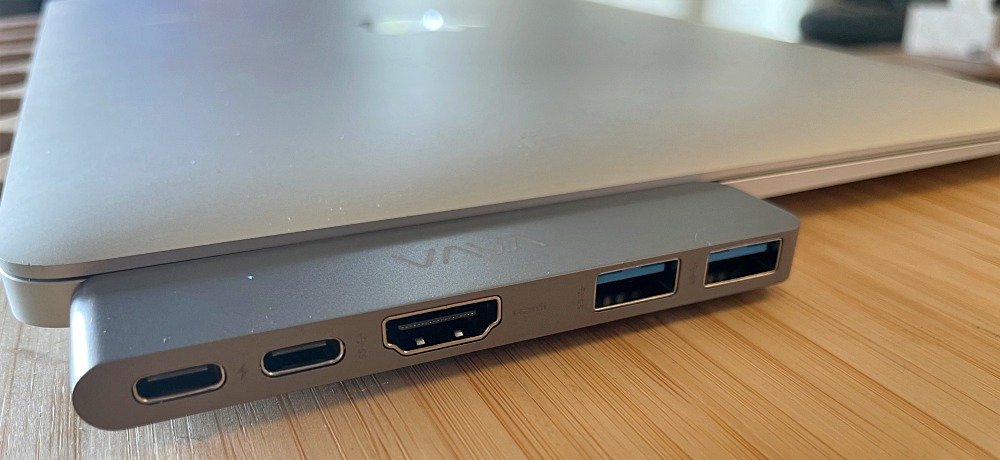 I like the fact that the small LED shows you it's connected and working, and the fact that it's visible on both sides of the device. The use case they mention is that some of the form fit hard cases for MacBook might not allow the hub to connect in the preferred orientation so you can flip it over and have it protrude from the back. It's small enough that you might be tempted to leave it connected in your bag, but I'd recommend against that as it could put quite a bit of strain on your computer's ports.
What I like
Small size and minimal weight
Just the right number of ports
Good price
What I'd change
Dual Monitor support will leave your laptop without a charging option.
USB-C port is data only
Final thoughts
The Vava USB C Hub is a great addition to your kit for having HDMI and USB-A connectivity at the ready while being able to keep your laptop charged. That goes for all flavors of Thunderbolt equipped laptops. If you're looking for true dual monitor support, which almost mandates being able to charge (and rules out M1 MacBooks), there are better options.
Price: $49.99
Where to buy: Amazon
Source: The sample of this product was provided by Vava