We use affiliate links. If you buy something through the links on this page, we may earn a commission at no cost to you. Learn more.
This post brought to you by zeebox. All opinions are 100% mine.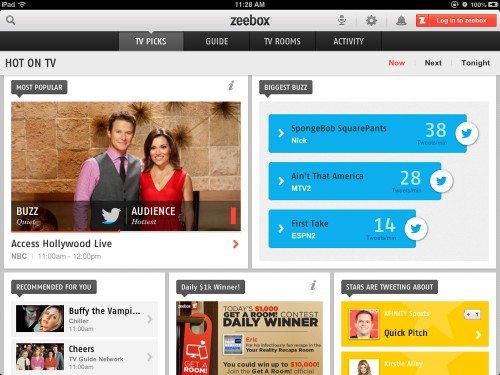 Watching TV with a friend is sometimes better than watching your favorite programs by yourself – so long as they don't start talking over the dialog on the screen!   With the free zeebox tv companion app on your iOS , Android, or Blackberry mobile device or at the zeebox website, you'll have a TV companion that offers you a wealth of information about your favorite shows without making you miss a single word.  You won't need to buy any other hardware to begin enjoying all that zeebox offers.  You can see what others are saying and share your thoughts with your friends or the world, if you choose.  You'll see what's hot on TV, what shows are generating the biggest buzz, and you'll be able to see upcoming shows and set yourself a reminder to watch, all from zeebox. 
You can link with your Twitter or Facebook accounts to see what your friends are saying and join the conversation, or you can chat with friends.  Privacy settings allow you to control who will be able to interact with you, even block everyone if you wish.  The Starwatch feature makes sure you see what celebrities and media bloggers are Tweeting about TV shows, too.
Right now, zeebox supports the 120 most popular channels, and they'll be expanding their coverage in the future.  You can use zeebox as a remote control for your XFINITY set-top box, and zeebox plans to add the ability to control other cable boxes, too.
You'll be able to have a conversation about the supported shows or anything else on TV in the TV Rooms.  When you join a room, you can talk with other fans of the show and discuss the latest episode, the stars of the show, what it all means, or anything else that comes to mind.  You can even start your own TV Room if you don't find one about your own favorite show or shows.  If you create a TV Room before 11:59 p.m. ET on August 9, 2013, you'll be entered into a contest with a $10,000 prize.
zeebox won't replace your TV, but it might become your favorite TV-viewing companion!