We use affiliate links. If you buy something through the links on this page, we may earn a commission at no cost to you. Learn more.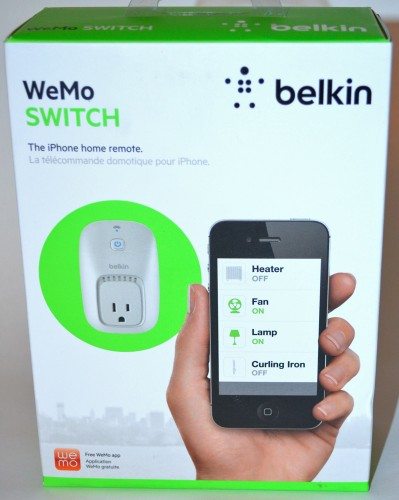 I have some OCD tendencies that are under control now for the most part, but I still freak out about leaving the house unattended for any length of time.  I don't mean I have agoraphobia, but I'm afraid someone will break into the house while I'm out, even for a few hours.  We don't have a lot of crime in our area, but that doesn't stop my worrying.  I've thought about adding some sort of automatic controls to the lights in my house to give it an always-occupied look, but those old fashioned timers are so predictable that they don't fool anyone after a while, and I don't have the skills to wire in more sophisticated automation devices.  I wrote about some home automation devices from Belkin that plug in to an AC outlet and can be app-controlled over WiFi a while ago, and I decided I'd try them out.  I bought one WeMo Smart Home Automation Switch from the local Apple Store and tried it out with a lamp.  I liked it so much that I've purchased three more over the past few weeks – one from Amazon before they raised their prices and two more from the local Apple Store.  Were they worth the purchase price?  You betcha!
All images can be clicked for an enlarged view.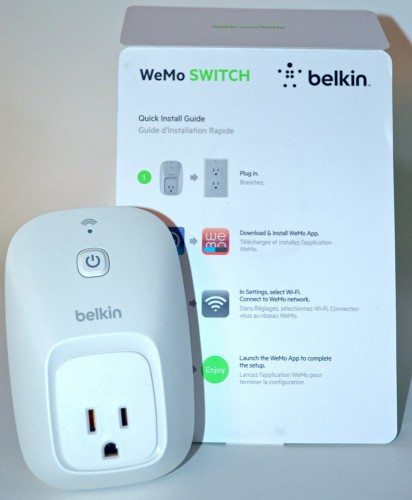 Belkin has three devices on the market at the moment – the Switch, which I'm reviewing, and the Motion (detector) and a Baby Monitor, neither of which I have purchased.  They will soon have a wall-mounted Light Switch that you'll need to wire into your home's electrical system to control your ceiling fixture or switched wall outlet.
The Switch plugs into an AC outlet, and you plug a lamp, fan, heater, iron, or other appliance into its socket.  I've even seen reviews on Amazon saying they use it to control a window air conditioner.  I don't find anything in the Belkin WeMo pages that tells me how much power the attached appliance can safely pull, nor how much the Belkin Switch itself consumes.  It obviously  does pull power constantly, but I consider that's a small price to pay for some peace of mind.  After digging around on the Belkin site for awhile, I found a comment from Robert S., a Belkin Customer Care representative, on Belkin's WeMo Community site that says: "The WeMo can handle 15A, 1800W @ 110V US."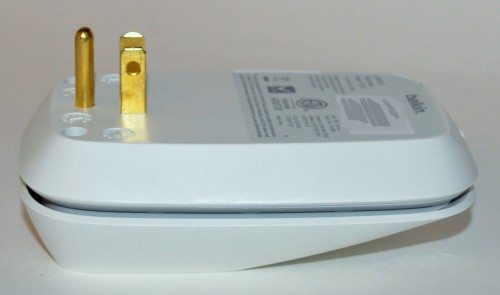 The Switch has three prongs on the back.  I'm of course using the US model, but I saw different socket and plug configurations on Belkin's UK site, so there are obviously some models that work outside the US.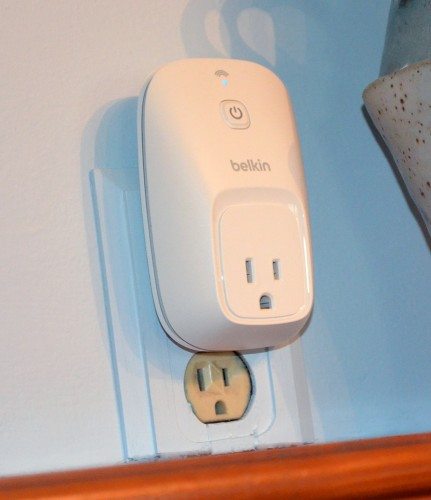 I plugged the Belkin Switch in at my fireplace mantle for initial setup.  (It was easy to reach and to photograph plugged in there temporarily.)  You can see that the Switch takes up a lot of room.  You won't be able to plug another big power supply unit into the bottom outlet; only something the size of a standard lamp plug will fit.
(Just a note about the power button you see on the WeMo Switch:  You can use this button to turn on the attached appliance regardless of the rules status and without having to grab your mobile device to use the app to operate the Switch.)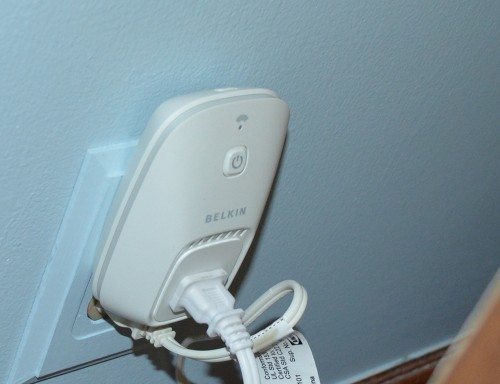 Here it is in its permanent location behind a cabinet in the living room.  I have a lamp plugged into the Switch and another lamp plugged into the bottom socket.  Before I moved the Switch to its permanent location, I first made sure it was set up and operating properly.  The first step is to download the free WeMo app from the Apple App Store.  (There's also an Android app available, but it's still in beta.)  This is an iPhone app, but it will of course run on an iPad in the small iPhone-screen size.  You must have a mobile device to set up the WeMo Switch.  There are currently no PC or Mac apps for the WeMo devices.
You plug in your WeMo device, and it automatically enters pairing mode.  Go into the iPhone/iPad's Settings app and select the WeMo WiFi network from the list to establish your first connection.  (I used my iPad mini for setup.)  We have an Apple Time Capsule, which supplies us with a home network and a guest network.  Because we have so many things on the home network, I decided I'd put the WeMo devices on the guest network.  I had to first make sure my iPad was connected to the guest network, then I followed the steps outlined in the WeMo app to connect the WeMo Switch to my guest network.  I had a lamp plugged in to the Switch so I could test out my connection and check to be sure the Switch actually worked.
Almost immediately after the WeMo was connected to my network, the app notified me a new firmware update was available for the Switch.  I had it install that, which took 2-3 minutes.  After that completed, I was able to switch the connected lamp on and off through the app as long as my iPad was connected to the same network as the Switch.  When I reconnected my iPad to the home network I normally use, I couldn't control the WeMo any more.
To make the WeMo available to me regardless of where I was or what WiFi or cellular network I was connected to, I used a set up option in the WeMo app to make the Switch available remotely.  Once this was completed, I could turn my lamp on or off whether I was connected to my guest network, home network, or my cellular network while sitting in the parking lot of the Walgreens a few miles from my house.
I've got four WeMo Switches set up in my house now, and three of them set up effortlessly.  One of them could never establish the temporary WeMo network, so I couldn't set it up.  I was able to return it that one to the Apple Store and get another that worked perfectly.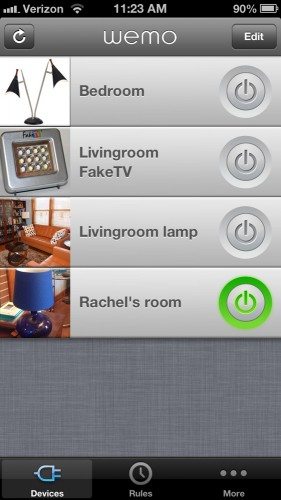 Here's a list of the four devices I'm controlling with my WeMo app.  I have lamps in the living room, bedroom, and my daughter's room on three of the WeMo Switches.  The fourth one controls the FakeTV that I reviewed earlier.  (I mentioned in its review that the FakeTV's built-in timers didn't work well, so I just turned the thing on and plugged it into a WeMo, and it works perfectly now.)
A new entry on this list is added each time you activate another WeMo.  To make it easy to tell which WeMo controls what device, you can assign a meaningful name to each and even add a photo (taken with the mobile device's camera or selected from your existing photos).
You'll notice the power switch icon beside Rachel's lamp is green; this indicates the lamp is currently on.  Any time you want to change the on/off state of an appliance, tap its power icon.  When you are connected remotely, you'll probably see the icon swirl yellow for a few seconds while the app waits to receive the status update.
Being able to switch on/off my lamps from the app is a nice feature, because it can add a little randomness to the lights in my house.  However, I can't always remember to flip the lamps, so I rely on the Rules that I can create for each Switch to do most of the scheduling for my connected appliances.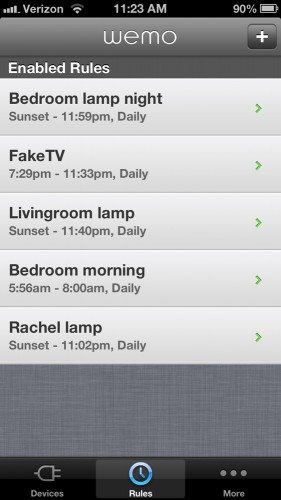 You can define rules to turn on an appliance or turn off an appliance at a specified time, or you can tell it to turn on a lamp then turn it back off at specified times.  You can specify an actual time, or you can use sunrise and sunset.  You'll of course have to tell the WeMo app the geographical location of your appliance so it can know the sunrise and set times for each day.  You can also select what days of the week you want this rule used for.  You can see that I have my lamps all come on at sunset and go off at specified times each day.  I also have my bedroom lamp come on a few minutes before my husband's morning alarm.  My FakeTV comes on just in time for me to "watch Jeopardy" each night and goes off right after I "watch the 11:00 news".  I may eventually get more creative with my rules, and have different times for the weekend and work days or a different schedule for each day of the week.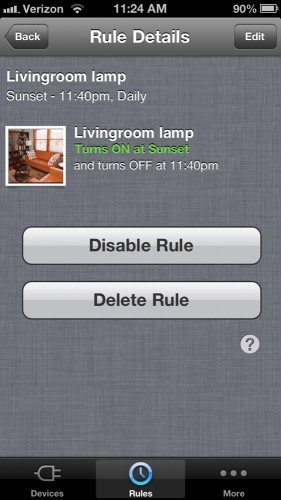 As you can tell, each device can have multiple rules.  You can easily modify them, disable them, or delete them.  And at any time I wish, I can open up my WeMo app and manually override the programming.  I could turn on my bedroom lamp for a middle of the night bathroom trip, for example.  Or I could turn the lights on from my car if I arrive home late at night after they've automatically turned off.
When you define rules for a Switch, they are downloaded into the unit's own processor.  Once it's programmed, the Switch follows the rules without any interaction from you.  You can "set it and forget it", if you wish.  Or as I mentioned, you can use the WeMo app to manually turn your appliance on/off at any time.  Manual changes override the current state, but they don't interfere with the next rule's programming.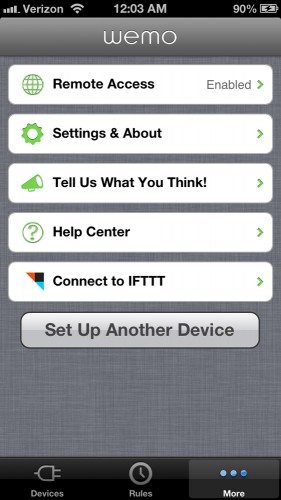 This shows the settings functions.
Here's where I established remote access for my Switches.  (My network name has been grayed out.)  I had trouble with enabling remote access each time I added a new WeMo Switch.  I found the easiest thing to do was to come here and have it "forget and disable" the remote access, then I simply re-enabled remote access.  When I did that, the Switches I had at the time, both old ones and the new one, were all available remotely.
At the time I took this screen capture, you'll see that my iPad mini and my husband's iPhone 5 had remote access to our network of WeMo Switches.  We've since added my iPhone 5 and Butch's iPad, and they all work well.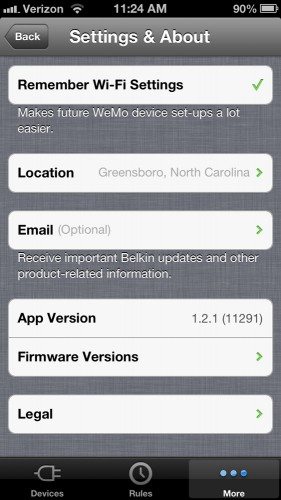 If you have the app remember your WiFi settings, it makes adding additional WeMo devices easier and faster.  You'll see my geographical location here, which is required to use sunrise and sunset in the rules.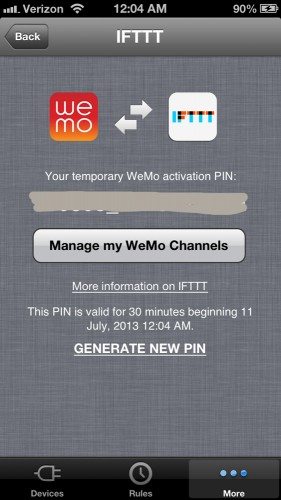 There's already a lot of functionality inherent in the WeMo app, but you can use the third-party IFTTT (if this, then that) service for creating even more sophisticated rules, or recipes as they call them.  For example, if I added a WeMo Motion detector to my setup, I could use the IFTTT service with it so that each time the sensor detects motion in my house it will send me an email notification, or I could have it turn on a lamp that's attached to a Switch in the same room when the Motion detector senses someone entering.  Because I don't have a Motion detector, I don't really need the more sophisticated recipes IFTTT offers.  (I don't want to get an email every time a light turns on or off!)  Right now, IFTTT has limits for use with the Belkin WeMo devices.  You have a limit of one Motion detector and one Switch per IFTTT recipe.
I've been using the WeMo Switches for a couple of weeks now, and I haven't had any trouble with them, other than the one dead unit that had to be replaced and the disable/re-enable remote access dance I had to do each time I added a new Switch to the setup.  Every day, my lamps have turned on and off just as specified by the rules.  I've checked the sunset time each day, and my lamps turn on within a minute of the official sunset time.  They turn off as expected, too.  I like that I can check my WeMo app and see the on/off state of my appliances simply by checking the color of the power icon for each Switch, and I really like that I can use the app to turn anything on or off at any time from any where to add a bit of unpredictability to the schedules to make the house look even more occupied.  The app has never failed to connect with my Switches, even when I'm away from the house, though sometimes I do have to wait a few seconds for my command to be received by the Switch and the updated status to be returned to my WeMo app.
I love how easy it is to set up the Switches, and I love how reliably they have performed for me.  It makes me feel a lot more secure about being away from the house, because the house always has lights switching on or off and has a "TV" playing in the front room at night.  The Switches are a very powerful tool for automating the lighting in my house and for increasing the security of it by making it look occupied even when no one is home.  It seems more versatile to me than those WiFi-controllable light bulbs, because I can control a wide variety of appliances, not just lamps.  For example, I could add another Switch with a radio, so my "TV" would have sound, or I could add a Switch and a lamp in my kitchen to make it look like we're in there having dinner or a getting a snack while we're watching TV.  I think each Switch I have is $50 well-spent for peace of mind.
UPDATE (Jan 2015):  I've moved to a different home since this review.  This building is secured with electronic locks and has a doorman on duty 24/7, so I don't need the security features I needed in the old house.  I still use these same WeMo Switches in my new location, though.  They are great for automatically turning on the lights in the living room and my bedroom on a schedule.  It's also nice to be able to turn on the lights from anywhere and to be able to turn off the bedroom lights without getting out of my cozy bed.  I still says they are well worth the $50 per switch.  I believe Belkin has discontinued the model that I own, but they still have WeMo Switches for sale.

Product Information
Price:
$49.95
Manufacturer:
Belkin
Requirements:

Home WiFi network
iOS device with WiFi or cellular connection to the internet

Pros:

Able to program an appliance to turn on/off automatically
Can override the rules programmed for a Switch anytime
Can access the Switch from anywhere so long as I have WiFi or cellular access
Can easily automate appliances in your home to increase your comfort and convenience and increase security
Plugs into an AC outlet, so there is no expensive installation required
Works with a wide variety of appliances

Cons:

Enable/disable remote access dance I had to do when adding a new Switch
Must have a mobile device, as there are no PC or Mac apps for the WeMo devices at this time