We use affiliate links. If you buy something through the links on this page, we may earn a commission at no cost to you. Learn more.

…that make all the difference. Even though I get the opportunity to try/review more than my fair share of very nice smartphone cases and accessories, I prefer to keep my iPhone as minimalistic as possible – using my iPhone 'naked'; embracing how Apple designed it to feel and operate while accepting/living with the risk of damage. Case in point: currently I my iPhone with the Spigen GLAS.tr tempered glass screen protector I reviewed earlier this year and a monogrammed aluminum home button. That's it. The latter is due to the thickness of the screen protector recessing the Home button too much for my taste. I've used several different buttons while searching for the perfect final touch for my iPhone. I eventually found just what I had been looking/searching for, an ETHANE Aluminum iPhone Home Button in dark gray with the classic Superman logo etched into it.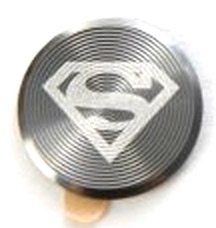 Due to copyright laws, I was very surprised to finally find it. I had searched everywhere from eBay to having a world-travelling friend look in several Shanghai marketplaces. But lo and behold, exactly what I wanted (magically) appeared on the Amazon Marketplace, and I immediately ordered a couple, worried that someone would mandate them (also available in silver, blue, and bright pink) to be removed. I was a little worried it was going to turn out to be less than worthy, but I was pleasantly surprised it was exactly as I would have made it – precision machined out of aircraft-grade aluminum with the Superman shield very nicely etched into the metal. I guess my point is that I am very attached to my smartphone, a bit AR, and critical of tech-stuff. And even with all that, I look at my iPhone now and think "now that's cool", and that I would not change a thing. So the question is… how do you personalize your smartphone to make it uniquely your own???
Product Information
Price:
under $8
Manufacturer:
ETHAHE
Requirements:
Pros:

- Quality materials
- Precision machined
- Well done logo
- Perfect fit
- Inexpensive

Cons: