We use affiliate links. If you buy something through the links on this page, we may earn a commission at no cost to you. Learn more.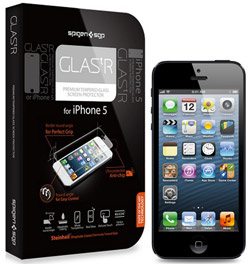 I remember back in the day when the Palm V was the Cadillac of PDAs and the only worthy screen protectors were from Brando. Like PDAs, screen protectors have evolved as well, from those 'one shot to apply' pieces of thin plastic with adhesive on one side to specially engineered multi-layered films applied with liquid. Now you can protect your precious smartphone's Gorilla Glass screen with even more glass. The Spigen engineers have created a screen protector made of oleophobic coated, chemically treated/hardened glass.  The premium tempered glass GLAS.tR takes your iPhone 5 screen protection to the next quantum level.

I know many folks out there believe that the Gorilla Glass used in today's smartphone is strong and hard enough to withstand normal use/abuse without any sort of protection, but I have to disagree. I have seen many examples of screens being scratched with day-to-day use. To this day, the first thing I do with a new device is apply a screen protector.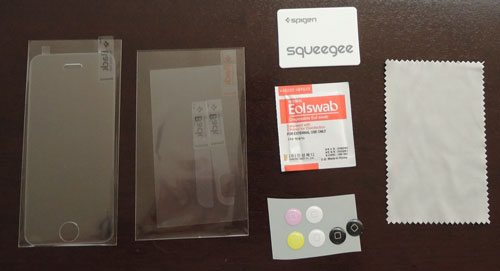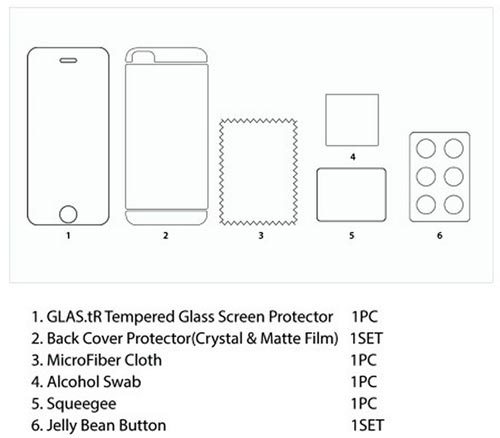 The GLAS.tR is very thick (0.5 mm) compared to almost all the other screen protectors I have used. The 'R' designation in the name means Spigen added a rounded, tapered, beveled edge on the sides of the glass screen protector, as compared to their original GLAS.t. Not only does this finished edge lessen the chance of the sides cracking, but it also gives the relatively thick piece of glass a smooth feeling.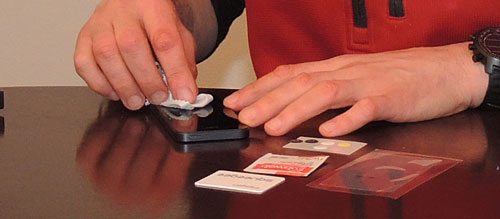 Compared to most other screen protectors I have installed over the years, applying the Spigen GLAS.tR is very simple, easy, and stress free. First, simply clean your screen of dust, grime, and oils.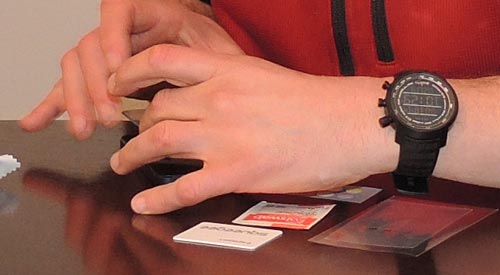 Then remove the back plastic film protecting the silicone adhesive and carefully place the GLAS.tR on your screen. Since it is a rigid piece of glass, getting its placement correct first try is very easy compared to a flimsy piece of plastic.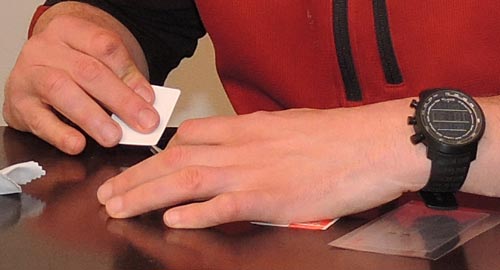 Once situated, you simply squeegee out the air bubbles from between the two pieces of glass and you are good to go. While applying the GLAS.tR, I did get one small bit of dust between the two, right on the edge. Otherwise it was a perfect installation. I decided to let it be because it was not in the middle of the screen and doing no harm. My thought was that I might do more damage than good trying to get it out of there.

The screen does add a bit of thickness and weight to your iPhone compared to typical plastic film protectors. I weighed the GLAS.tR prior to installation and it came in at a whopping 0.6g.
According to Spigen, "the surface of the GLAS.tR has a hardness of 8-9H, three times stronger than regular PET film. Even sharp objects such as knives and keys will not scratch the GLAS.tR."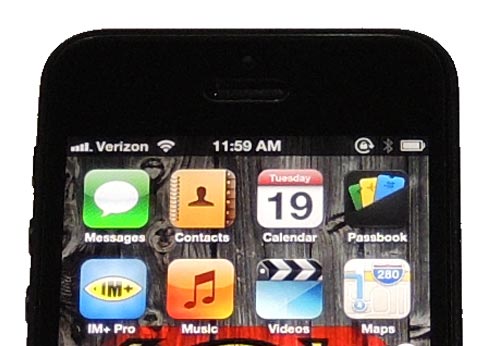 The GLAS.tR is crystal clear and has a great feel to it, like you are using your iPhone totally naked. There is no touch sensitivity loss due to the extra layer of glass on the iPhone's screen. The GLAS.tR's oleophobic coating does a stellar job of preventing/minimizing fingerprints and other gunk from easily adhering. The coating also makes the surface easy to clean.

Due to the thickness of the GLAS.tR, the iPhone's Home button becomes very recessed. It is still functional without a doubt, but does takes a bit of getting use to. Spigen includes six plastic "Jelly Bean Buttons" to make the Home button more flush with the screen, but I find them a bit cheesy. I would have preferred if Spigen had included one of their aluminum home buttons that they sell separately in multicolored packs of three. I am considering buying a set to bring my Home Button flush with the GLAS.tR, but I remain undecided.
The Spigen GLAS.tR premium tempered glass screen protector is currently only available for the iPhone 5. The GLAS.t tempered glass protector with a non-rounded edge is available for the iPhone 4 and 5. It will be interesting to see if they produce the GLAS.tR for the flagship Android smartphones.
Bottomline:
The Spigen GLAS.tR is by far the best and easiest-to-install screen protector I have ever used, bar none. I would recommend it to any and all. At $35 dollars, it is expensive but not outrageous; cost is on par with ZAGG's invisibleSHIELD product line. And while the GLAS.tR does not have a lifetime warranty like the invisibleSHIELDs do, I found it infinitely better than the similarly thick and more costly invisibleSHIELD EXTREME I reviewed (and could not wait to remove) a few months ago.
Product Information
Price:
$34.99
Manufacturer:
Spigen
Requirements:
Pros:

- Perfectly fitted for the iPhone 5
- Easy installation
- Provides solid screen protection
- Crystal clear clarity
- Great feel
- Reduced smudging/easier cleaning

Cons:

- Warranty limited to factory defects only
- Recesses Home button