We use affiliate links. If you buy something through the links on this page, we may earn a commission at no cost to you. Learn more.
I once saw a TV show where a woman was walking down a busy sidewalk, not doing anything in particular, not even bumping into the people she passed.  She seemed innocent, but she had a RF reader in her bag that was scanning the RFID-enabled cards inside the wallets of everyone she passed, and she was able to use the information she gleaned walking down the street to make purchases against other people's cards.  Who knows what information about you is floating around out there just because you have one of those easy-pay credit cards or keychain fobs or because you are carrying your passport.  I've written a lot of news posts about various RFID-blocking wallets, but most of those seem to be designed for men.  This Card Case from StewartStand is in their Women's line, and it, like their other accessories, incorporates stainless steel in the design to protect your information from RFID readers when you don't want it read.  How well does it work?
All images can be clicked for an enlarged view.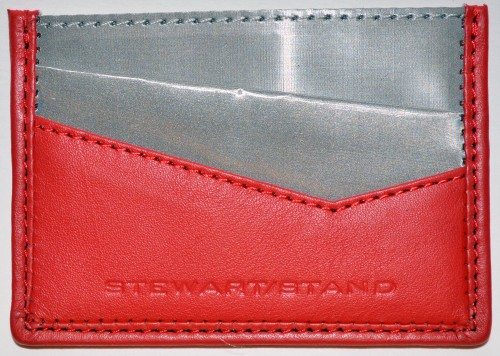 The Card Case is available in Black, Cobalt, Red, and Tan.  Although these card cases are shown in the Women's line, I think they would appeal to men, especially in the black and tan colors.  StewartStand says these cases are made of Italian leather and their stainless steel woven fabric.   The stitching is straight and even with no loose threads.  The leather on this side of the case is stamped with the StewartStand name.
The case measures 3.8″ X 2.6″ X 0.2″ and weighs 0.95 ounces on my digital kitchen scale.
You can see quite a bit of the stainless steel fabric in this view.  I would think that a metal fabric would be rough and scratchy and likely to snag clothing, but the fabric used in this card case is as smooth as silk.  It doesn't catch on my clothing, even when I tried rubbing it over a knit fabric.  The metal fabric is cooler to the touch than the leather is.  It is a medium-light gray color with a reflective sheen, but it's not shiny – you won't be signaling planes with this or checking your reflection before going to a meeting.
This side of the wallet has one outside pocket.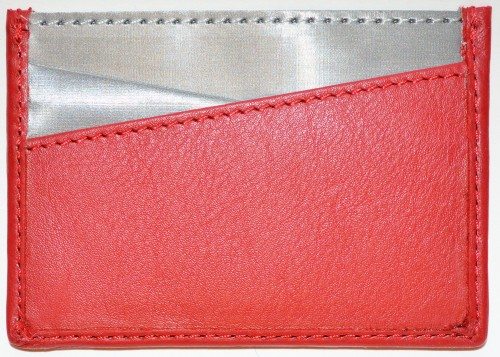 This side of the wallet has two pockets.  You can fit a card behind the leather panel, and another card behind the slip of metal fabric, too.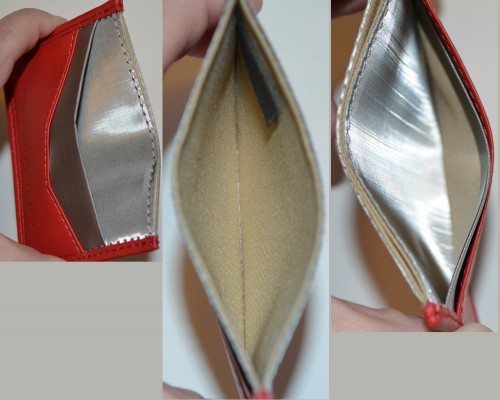 The stainless steel fabric and the leather piece are all lined with a light tan twill fabric.
Never miss one of our posts again. Sent MON, WED, and FRI with the latest gadget reviews and news!
You can also see the interior of the middle pocket in this picture.  The full length of both sides of this pocket is made of the metal fabric.  The black tag is stamped "Genuine Leather" and "Made in India".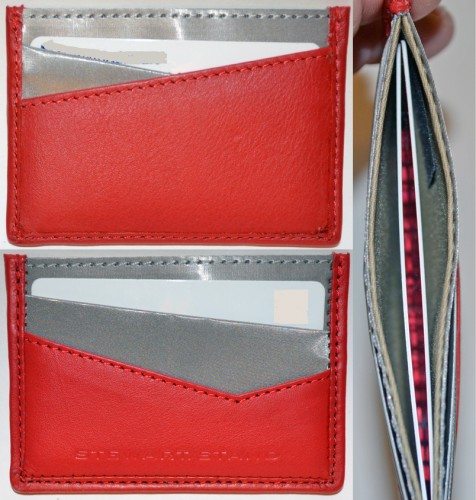 This is a compact case, and I was only able to fit four cards in, with two in the center pocket and one each in the outside pockets.  I might have been able to squeeze another one in, but I didn't want to make it too difficult to remove them.  Not all of your cards are going to be RFID cards anyway, so you can store only those that need to be shielded in this case.
I don't have an RFID card, and my state doesn't have driver's licenses with that functionality, either.  My husband has an ID card key for work, and I thought I'd try it with this case.  The card could be read in the case, and my husband confirmed that the security system doesn't use RFID.  Luckily, they do use RFID technology for other things where he works, and he asked a coworker if he could test the case with some of their in-house equipment. The coworker had checked other RFID-shielding wallets in the past, and he didn't seem to have a lot of hope that this thin little leather case would work any better than the metal wallets he'd seen.
He placed a few RFID tags inside the wallet's center compartment and used the scanner to read them.  He got nothing, despite trying several scans from different angles.  He pulled an RFID tag out of the wallet, and it read immediately.  He pressed on the ends of the case to cause the center pocket to open a bit to see if he could read the tags that way, but he still couldn't get a reading.  He then tried putting some tags inside each of the outside metal pockets, and once again, he couldn't read them while they were inside the Card Case.  He was only able to read a tag when it was pulled partially out of the case.  The StewartStand case worked perfectly to prevent reading any tags stored inside the metal-fabric pockets.
The StewartStand Card Case is a simple, compact little case that does just what it promises – shields your RFID-readable cards from unauthorized access.  It's attractive and well-made, and it's small enough that you could perhaps fit it inside a larger wallet to hold just those cards that need to be shielded.  StewartStand has other card cases that they include in their Mens' line, but I think this case would work just as well for a man as for a woman, especially in the black and tan colors.  They have many other styles of wallets and card cases in both their Women's and Mens' lines.  Some cases are more utilitarian and compact and others are bigger and more decorative, but they all incorporate the stainless steel fabric that protects against RFID skimming.  I've seen similarly-sized card cases for less, but they don't shield against anything.  Consider it a $49.50 insurance policy to protect your information.
Product Information
Price:
$49.50
Manufacturer:
StewartStand
Requirements:

RFID cards you want protected

Pros:

Compact
Attractive design with stainless steel fabric
Protects cards from being read

Cons:

I don't see this as a con as not all your cards will need to be protected, but it only holds 4 or so cards