We use affiliate links. If you buy something through the links on this page, we may earn a commission at no cost to you. Learn more.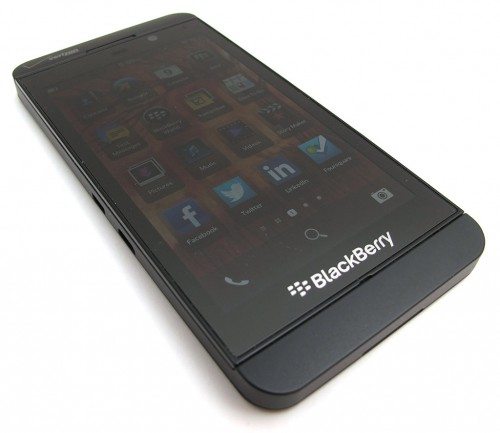 To be honest, I can't remember the last BlackBerry device that I reviewed. It's been many years ago and they've been off my radar until recently. The announcement of the BlackBerry Z10 smartphone caught my eye because of the phone's good looks. But can this smartphone run with the iOS and Android big dogs, or are the best days of popularity and market share behind them? Verizon Wireless sent me a BlackBerry Z10 loaner device and I've been using it exclusively for the past week. Does my Samsung Galaxy S3 have anything to fear? Let's see.
Note: Images can be clicked to view a larger size.
Hardware specs
Operating system: BlackBerry 10 OS
Processor: Dual Core 1.5 GHz
Memory: 2GB RAM, 16GB Flash
Expandable memory: Removable microSD memory card (Up to 32 GB)
Display: 4.2″ 1280 x 768 resolution 356 PPI, 24-bit color depth, 15:9 aspect ratio
Camera: Rear camera 8 megapixel auto-focus camera, Front camera 2 megapixel
Wi-Fi: 802.11 a/b/g/n
Bluetooth: 4.0 Low Energy (LE)
GPS, NFC
HDMI Port: Micro HDMI for connection to your HDTV or projector
Battery: 1800mAH removable battery, Up to 10 hours talk time (3G), Up to 13 days standby time
Size: Height 130 mm / 5.12 in, Width 65.6 mm / 2.58 in, Depth 9 mm / 0.35 in
Weight: 135.4g / 4.78 oz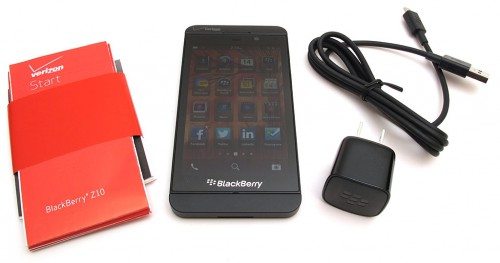 What's in the box
BlackBerry Z10 smartphone
USB cable
AC adapter
Quick Reference Guide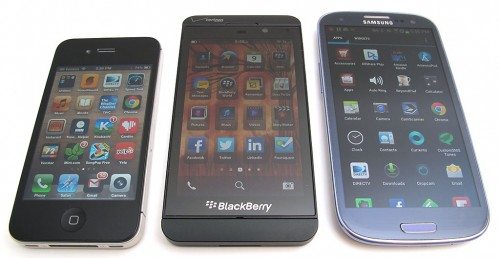 Physical design
The Z10 is available in black or white. I was sent the black version which you see above with an iPhone 4S and a Samsung Galaxy S III for a size comparison.

This phone looks very iPhone-like to me due to the squared sides, rounded corners and solid feel in hand.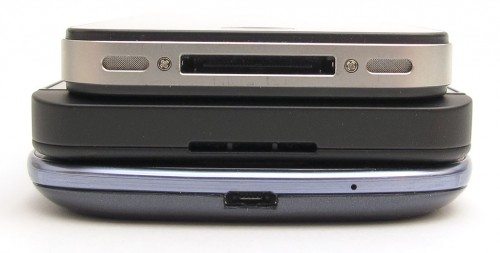 It's not too thick and not too thin. Although it's a similar length and thickness to my SGS3, it feels smaller in my hand.
The face of the phone is mostly the display. But there is a band of soft touch Black plastic or metal (not sure which it is) on the top and bottom edges. There are no buttons on the face of the phone, but there is a microphone under the mirrored BlackBerry logo at the bottom edge of the display. The top edge has a speaker, status LED and a front facing camera.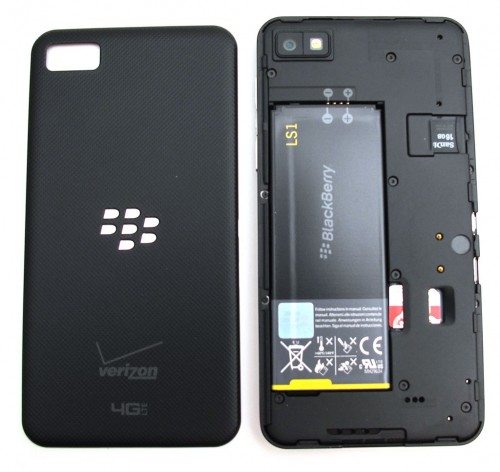 The back of the phone has a soft grippy micro-dimpled cover that is easy to remove for quick access to the battery, microSD card and SIM card slots.

On the left side you'll find a micro USB port that is used to charge and sync the phone with a computer. There's also a mini HDMI port, but you'll have to buy a cable if you want to hook the phone up to your TV.

Separate metal volume buttons with a play/pause/voice control button in the center are located on the right side of the phone. The voice control button can be held down to wake the phone and go straight into the voice control app.

The top edge has a metal power/wake button, 2nd microphone and a 3.5mm headphone jack.
The BlackBerry Z10 feels great in hand. It's solid and has a bit of heft to it that gives it a quality feel. It passes my ever popular Gadgeteer squeeze test with absolutely no flexing, creaking, cracking or whimpering. I love the feel of this device. Especially the grippy back cover which I wish I had for my SGS3.
Display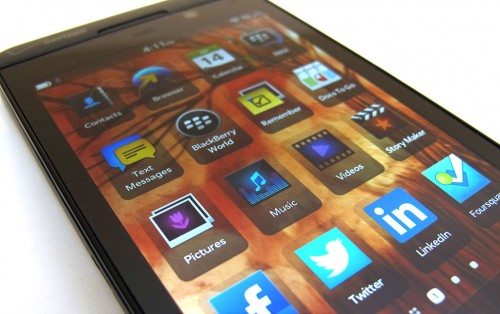 The display, while small (compared to my SGS3), is very crisp, clear and has vibrant color. It is viewable at almost any angle and is easier to  view outdoors in direct sunlight than most phones I've tried.
Since the Z10 uses gestures and swipes for navigation instead of buttons, a sensitive touchscreen is a must. Most of the time I had no problems, but fairly often I did notice some of my touches would go unnoticed.
Making and receiving calls
No complaints here. I did not have any dropped calls or other call issues during my week long use of this phone. Granted I don't make a lot of calls every day, but no one commented negatively with the way I sounded and I noticed nothing unusual on my end of conversations. Volume levels were adequate for calls with the phone held up to my ear and signal strength seemed on par with other Verizon phones that I've used.
Using the Z10 as a speaker phone fared a little worse. Trying to hold a speaker phone conversation in a slightly noisy area was tough as volume didn't seem to be high enough. Quiet rooms were fine though.
Camera
The Z10 has a pretty good camera that can snap images by tapping the display or by using either volume button as a shutter.
The camera interface is easy enough to use, but it took me awhile to figure out that you have to drag the focusing box to the area that you want in focus and then tap the screen a 2nd time to capture the shot. This seemed odd when compared to other phones that will allow you to just tap the area you want in focus and then snap a photo automatically.
There's built in software that you can use to edit your images by adding filters, cropping, adjusting brightness, sharpness, etc.
System performance and battery life
The Z10 feels snappy loading apps, scrolling through lists, loading web pages, etc. The only noticeable lag problem I really noticed was in booting the phone. Wow, that's slow. Resetting to default settings is also painfully slow. I know this isn't an every day task, but I almost thought the phone was bricked because it took about 15 minutes to recover from a hard reset.
Battery life has been pretty good. Better than my SGS3. I was able to get a full day to day and a half with one charge. That was with a couple calls, more than a dozen texts, email checks, a couple games, and other light work.
User interface and software
As I mentioned above, the BlackBerry Z10 doesn't have a home button or on screen nav buttons. Everything is touch based. That even includes a way to wake up the phone…
You can wake up the Z10 by swiping your finger up from the bottom edge of the display. If you swipe halfway up and let go, you'll see the lock screen which shows the current time, date, next event on your calendar and other notifications for new emails, text messages and other social media.
If you then swipe down from the top edge of the display from the lock screen, you will switch into night mode. Night mode offers a special red on black clock display and alarm options.
Swiping all the way from the bottom to the top of the display bypasses the lock screen and takes you to where ever you left off before the phone went idle.
Scrolling left to right allows you to switch from a thumbnail view of currently running apps to an icon view of installed apps. The thumbnail view scrolls vertically to show 8 apps, some even update in real time like the weather app. Whenever you're in an app and swipe up from the bottom of the display, that app will minimize and will be added to this thumbnail view.
You can bring up the settings for a running app by swiping down from the top of the display.
The icon view / list of installed apps looks ugly in my opinion. For one thing, it looks too much like iOS, only way less attractive. I don't know who had the idea to put the dark shadow boxes behind the icons, but bleh…
BTW, there's a cool thing about the swipe from bottom to top gesture to go back to the thumbnail view… if you swipe just halfway, you'll see your email, facebook, texts, etc, notifications on the left side of the display. This gives you a quick way to check if you have new messages.
Speaking of notifications, BlackBerry offers what they call the Hub, which consolidates all your incoming communications into one place. It's a handy feature and can be accessed at anytime by swiping up from the bottom display and to the right… kind of like an upside down L. You'll probably either like this feature or hate it as it gives you a running list of emails, texts, facebook posts, etc all in one screen.
One thing that I was really surprised and disappointed with the Z10 was how the notifications for unread emails, facebook posts, etc almost never reflected the true counts. That's because they were never syncing in real time. The shortest sync time that can be used is 15 mins. I'm not sure if this has anything to do with the fact that I use Gmail or if it's just the way it is, but it makes using the Hub less than useful. Back in the day I recall BlackBerry was faster at receiving / showing new messages than even my desktop PC. Not sure what's changed.
My Gmail for domains account worked fine with the Z10. I would have preferred a dedicated Gmail app though. As is, it doesn't allow for labels, or stars which is a deal breaker for me.
Text messaging with the Z10 is relatively standard except for the interesting predictive keyboard feature. See the little words in the image above on the right? That's the Z10 trying to predict the word I am typing. If it guesses the word correctly, you can choose it by flicking it up with your finger. This was kind of cute at first, but it quickly became distracting to me because I was wasting time watching for the words to appear and then lifting my finger to flick it. I think this feature made my typing slower instead of faster. I'll stick with Swype or Swiftkey on my SGS3 🙂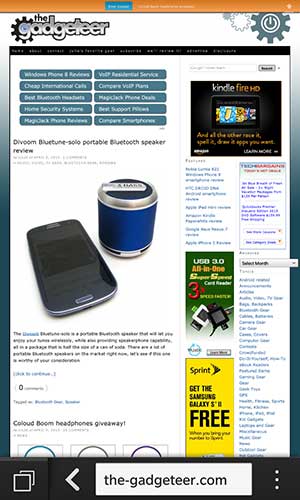 The built in browser on the Z10 is ok. It gets the job done, but it's not nearly as nice as Chrome, which I use on every device I have because it syncs bookmarks and open tabs across devices.
The Z10 comes with a decent selection of pre-loaded apps:
BlackBerry Hub, Contacts, BlackBerry Browser, BlackBerry Calendar, BBM, Text Messages, BlackBerry World, BlackBerry Remember, Docs To Go, Pictures, Music, Videos, Story Maker, Facebook, Twitter, LinkedIn, Foursquare, BlackBerry Maps, Games, YouTube, Voice Control, Weather, Clock, Calculator, Compass, File Manager, Box, BlackBerry Connect for Dropbox, Print To Go, Smart Tags, Settings, Adobe Reader, Phone, Camera/Video Camera/Time Shift, Setup, Help, SIM Toolkit, Search
A trip to BlackBerry's app store, called BlackBerry World, was met with disappointment when I couldn't find a large number of my must-have apps like: Evernote, Netflix, Skype, Words with Friends, DirecTV, Gmail, Chrome, Feedly, Instagram, Pandora, Hulu, Spotify.
Summing it all up
After a week (almost 2) using the BlackBerry Z10 smartphone exclusively, I can say that it's a decent handset which has good performance, an easy to use interface, nice camera and an adequate collection of pre-loaded apps. I had no really complaints while using this phone other than a lot of my favorite apps aren't yet available for it. The thing is, that while the phone works just fine, there's nothing about it that makes me want to keep using it and buy one of my own. Other than the gestures, the phone feels a little behind the curve for me. I think BlackBerry has a hard climb ahead of them and I'm not sure they will see the top anytime soon, if at all.
Product Information
Price:
$199.99 with 2yr contract, $599.99 without contract
Manufacturer:
BlackBerry
Retailer:
Verizon Wireless
Pros:

Nice solid phone
Unique gesture features
Good battery life

Cons:

Lack of popular apps in app store
No one feature that makes it a must have phone