The Gadgeteer is supported by readers like you! If you buy something through links on our site, we may earn an affiliate commission at no cost to you. Thank you! Learn more.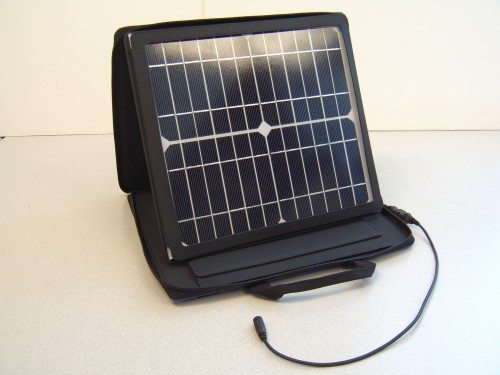 As a child of the 70's energy crisis, I've always been fascinated with alternative energy, such as solar power.  The SunVolt Power Station from Gomadic caught my eye as a possible solution to a modern problem:  How do you charge up your gadgets if you don't have an outlet?  When Gomadic sent the Sun Volt Power Station, they also included a Solar Cache High Capacity Battery Pack for review.
| | |
| --- | --- |
| Dimensions in inches (mm) | 13 x 12 X 1.5 (330 x 305 x 38) |
| Weight in lbs (kg) | 4.3 (1.9) |
| Panel Rating in Watts | 10 STC * |
| sable Output in Volts | 8.0 – 14.4 |
| Number of TipExchange Charge Ports | 2 |
| Upgradeable Charge Circuit | Yes |
| Interior Pockets | 2 |
| Exterior Material | 1680 densely stitched Ballistic Nylon |
| Shoulder Strap | Yes |
* STC is output power in Watts measured when the panel is 25 degrees C with 1000 watts/square meter Sunlight
Gomadic's SunVolt Power Station consists of a 10W photovoltaic panel stowed in a briefcase-like bag.  It comes with a detachable shoulder strap, a wrap-around handle, padded feet for added friction when laid out, and a zippered exterior pocket for holding accessories.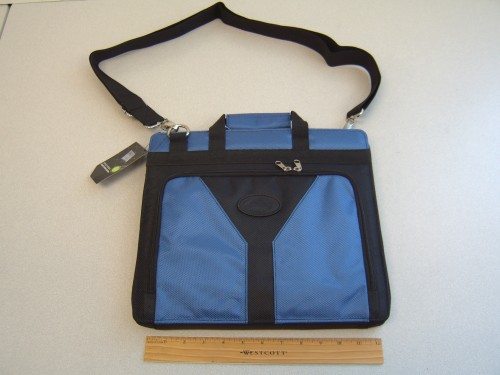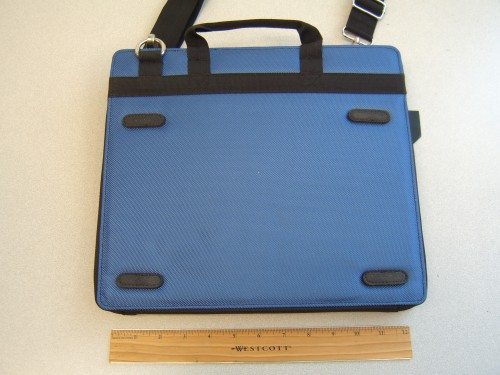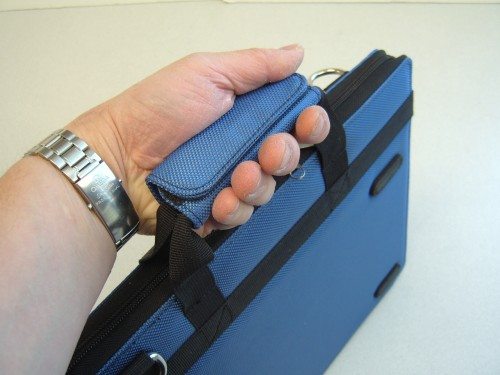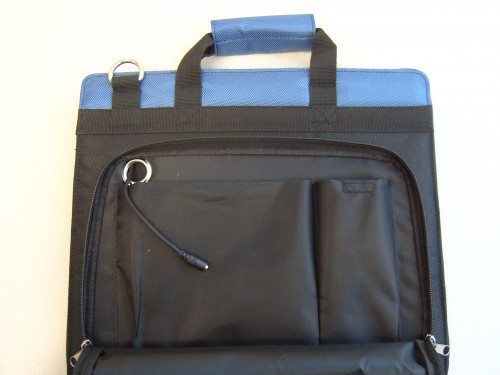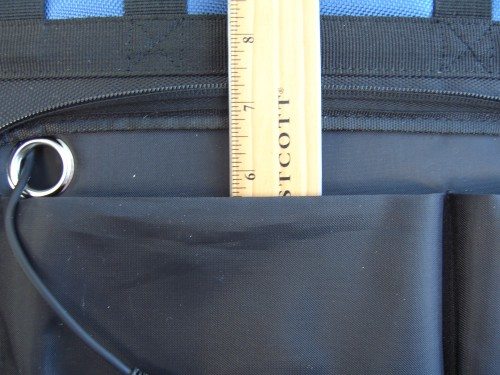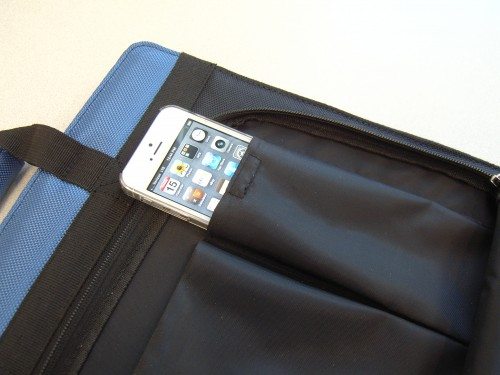 Unfolded, the SunVolt Power Station can be propped at an angle, much like a tablet stand.  A clever slotted extension can be reversed to give the panel two extra angled positions.  (See following images.)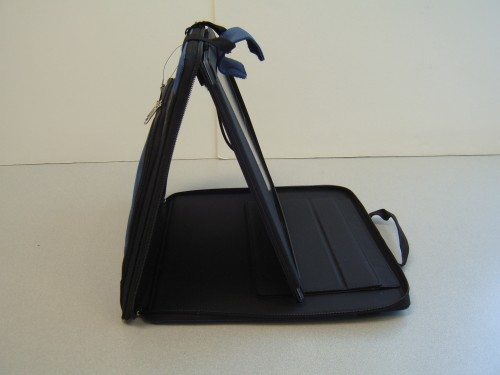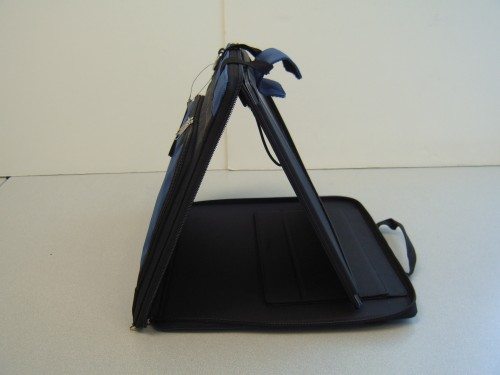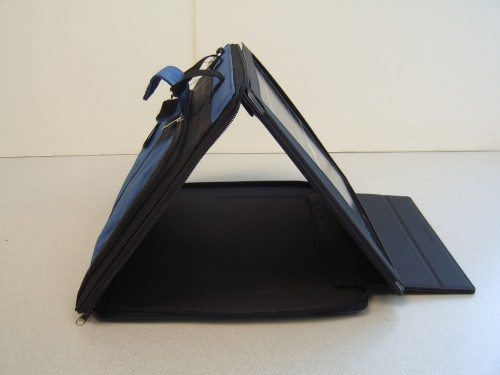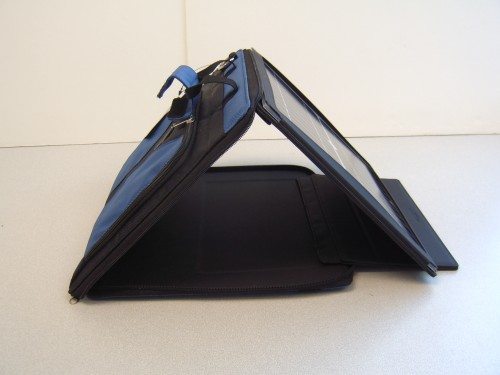 The panel itself sits snugly inside its own detachable "glove".  I was curious so I removed the actual panel from the glove for a closer look.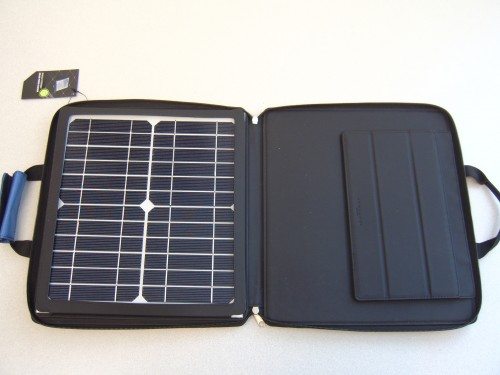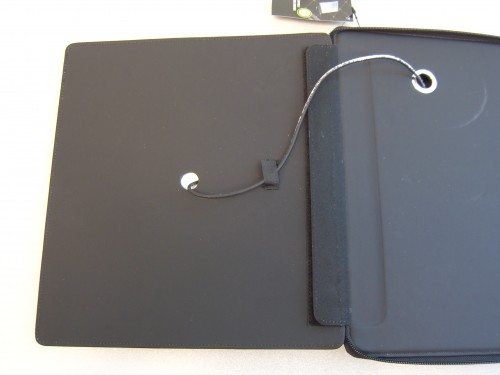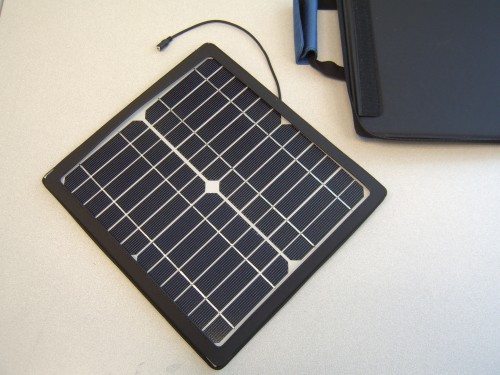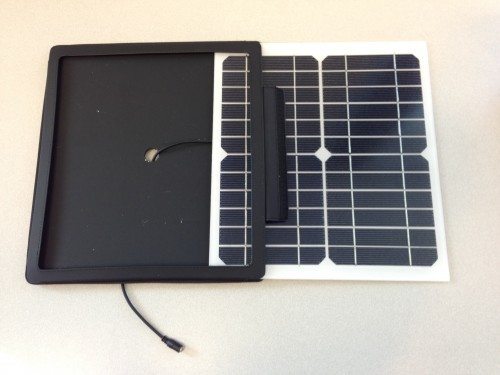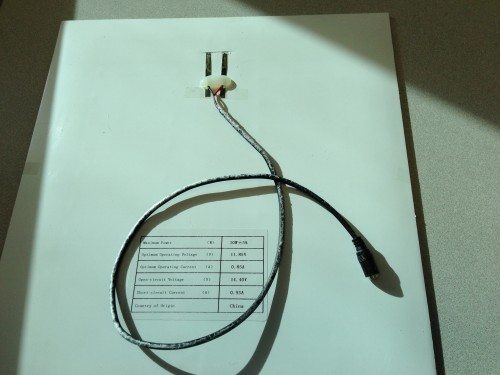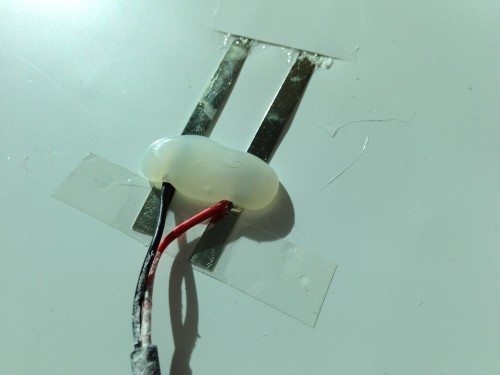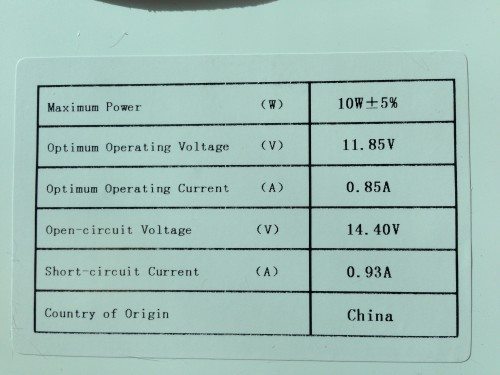 Gomadic sent me an assortment of cables (USB female, mini/micro USB, Apple 30-pin), including the all-important voltage converter.  It's the one with the heat-shrink covered lump in the middle, like a snake that's eaten a large meal.  This cable converts the solar panel's higher voltage (around 12-14VDC) to the common 5VDC found on USB devices.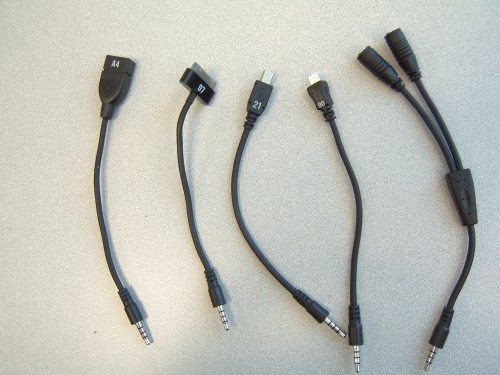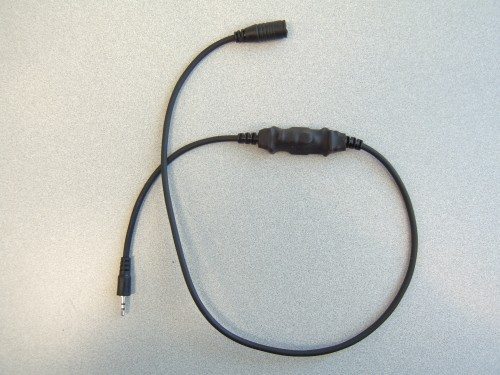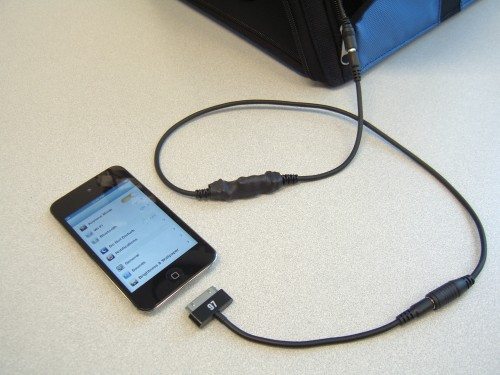 A battery pack?
I also received one of those rechargeable battery packs, the Solar Cache High Capacity Battery Pack.  It's a 3400 mAh battery that you can charge from a regular USB charger, or directly from the SunVolt Power Station.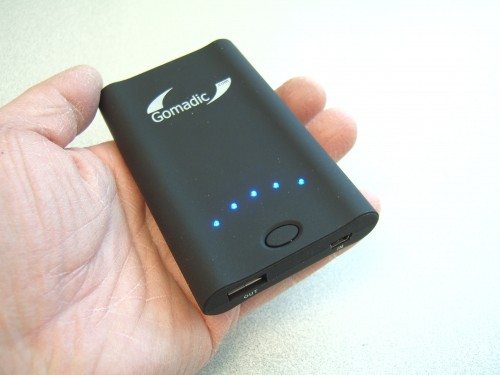 This made no sense to me at first.  If I had a solar panel that gave me a source of unlimited power, why would I need one of these clunky battery packs?  I found the answer later…
Using the SunVolt Solar Power Station
I'll just say it:  If the panel isn't in full sun, it won't work.  Got a tiny sliver of sunlight coming in from the rain forest canopy?  You better hope it covers the entire panel.
I plugged in an iPod touch to the included 30-pin adapter and tried the SunVolt Solar Power Station in various conditions.  When it worked, I'd hear the familiar "BLEEP!" charging sound from the iPod.  Wonderful!
But if a shadow lands on the panel?  You may be out of luck.  The iPod stopped charging.
What happened?  My best guess is that the way this particular photovoltaic panel works requires a minimum area (or areas) to be lit by the sun in order to produce useful energy.  No problem, right?  Well, no problem if you've got full sun.
Except… the sun has a habit of moving.  Rather, the EARTH moves.  Your panel may be in the sun for now, but it may be obstructed later by a tree, building, moving cloud cover, etc.
Oh, that's why there's a battery
This leads me back to the battery.  Look closely:  Gomadic's Solar Cache has a mini-USB input and a standard USB output.  The instructions say you can charge up the Solar Cache from the SunVolt Power Station and simultaneously power your USB device, such as my iPod touch.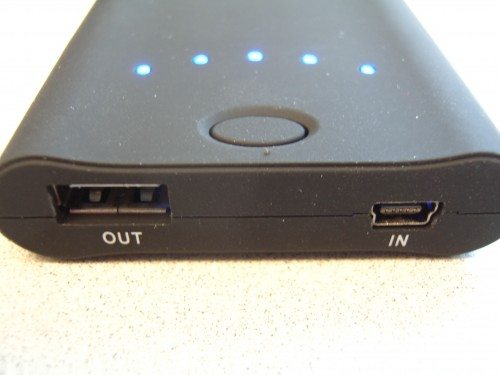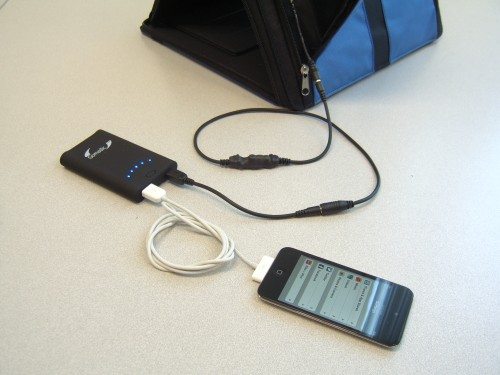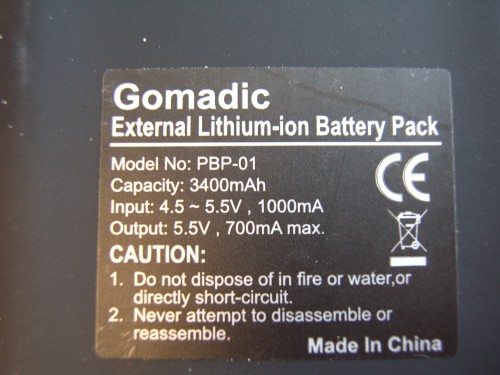 Now I get it.  While it's pretty neat to get "free", immediate power from the sun, it makes far more sense to use the SunVolt Power Station in tandem with a battery like the Solar Cache.  You've got an immediate reservoir of energy from the battery to top off your gadgets without relying on the position of the sun.  And when the sun IS shining, the battery just stores that free sunshine for a rainy day.  Literally.
I tend to charge my things when I'm asleep, when the sun is NOT out.
For example:  You're out camping for the weekend.  Let the Solar Cache charge up via the SunVolt Power Station during the day when you're out and about.  After the sun goes down (and the solar panel won't work), let your electronic toys recharge via the Solar Cache battery, which is now full after a day in the sun.  Actually, you could probably use any other kind of USB-rechargeable battery you'd like.  The Solar Cache just happens to fit inside the Power Station's outer pocket.
How long does it take to charge up your iPod/phone/gadget?  Gomadic doesn't post such figures, and I couldn't really tell, either.  I live in San Francisco, which is infamous for fog.  That was a bit of a problem.  The sun can be notoriously uncooperative.
For those who need more, the SunVolt Power Station Max, a slightly larger version, packs 50% more power (watts).
The Gomadic SunVolt Power Station in conjunction with the Solar Cache is going to prove invaluable on my next outdoor adventure, power outage, or anything other excuse I can think of to show this off.
Product Information
Price:
SunVolt is $99.95; SunVolt Max is $129.95; Solar Cache High Capacity Battery Pack is $39.95
Manufacturer:
Gomadic
Pros:

Clever briefcase design
No bigger than a laptop

Cons:

Panel must be fully exposed to the sun for best results
Use with Solar Cache battery for greatest flexibility