We use affiliate links. If you buy something through the links on this page, we may earn a commission at no cost to you. Learn more.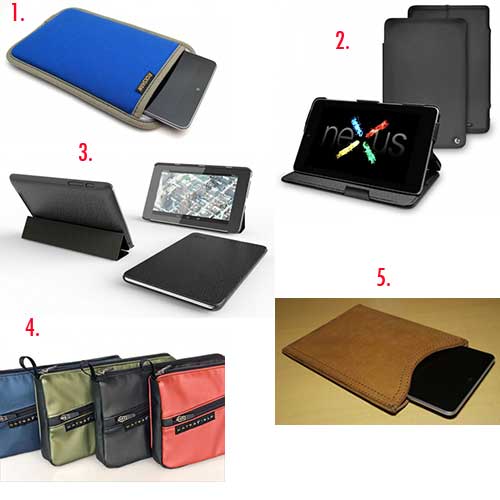 Did Santa bring you a shiny new Nexus 7 Android tablet for Christmas? Now that you're the proud new owner of one of the most popular 7″ tablets currently on the market, you're probably worried about keeping it scratch and dent free. Here are 5 Nexus 7 cases that will protect your new device.
1. Rickshaw Google Nexus 7 Tablet Sleeve – The Rickshaw sleeve is a simple Cordura canvas slip cover for the Nexus 7. It's a US made product that keeps your tablet protected with a soft plush padding. The best thing about this sleeve is that you can customize it with your own favorite colors right down to the binding, plush interior color and even the tag. Price: $29.00 – $39.00.
2. Noreve leather case – If you're looking for a play through case, this one from Noreve may be what you're looking for. Handcrafted in France, these cases are made of leather and are available in 12 colors and 5 different texture styles. The case doubles as a stand that will prop up your tablet in three different viewing angles. Price: $73 with free shipping.
3. Poetic Slimline case – This is another play through case that bears a striking resemblance to Apple smart covers for the iPad. The Poetic case is available in 8 colors and features a built in stand and a magnet that automatically wakes and sleeps the Nexus when you open and close the cover. Price: $34.95
4. Waterfield Designs Tablet Travel Case – This case from Waterfield not only holds and protects your Nexus 7 while transporting it, but also provides storage for some accessories such as a charging cable, small notebook, pen, etc. This padded zippered pouch is available in 4 different colors and you can add a shoulder strap for an additional $9. Price: $49.00 without the strap.
5. Saddleback Leather medium gadget pouch – If you want bullet proof protection for your Nexus 7, this 4 to 5oz. full grain leather sleeve from Saddleback comes close. It might not actually stop a bullet, but this sleeve will definitely keep your tablet protected from scratches and dings while you're carrying it from place to place. The gadget pouch is available in 4 colors and 3 sizes if you also need one for a smaller or larger device. Price: $31.00 – $61.00.