We use affiliate links. If you buy something through the links on this page, we may earn a commission at no cost to you. Learn more.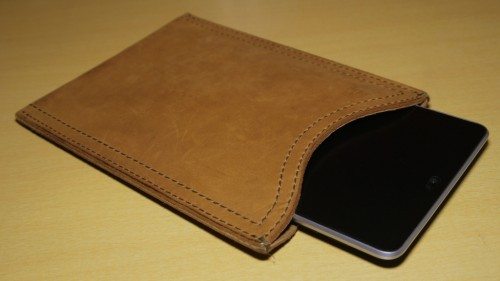 Regular readers of The Gadgeteer will be no strangers to Saddleback Leather Company products.  You probably wouldn't consider their leather products as haute couture, but rather as hardwearing and functional pieces. (Their motto is "They'll fight over it when you're dead." 🙂 )  While I didn't specifically purchase their Medium Gadget Sleeve  for my Google Nexus 7, it does a really good job of protecting it while on the move.  Read on for more details.
If you're not a fan of covers and cases that are permanently attached to your gadgets and would rather use your devices in their full nakedness, then you really need to find some sort of sleeve or pouch that offers protection plus ease of use.  I first purchased this pouch to use with my Kindle Keyboard, and since the time I've had  it my Kindle's been all over the place, including through South East Asia. It's normally thrown into my gadget bag, which has been shoved then into bicycle baskets, lockers and under seats.  The pouch has done an admirable job of protecting my Kindle's delicate eInk screen under some fairly harsh conditions – much better than anything I've managed to find for my son who's already broken his Kindle screens twice.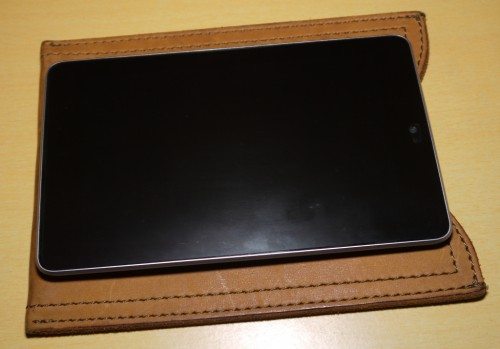 The gadget pouch comes in three sizes, and the medium pouch at  6.5″ w x 8.5″ d (16.5 cm x 21.6 cm) fits the Nexus 7. Okay the fit's not perfect or skin tight  as you can see above, but if you want to look at it from a positive point of view, you've got a lot of drop buffer zone 🙂  Made of 4- to 5-oz. (2 – 2.2 mm) full grain leather, it's thick and hard-wearing, and the interior is  lined with pigskin as well. Stitching is with double-zero, continuous-filament polyester thread. Note above that the first line of 1/8″ stitching is the seam that holds the pouch together while the second line is purely decorative. Like most Saddleback products, it's available in 4 colours; Carbon Black, Chestnut,  Dark Coffee Brown and Tobacco Brown, like mine.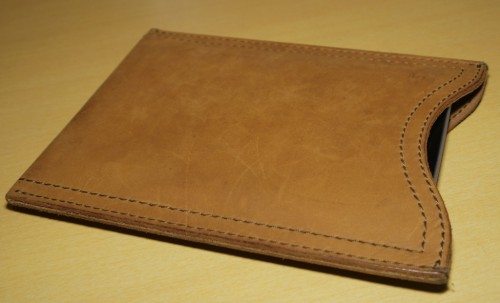 Once fully inserted, the Nexus is protected fully on three sides and the exposed top side is lower than the top of the case.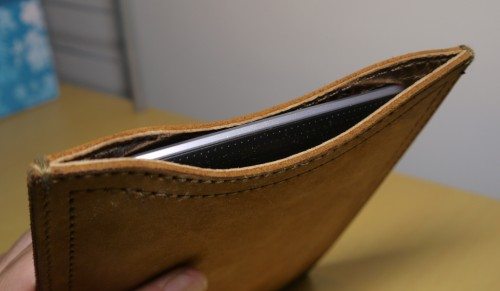 Here you can see the fit, note that as mentioned above, it's not a perfect fit, but the spaces at the side and the top do give you some buffering should you drop it. For me (touch wood), it's more about protecting my Nexus while it's  in my gadget bag with all my other stuff.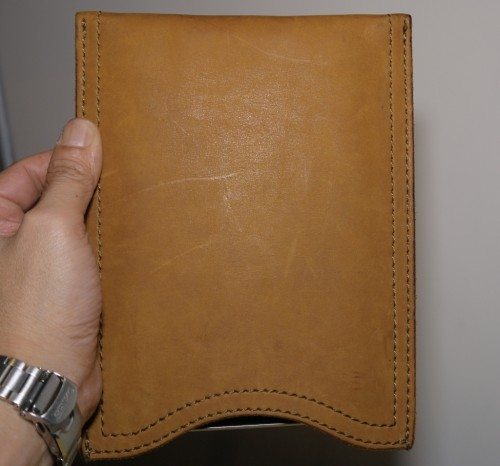 Because it's only had my thinner Kindle in it, the fit is still tight, and even if I hold it upside down, the Nexus doesn't fall out of the pouch.  That being said, the case is normally carried or stored on it's side anyway.
This leather isn't a piece that you keep as pristine as possible; any scratches and indents just add character to the pouch. It's also worth noting that the pouch probably won't stay the same colour either, as like most good leather, it'll gradually take on dirt and oils which just give it that aged look. As I say I've had this for quite a while and it hasn't been treated with kid gloves and it still looks good.
When I'm not worried about a stand cover and want to use my Nexus in all it's naked glory, my Saddleback Leather case is definitely what I reach for.  If it can protect my much more delicate Kindle over all these years, I'm sure I can trust it to do just as fine a job with my Nexus 7.
Note: The links to Saddleback Leather Company on this page are affiliate links. If you use one of these links to make a purchase, we will earn a small percentage of the sale, so we appreciate it if you click through.

Product Information
Price:
$41
Manufacturer:
Saddleback Leather
Pros:

Protective
Hard wearing
Covers three sides completely
Beautiful thick leather

Cons:

Slightly too large (but not loose)
Top end is open to the environment