We use affiliate links. If you buy something through the links on this page, we may earn a commission at no cost to you. Learn more.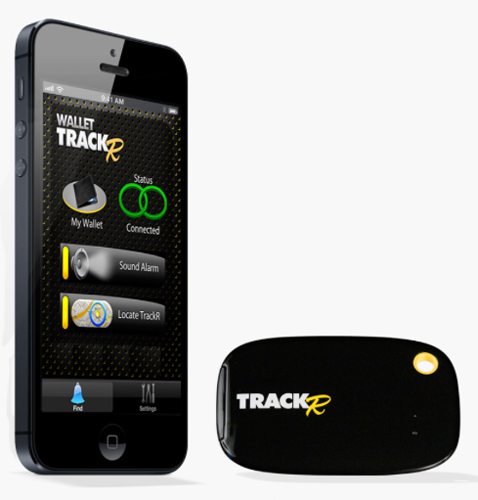 Hmmm, this seems to be a crowd-funding project, but it seems Phone Halo has set up their own funding site instead of using one of the established ones.  Anyway, Phone Halo has created a smart device you keep in your wallet to help you keep track of it.  Put the Wallet TrackR in your wallet, pair it with the free iPhone app, and you'll hear an alarm if you walk away without your wallet.  The app will take a GPS snap showing you where your wallet is.  There's even a method to help you find your wallet if you've misplaced it in your home or to help you locate it when you return to the last location you had it.  You can pledge $29 to get a Wallet TrackR to go in your own wallet (while the early bird special lasts) or as low as $50 for a Smart TrackR plus a Franc Fernandez man's wallet.  The funding drive ends December 12th, and they have a long way to go to reach their $250,000 goal.
Read the full press release, after the jump, to learn more about the TrackR and the crowd-funding process.
Phone Halo Launches WalletTrackR™ to Prevent the "Lost Wallet"
The Company that helped bring the first successful key tracking solution to market launches a new, crowd-funded project to help eliminate wallet loss.
SANTA BARBARA, Calif.,  – Wallet TrackR™ from Phone Halo promises to put an end to one of the most annoying problems experienced by people around the world . . . reaching for their wallet and discovering it's not there.
Combining the latest in Bluetooth® Smart Low Energy technology with an easy-to-use iPhone app, Wallet TrackR™ helps users keep track of their wallet. The solution consists of the world's thinnest Bluetooth device, about the size of a credit card, that can be placed in almost any men's or women's wallet as well as a companion iPhone app. Whenever the wallet and iPhone become separated, the user is alerted and the app records the GPS coordinates of where the phone or wallet was left.
In a recent study by USA Today, losing a wallet was deemed more stressful than losing one's luggage, boarding pass, laptop, or tablet.*  "We all know how stressful and time consuming it can be to lose a wallet," says Chris Herbert, CEO of Phone Halo. "You spend hours cancelling credit cards, getting a new driver's license, health care cards, membership cards, plus those other irreplaceable items.  That time alone is probably more valuable than any cash left in the wallet."
The Wallet TrackR™ utilizes the latest technology called Bluetooth Smart or "Bluetooth Low Energy." Unlike older Bluetooth devices, Bluetooth Smart uses a simple coin cell battery that can last for more than a full year. The product is compatible with the Apple iPhone 4S, iPhone 5 the 3rd generation iPad, and the latest iPod Touch.
Though the Wallet TrackR will fit into most wallets, Phone Halo enlisted Franc Fernandez, designer of the infamous Lady Gaga "Meat Dress," to design several wallets that are as fashionable as they are functional to accompany the Wallet TrackR device.  "I have always been interested in the evolving partnership between fashion and technology," says noted fashion designer, Franc Fernandez. "This project represents a great opportunity for me to achieve a balance between cutting edge design and cutting edge technology."
"Never again will someone have to face the embarrassment of being out with friends or on a date and having to confess they forgot their wallet," said Phone Halo co-founder, Christian Smith. "What's exciting here is that we are helping consumers to prevent loss or misplacement in the first place by alerting them before they have stepped away from a valuable item."
About 'Crowd-Funding'
Phone Halo has set up a 'crowd funding' website to support the Wallet TrackR product. Customers who are interested in purchasing the Wallet TrackR can pledge their support for the project by registering their advance order or 'pledge' for one of the devices or for a package that includes the device and a Franc Fernandez designed wallet. Like other crowd-funded projects, the Wallet TrackR™ has set a minimum funding goal. Since the project must meet the funding minimum in order to move into the production phase, 'backers' are protected from funding a failed project. The development team at Phone Halo has a proven track record of success, having previously brought other Bluetooth tracking devices to market, including the Cobra Tag (www.CobraTag.com), which launched in 2011 as one of the first devices capable of tracking keys and other essentials from a smartphone.
More information about the new Wallet TrackR™ project can be found at http://www.wallettrackr.com.
*Source: TNS for Intel survey of 2,500 adults. May 9-13, 2012.