The Gadgeteer is supported by readers like you! If you buy something through links on our site, we may earn an affiliate commission. Thank you! Learn more.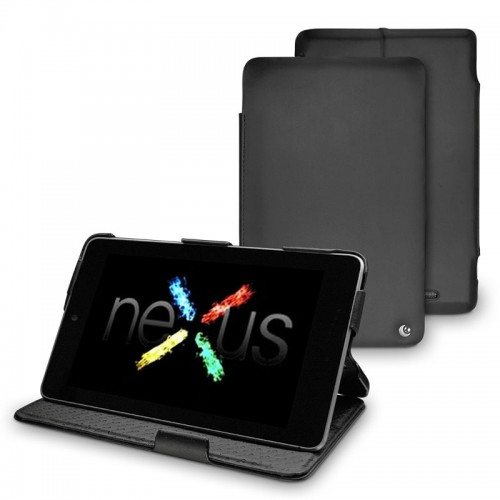 Check out Ebay and you'll find a plethora of cheap cases for your Nexus 7, like the Smart Magnetic case I initially purchased.  Disappointingly, both the original and replacement eBay cases broke in the same place after a couple of months, so my search continued.  On the other end of the spectrum are Noreve's  "haute couture" leather cases, which are handcrafted in the south of France.   Noreve was good enough to send me a review sample of their Nexus 7 case.  How does it stack up against the cheaper eBay cases?  Read on.
Packaging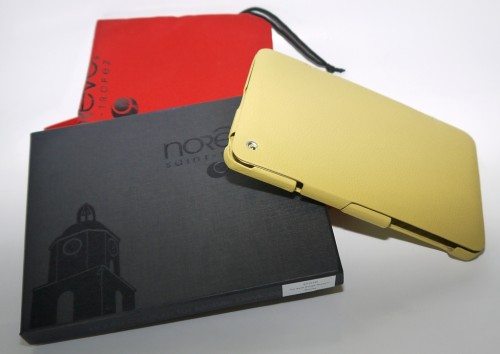 Compared with the sticky-taped clear plastic bag my eBay case came in, Noreve cases comes in a nice presentation box and bag.  It's a nice touch and looks great, but I wonder if it wouldn't be better if they could offer a slightly cheaper model without the box and bag, and keep the box and bag as a premium "presentation" model (ideal for a present). I mean the case is being used, and the box and bag are sitting on a shelf in my cupboard probably never to see the light of day again until I take them to the recycling depot. 😛
The case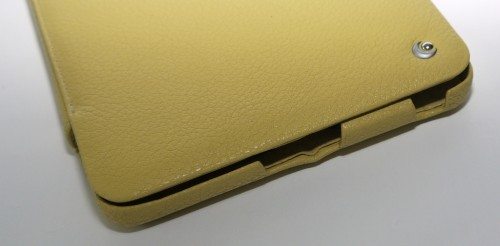 As soon as you open the box though, you get that fantastic leather smell (rather than that plasticy plastic smell 🙂 ).
The Nexus 7 case, as well as the cases they make for numerous other devices, is available in 12 colours and  5 different finishes:
Perpetuelle Selection – Soft Full grain leather
Perpetuelle Couture Selection – Characterised by diamond stitching
Ambition Selection – Pebble grained leather
Exception Selection – matte nubuck finish
Illumination Selection – glossy finish
I was sent an Ambition with a pebbled grain texture in Mimosa. It's probably not a colour I would have chosen myself, but perhaps it's time I moved away from the basic black mentaility. 🙂 There's no mistaking though that it is leather and not some cheap TPU or pleather.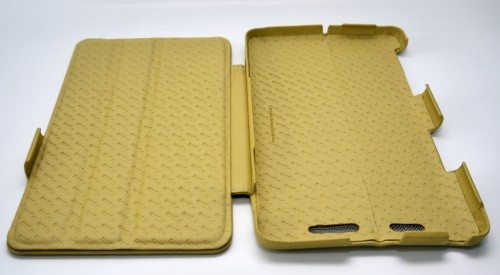 Closed up the case measure 12.2 x 19.7 x 2.2 cm (4.8 x 7.75 x .87 inches) and weighs 176g (6.2 oz). The inside of the case is nicely imprinted with a repeating Noreve logo.  The speaker hole is split into 2, and there's a nice micro mesh covering the holes.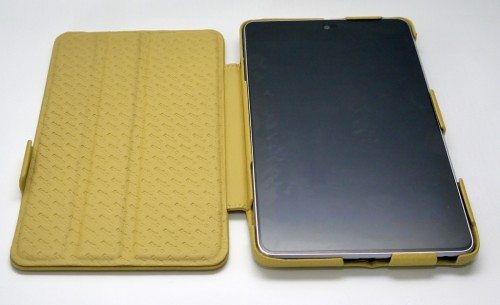 The Nexus 7 slots in nicely and is held in place with some spring steel clips.  You can see that the clips don't cover the bezel, something I always look for in a case.  There's not a lot of additional bulk or weight added once you've clipped in your Nexus.  The cover itself has a magnet embedded in it so that opening and closing the case will active the smart on/off functionality. The cover is nice and sturdy and does a good job of protecting the screen.
Cutouts

The base has cutouts for the micro-USB and the headphone jack. There's enough of a cut out to allow for most plugs and jacks.  You'll note that the cutouts don't look "precision" cut; don't forget these are hand made, not put together by some assembly robot.

On the left side is a piece of leather that connects the cover to the base.  The POGO connector has a cutout around it, though I doubt that (if they ever release) any dock or similar that makes use of the POGO will actually fit with the cover on.

On the right hand side, there's a cutout for accessing the on/off and volume rocker.  The cover is held on with the clip shown in the left hand side.  It's not overly tight and keeps the cover closed, but I do wonder if after excessive use it will leave scratches or scruff marks on your Nexus bezel.
Folded back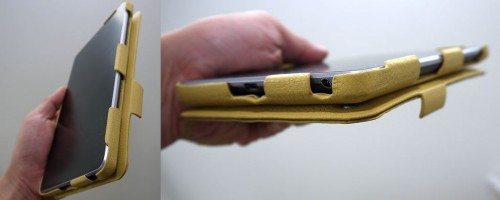 The cover folds back completely flat which is always handy.  You can see, however, that the closure clip does stick out in this mode.  It looks like it would be uncomfortable to hold with your right hand, but it actually gives you a bit of a "handle" to grip on to. Obviously if it does annoy you, you can just flip your Nexus over.
Stand

The case can easily be converted into a stand with three different viewing angles.  You can see that the Nexus doesn't actually stay in the case when you use it as a stand, and it slides out of the bottom clip. Again I'm not sure if this will eventually end up scruffing or scratching the bezel.
Conclusion
Some may think it's a bit of overkill to buy a case that's over one third of the cost of a 16GB Nexus.  In some ways it probably is; however, for the price, you are getting a beautiful piece of handcrafted leather.  The case looks really nice, though in the colour I've got, my boys keep referring to it as my purse, but I think that just goes to show how fashionable this cover is. 🙂  Two things to me that go against this cover: all the ports and buttons are exposed when the case is closed, so you may have to be a bit careful when you throw this into your gadget bag, and I'm a bit concerned about the closure clip and the bottom holder eventually scruffing the bezel of my Nexus.
If you're looking for something just that bit classier than your generic TPU eBay cover, then the Noreve is definitely worthy of consideration.
Support The Gadgeteer
:
The Gadgeteer is supported by readers like you! If you buy something through the links on our site, we may earn a small affiliate commission. Thank you! Learn more.
Product Information
Price:
$73 inc free shipping
Manufacturer:
Noreve
Requirements:
Pros:

Real leather
Good choice of style and colour
Good protection
Flexible stand positions

Cons:

Doesn't cover ports
Clips going to scruff your bezel