We use affiliate links. If you buy something through the links on this page, we may earn a commission at no cost to you. Learn more.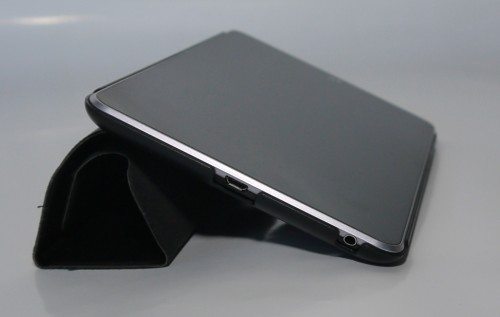 When I received my Nexus 7,  I knew I wanted some sort of  cover. I know it's a pity to cover up such slim and sleek items, but you do have to protect them while you're out and about, or it's thrown into your gadget bag.  It actually fit really well into my Leatherback medium gadget pouch, but since finding my Acer Iconia case for my Thinkpad Tablet, I wanted something that was light and protective and provided some sort of stand for flexibility. I needed something quickly without spending too much money to protect my Nexus while I researched what "name" cases were available. As always there's a plethora of options on eBay, so in the end I found a case that met all my criteria.  Which case ? Read on.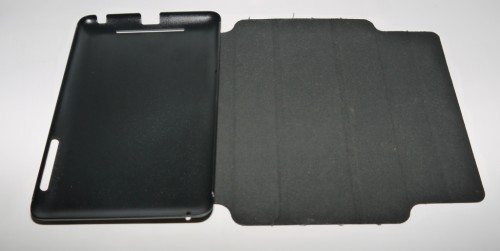 I found this case amongst the many available on eBay, and it's available in a number of colour schemes.  The case itself is made of some sort of plastic and has cut outs for all the various  buttons, plugs and slots.  The Nexus 7 is held in via "rails" on the left and right hand side (as seen in the photo above). There's no lining on the inside of the case itself.
The inside of the cover which will touch the screen is covered in a soft velvety material.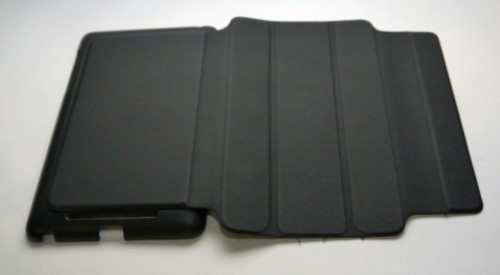 The cover attaches to the back of the case case, as you can see in the above photo. The outside of the cover is made of some sort of fine woven nylon. Each of the panels has some thin plastic stiffening in them to protect your screen.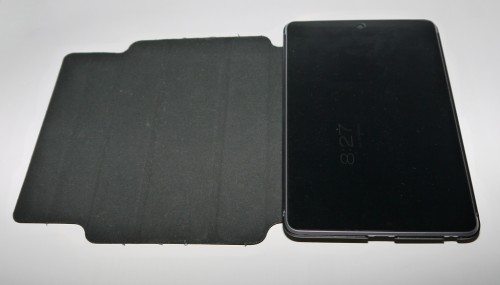 "Snap" in the Nexus, and you're good to go.  The tablet's held in place securely; not so securely that you're worried about scratching or damaging your tablet, but not so loosely that you have worry about it falling out. The entire bezel is still exposed, so there's no worries about using the entire screen edge to edge, one of the criteria for me. I really hate those cases where your tablet slips in and is held in place by a frame that covers your entire bezel. The cover has magnets in it along the inside spine, which activates the smart on/off functionality. The tablet is easy to get in and out if you need to, though if you do do this too often I think the case may not quite fit as well after a while.

On the left and right you can see the "clips" that hold the Nexus in place. The cut-outs for the ports are generous enough to allow you to use most cables, but of course it is worth noting that the ports are exposed even when you close up the cover.  This case isn't going to protect them from "foreign object invasion". The on/off, volume rocker, side microphone and POGO connectors on the sides of the Nexus are protected when the case is closed.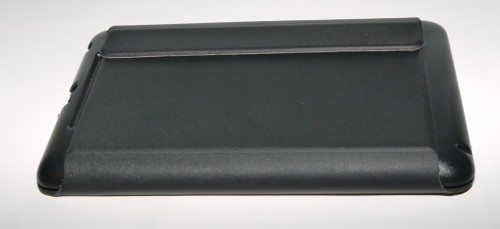 Closed up, the case does obviously add some bulk to the Nexus, but the extra size is made up for with the extra protection. Magnets in the end of the cover help hold the cover in place.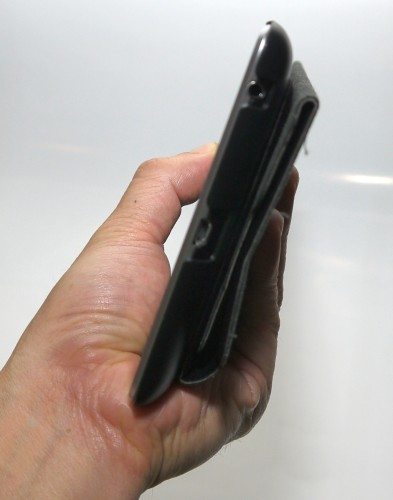 When hand holding the tablet, whether one-handed or two, I've found the most convenient way of keeping the flap out of the way is to tuck it in on itself.
Like a certain other fruity tablet maker's case, the cover allows you to setup your tablet into two different configurations; a lower and flatter one that's handy when you're typing, and a higher one that's great for viewing a video or such.  The magnets on the end of the cover hold to the smart on/off magnets for extra strength.The case is stable, and when you're typing on it or playing a game in either configuration, you never feel like it's going to fall over.  A little thing, but when the tablet's in the low profile setting you do have to lift the stand slightly get access to the power and volume buttons as they're sitting on the desk.
One thing to notice is that there's already a few l loose threads on both the top and bottom of the cover, which you can see when you enlarge the photos above.  I really should get the scissors to them but I always worry it might start an "avalanche" of loose threads 🙂 In addition some of the micro-suede is separating from the cover 🙁 *
In stand mode, one thing that concerns me is that the soft velvet inside is actually sitting on the surface you're using and is also in contact with my hands when I'm hand-holding the tablet.  This means it will probably get dirty quite quickly and may pickup dust or grit which may end up scratching the screen. It might be worth wiping down the velvety lining once in a while just to make sure you haven't got anything on it.
The two above mentioned "issues" aside, I suppose I didn't really expect too much for under $10 shipped. 🙂   No, it's not a top end case from a brand name manufacturer, but for a quick and cheap solution, this case certainly does the job.  And I must admit I was suprised at the quality of it when I received it.
If you need a lightweight, protective case with smart on/off  and stand functionality and you don't want to spend too much money, this case is definitely worth considering. I will admit I do have some reservations about the longevity of the front cover, but even if it only lasts me a short time, hopefully I'll have found a more "robust" case by then.  Otherwise I'll just spend the $10 and order another one. 🙂 That being said, at this point in time I still can't find a branded cover that meets all my needs as well as this one.
There's no particular seller of these and who you order from will depend on your geographical location.  Just search eBay for the words in my title and I'm sure you'll come up with many options to pick up this case.
*Addendum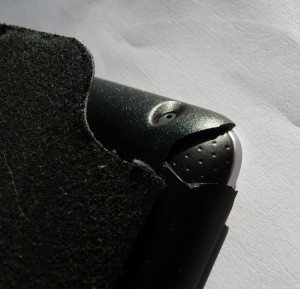 About 2 weeks after writing this reviews the case started developed cracks on three of its 4 corners. My suspicion is that it might be from removing and reinserting the tablet even though I've probably only done this around six times. It then got worse and I lost a whole chunk of one of the corners 🙁  I wrote an email to the eBay Seller in regards to this and the loose threads and the seller has sent me a replacement case.  It's still a great case  for the price and does everything I want but I'll update with how the second case does at a later date, longevity might NOT be one of it's big selling points. I'm checking to see if other people on Nexus forums have had the same issue with theirs as well.
Addendum 2
The replacement case has also started developing cracks on two of the corners 🙁  This time the unit has been out of the case only once. I've bounced this issue off a number of forums where other people have the same case and some have had the issue and others haven't (even after removing and reinserting their tablets multiple times).  I suppose that's what happens when you purchase a generic Chinese made cover, you really don't know what the quality will be like in the long run. In addition there's probably a multitude of factories out there manufacturing the same style case, so in some respects quality is a bit of "pot luck".
I'm a bit dissapointed as this case does everything I wanted and fits all my criteria.  The search for the "perfect" case continues 🙁
Product Information
Price:
As low as under $10 shipped
Retailer:
eBay
Requirements:
Pros:

Cheap
Lightweight
Protective
Stand capability

Cons:

Leaves silver bezel exposed
Leaves micro-USB and headphone port exposed
Multiple manufacturers and sellers so quality a bit uncertain depending on who you buy it from.