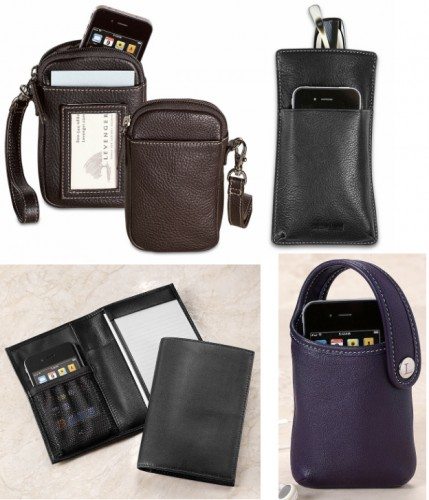 Have you gotten a new iPhone 5, and you're in the market for a luxurious leather case for it?  Levenger has a variety of beautiful cases that will hold your phone.  First is the International Phone Pocket Briefcase ($59.00, bottom left), with room inside for your phone, 3X5 notecards, currency, and even a passport.  This black leather case will be useful whether you're traveling to work or across the world.  It can be personalized with your initials for only $6.00 more.  Next is the Blink & Ink Phone Holder/ Eyeglass Case($59.00, top right).  You'll be able to fit your iPhone 5, your reading glasses or sunglasses, and a pen in this pocketable case.  It's available in black or purple leather, and it can be personalized with your initials for $6.00.  The Carezza Electronics Pouch ($49.00, bottom right) is for the ladies.  I have a Carezza checkbook cover, and the leather is incredibly supple and smooth.  It's available in black or purple leather, and the strap can be snapped around a purse handle or to a belt loop on your slacks.  It fits an iPhone 5, MP3 player, or even a small camera.  Last up is the Bomber Jacket Electronics Phone/Note Case ($69.00, top left).  Levenger says this line of products, made with a rugged leather like the kind used in the jackets of WWII fighter pilots, will appeal to men – but I disagree.  I think it appeals to everyone, and I have a couple of Circa notebooks and gear pouches from the Bomber line to prove it.  This pouch has room in the zipper compartment to hold the iPhone 5, and there are external pockets for note cards and an iD.  It even has a removable wrist strap.
Levenger has something for everyone, no matter their style – even if their style still includes pen and paper!  (Click the image for a larger view.)
Support The Gadgeteer
:
We may earn a small affiliate commission from purchases made from buying through links on our site. As an Amazon Associate I earn from qualifying purchases. Learn more.