We use affiliate links. If you buy something through the links on this page, we may earn a commission at no cost to you. Learn more.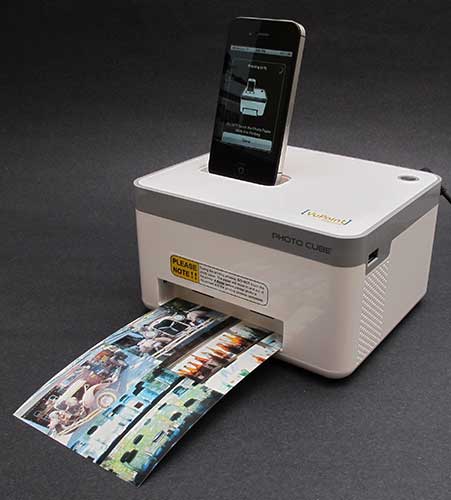 If own an iPhone or Android smartphone and enjoy using your phone as a camera to snap all manner of pics, the VuPoint Solutions Photo Cube Photo Printer is a great little accessory to consider if you're the type of person that likes instant gratification. Staples was kind enough to sent me this printer for review and I've been having fun printing snapshots for a few weeks now. Let's take a look.
Note: Images can be clicked to view a larger size.
Hardware Specs
System Requirements: iPod touch (2nd, 3rd and 4th generation) – iOS 3.0 and above, iPhone4, iPhone 3GS, iPhone 3G – iOS 3.0 and above, iPad, iPad 2 – iOS 3.0 and above, Android smartphones and tablets OS 2.0 and above
Print resolution – Up to 300 dpi
Technology – Thermal Transfer
Ink / Paper cartridge output capacity – Up to 36 borderless color photos
Print speed – As fast as 55 seconds per sheet
Connectivity – USB, direct to phone, tablet
Weight 3.1 lbs
Dimensions 4″H x 6″W x 7″D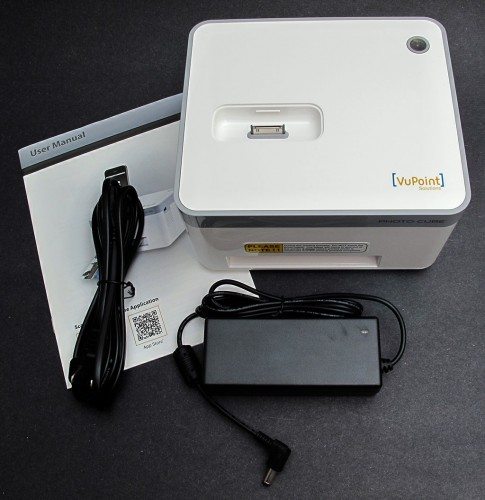 Package Contents
Photo Cube
User Manual
AC Adapter
Power Cord
Trial ink/photo cartridge (Up to 12 photos)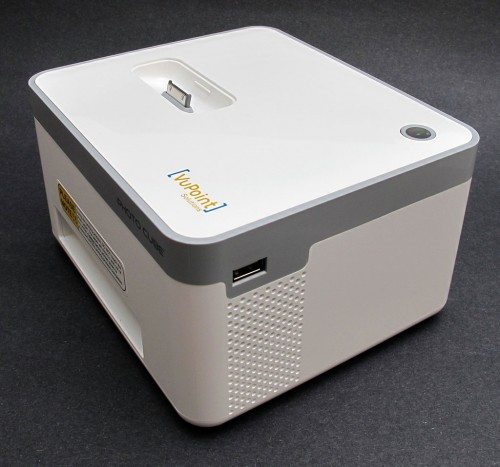 I've reviewed other compact printers in the past, but the VuPoint Solutions Photo Cube is the smallest so far. It's a solidly built device with a very simple design that includes 1 button to toggle power, an 30pin iPhone/iPod dock and a USB port to connect iOS and / or Android Smartphones and tablets. Unfortunately though, you can't use this printer with your laptop or desktop PC / Mac. It's iOS/Android only.
In addition to printing photos, the Photo Cube will also charge your device while it's docked or connected to the USB port.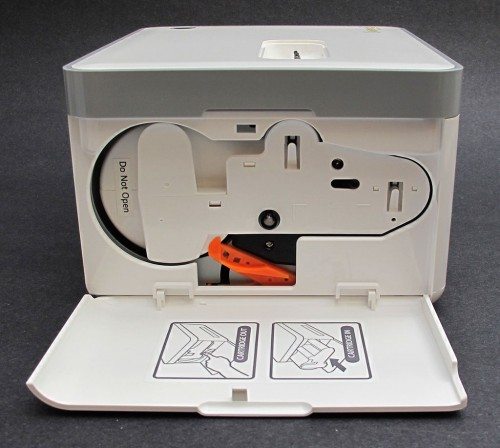 The consumables for this printer include ink and paper. They both come in one cartridge that provides up to 36 color prints and costs $19.99 through Staples (cheapest place I've seen it). That works out to 55 cents a print. That's expensive when compared to printing with a regular color ink jet printer, but the advantage of the Photo Cube is its portability and instant print gratification.
Replacing the cartridge is very simple and completely clean. No worries of getting ink on your hands or clothes. A door on the side opens to reveal the cartridge slot. Flipping down the Orange lock will allow you to remove the empty cartridge and slide a new one in. That's it.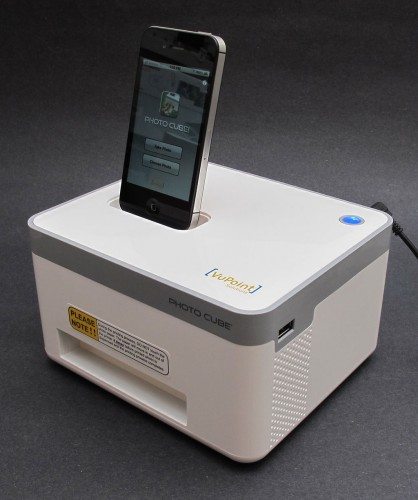 To use the Photo Cube, you'll need to install the free Photo Cube app on your iOS or Android device. From this app, you can select pictures from your camera roll to print.
The app allows you to print 1, 4 or 10 images per sheet and up to 4 copies of each image.

Once you select your image to print, press the onscreen print button and the Photo Cube will begin printing. It will first spit out the 4×6 inch photo with no ink and then pull it back in to print the first layer of color, which is Yellow. It will then pull the paper back into the printer to print a layer of Red, then Blue and finally what I guess is Black. The whole process takes a little less than a minute.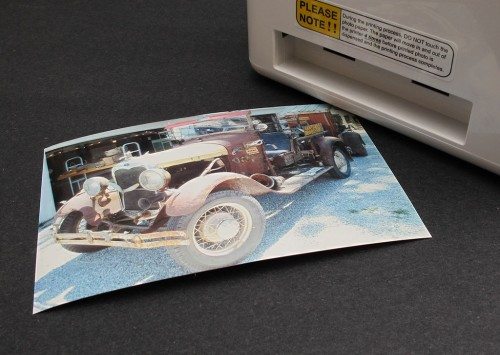 The resulting photo comes out totally dry. I have printed quite a few photos with the Photo Cube and so far am pretty happy with the results. Unlike the Polaroid PoGo printer I bought, the Photo Cube's prints do not have color banding problems.  The print have good color and crisp lines. Of course if you already have an ink jet printer, this printer is not going to create better prints. But, you can't (easily) take your full sized ink jet printer to a party or other event where you want to share quick prints. The VuPoint Solutions Photo Cube would be a fun gadget to take a long to a family reunion, wedding, holiday get together, etc. It's easy to use and will give smartphone photo snappers almost instant gratification when they see their pictures printed in less than a minute.

Product Information
Price:
$99.99 / $19.99 replacement ink/paper cartridge
Manufacturer:
VuPoint Solutions
Retailer:
Staples
Requirements:

iPhone, iPad, Android Smartphone, Tablets

Pros:

Easy to use
Fast printing
Portable
Paper and ink are one easy to install cartidge

Cons:

Ink/paper replacement cartridge price
Can't use with Mac or PCs