We use affiliate links. If you buy something through the links on this page, we may earn a commission at no cost to you. Learn more.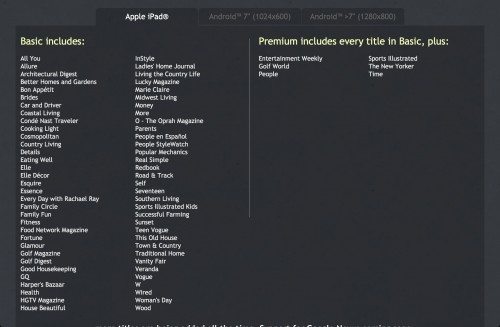 The Gadgeteer recently reviewed the iOS app for the Next Issue service.  As you'll remember, Next Issue is a magazine reading app that gives you access to dozens of magazines for a low monthly fee.  At the time of the first review, there were about 39 or 40 total magazines that were available to Unlimited Plan subscribers – those who pay $15/month for access to all weekly and monthly magazines.  I recently got an email telling me to be sure install the updated app to have access to the new magazines that would soon be added to the catalog.  I'm glad I updated, because I saw that Next Issue now has 72 magazines available in the Apple catalog without raising the subscription fees.  You can see a complete list in the top photo; click it for a more legible view.  You'll also notice that there are separate tabs for listing magazines for Android users.  I didn't include them here, but you can see the Android catalogs by going to the website.  Android listings are much more limited than the Apple listings, for some reason.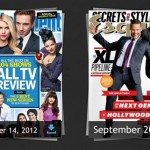 In the review, I had mentioned I couldn't find a way to do automatic downloads of magazines.  The method was there all along, but I just recently discovered that I could tap the grayed out arrow at the bottom right of the magazine's cover in the main page of the library I have selected to read on my iPad.  When selected, the arrow is blue.  (Click on the thumbnail for a larger picture.)  When a new issue is available for a selected magazine, the new issue will be automatically downloaded the next time you open up the Next Issue app.
The Next Issue app works great, and the service was a good deal when I first subscribed.  With all these new magazines, it's an even better deal.  Still no music magazines or science magazines, though.