We use affiliate links. If you buy something through the links on this page, we may earn a commission at no cost to you. Learn more.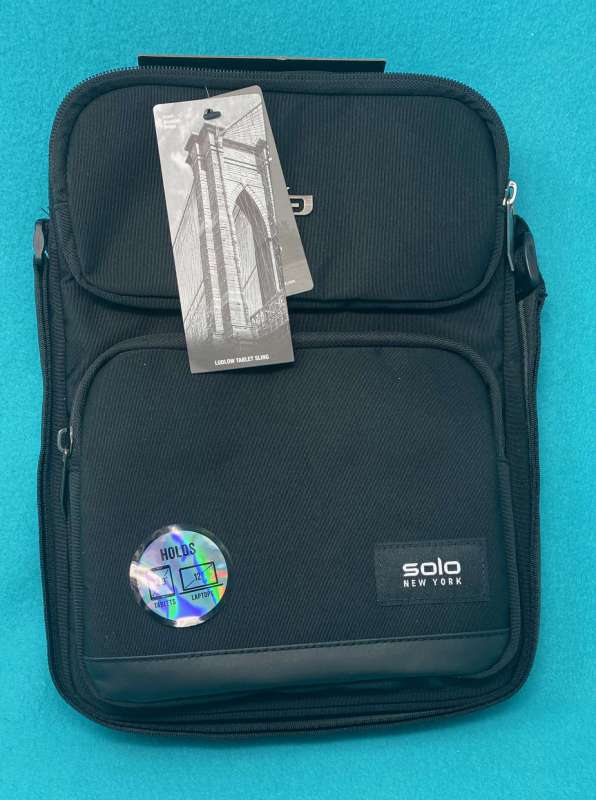 REVIEW – As new devices that are thinner and lighter hit the market, suddenly carrying that messenger bag with a 3" thick laptop compartment doesn't make a lot of sense. And if you have to take along a charger, it's no longer half the size and weight of that behemoth you used to carry. In support of this change, Solo New York, a bag company in New York City, has recently released their Ludlow universal tablet sling bag. After almost buying it several times online, we were offered one for review, and I jumped at the chance.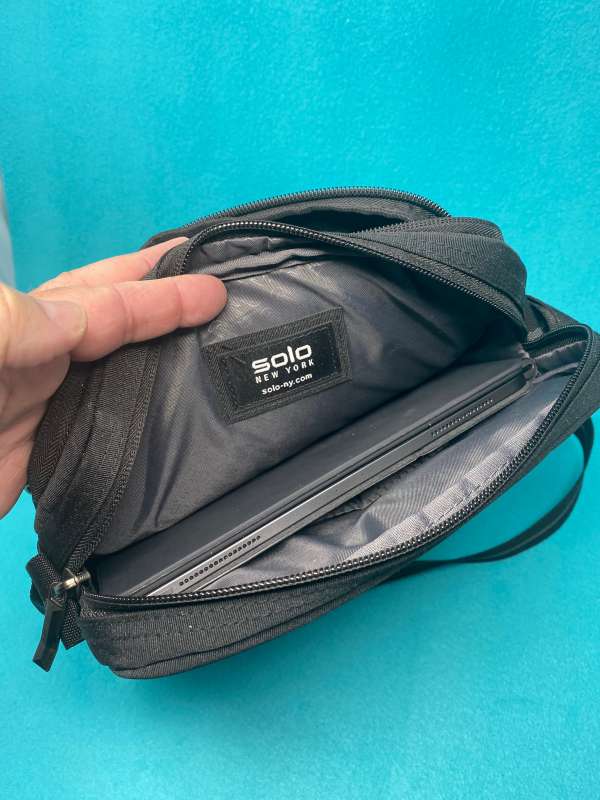 Solo New York has been featured quite a bit here at The Gadgeteer. They make a lot of different styles of bags, and they are constantly adding new designs to match the quickly changing world of smaller, thinner devices that we carry. The previous items I reviewed were all of high quality and design, so let's see if their new Ludlow Sling bag continues the trend or breaks it.
What is it?
A vertically oriented shoulder bag with an integrated adjustable shoulder strap, designed for thin laptops or tablets.
Ludlow tablet bag with strap specs
From company literature
Fully Padded compartment for iPad/tablets up to 12.9" or laptops up to 12"
Scratch-resistant liner
Front zip-down organizer section
Adjustable shoulder strap
Body size: 13″ x 9.5″ x 2.5″
Weight: 0.8 lbs

Design and features
The first thing I noticed about the Ludlow tablet bag with strap is the thinness. It's perfectly sized for my 12.9" iPad to slide into the protective slot, as long as there is no case on it. But the slot in front of that one holds the iPad Pro with the Magic Keyboard like a glove. It's still nicely cushioned, (except for the very bottom) and that means I can also carry another iPad or a Kindle for reading. The zipper is fabric-covered for mild weather protection and slides nicely without much effort. It has a single slider, and the zipper goes down about 3" on each side of the bag.
On the front are two compartments, with the same type of zipper, but they only go 2.5" down on each end. The top one measures .75" deep, 9-ish inches across, and a bit more than 4" down. There's about an inch of space between it and the next pocket, which is also .75" x 9", and is 7.5" deep.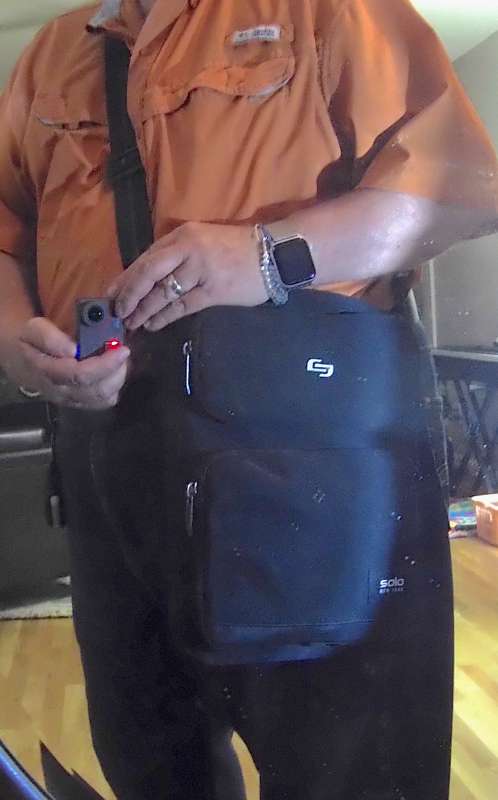 The top one is lined with a fleecy lining, so will protect glasses or phones from getting scratched. It's pretty tough on hoop-and-loop tabs if you toss a cable in there with a cable-keeper. (This is the voice of experience.)
The lower pocket has a few card slots that would hold credit cards, access cards, metro cards, or one hand of playing cards. There's also a pocket behind them that will hold a wallet if you're not George Costanza. There are also three pen silos, but you could use them for penlights, make-up brushes, grease pencils, or thermometers. You do you. (They are not quite deep enough to insert an Apple Pencil and still zip closed, however.)
The strap is 1.5" woven fabric – not quite seatbelt grade, but very soft with no seams or snags. It can expand to about 60", and is sewn in at both ends. A branded nylon tri-glide easily lets you adjust to get it over your head for cross-body carry or cinch up if you leave the heavy coat at your desk while running out for lunch.
One glaring hole for my use is the lack of a grab handle. I have reviewed so many bags where this simple addition would help users it just makes me crazy. As I watched the product video on the website, I noticed how the presenter stooped down to get the strap over his shoulder. Wouldn't it have been great to just grab it by a handle and then sling it over your shoulder?
The fabric of the bag is a fine-grained polyester that tends to ignore scratches and dirt. (Even though Jack has been sleeping on it by my desk for several weeks, it doesn't even show his hair. I need a wardrobe made from this stuff!) It's nice enough that you'd not feel dressed down pulling your laptop/iPad out of it for a presentation in almost any boardroom.
Performance
Wanting to see just how well this bag could hold a large load, I put in what I would normally take on a business trip (other than my clothes and such!): My main 12.9" iPad Pro with its Magic Keyboard, a 10.5" iPad in a Zagg keyboard case, my wallet (more on this later!), my iPhone 11 Pro Max, a 10,000 mAh Just Mobile GumSlim battery pack, a face mask, a screen cleaning cloth, 2 cables for the devices, my Big Idea Design Ti Arto EDC pen and my bag of "Never wanna need it, always wanna have it" stuff. (This is a phrase from Chase Reeves.)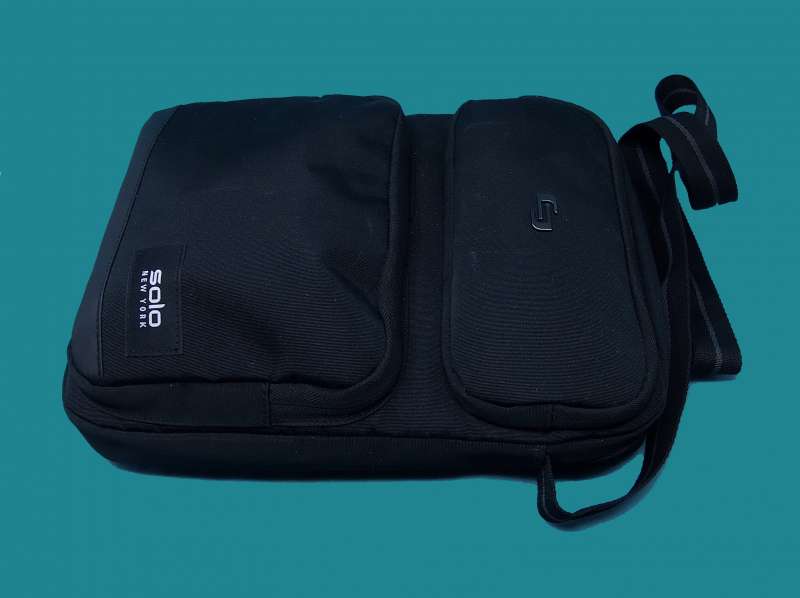 The first photo (above) shows all this stuff inside the Ludlow. The one below shows the items packed into the two front pockets. The last photo in the series shows everything that was packed inside. It's quite a bit of stuff for a slim bag, but my everyday load is much less.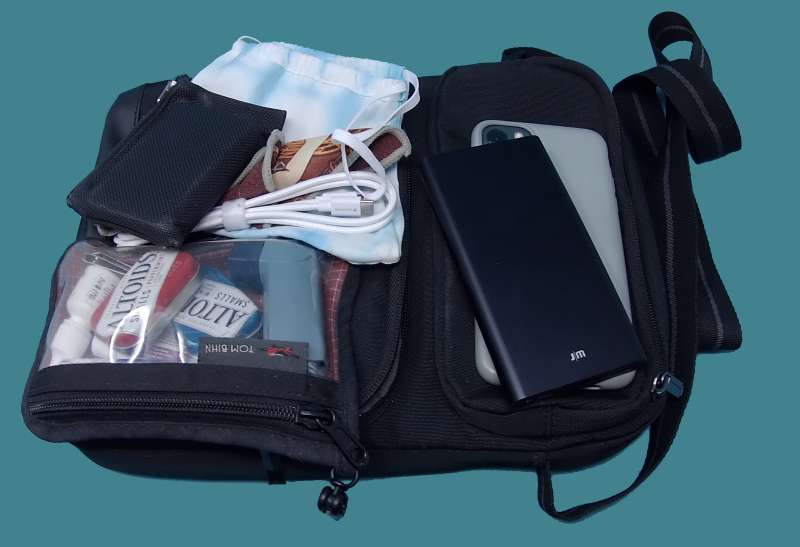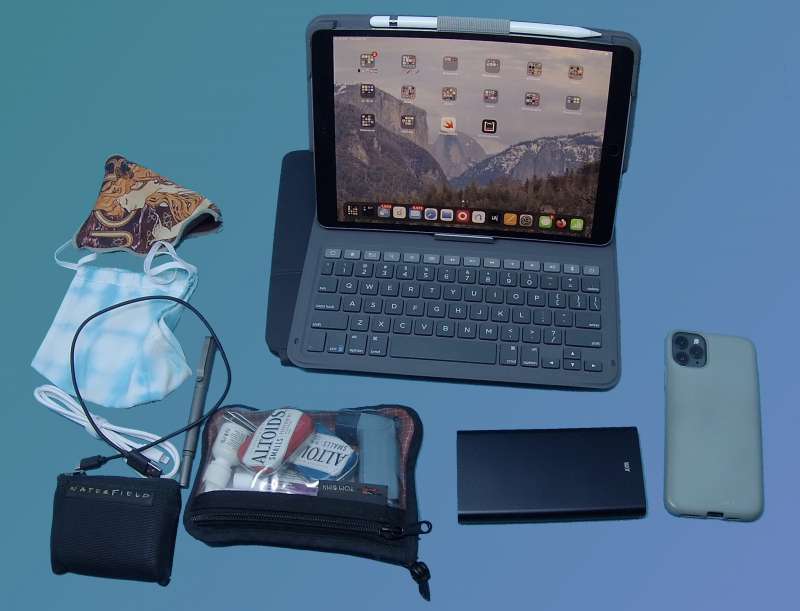 Having enough room for the main things you need during the day, without room for the things you could possibly need, means this bag is never over-stuffed. You can toss in your screen(s) of choice, a charger or battery bank, cable, and adapters, if you plan on presenting. Nowadays, you'll also need a mask, hand sanitizer, and a tin of mints. Maybe a granola bar. But your 32 oz. water bottle and your Keg 'o' Coffee is not gonna fit.
(OK, here's the wallet story promised above. I never put my wallet in a bag, but I did for this review. While shooting the photos above, it came to be time for a meeting I have with friends at a local place to chat about gadgets and have dinner. When the time came to pay, I reached into my wallet pocket to find – nothing! My wallet was sitting at home in my Photo studio with the rest of that gear! A friend offered cash to cover me, but thanks to ApplePay, I was able to get out without washing dishes! But I was a bit paranoid all the way home since the po-po don't take ApplePay!)
What I like
Vertical orientation is safer for slender screens
Easy access front pockets
The strap is generous for cross-body or single-shoulder carry, even over winter coats.
What I'd change
No grab handle?
A grab handle would be welcome…
Maybe even just a hanging loop?
Final thoughts
I've long felt that horizontal-oriented bags are actually dangerous to use with a tablet or today's ultra-thin laptops. If you lean against someone in a crowded bus or slip against a pole or such, your body may cause the device to be bent. I consider a vertical orientation much preferred, once the thickness of your devices falls under .75″ or so. I'm excited to see vertical tablet bags taking off as a category.
While I really like the Solo NY Ludlow universal tablet sling bag for its excellent size and organizational layout, the lack of a grab handle is such a hassle. Getting into and out of a car, moving around your home or office to get things you'll need for the day – there are just so many times having a hand grip would make this bag easier to use. Even just a hanging loop would be good!
Solo is, however, keeping their finger on the pulse of our world today. Their offices have a Zero-Plastic-bottle policy, they use recycled bottles in the fabric of one of their lines of bags, and they will even plant a tree in a National Forest if you'll sign a pledge to not use plastic bottles for a month. That's nice to see in a company, so I'll let the haul loop slide. This time.
Price: $32.99
Where to buy: Company website or Amazon
Source: The sample of this product was provided by Solo.