We use affiliate links. If you buy something through the links on this page, we may earn a commission at no cost to you. Learn more.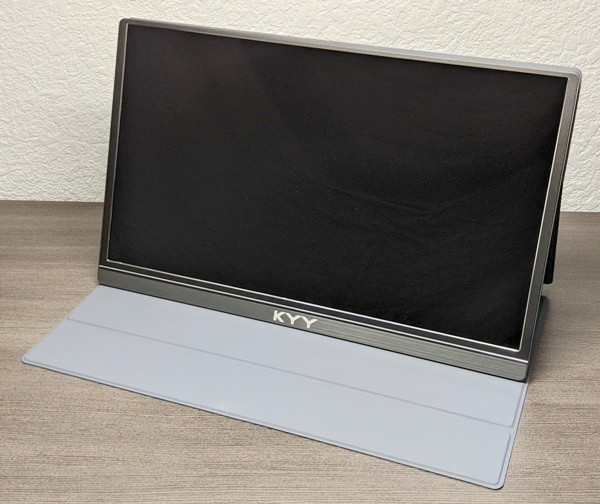 REVIEW – Having increased my computer workload recently, I've discovered the magic and beauty of a second monitor and a portable monitor is even handier. Thus, when the KYY K3 15.6″ 1080p Full HD (FHD) USB-C portable monitor came up for review, I seized the opportunity to review it.
I found that it is quite handy to have especially while traveling. It extends or mirrors my display successfully. However, the smart cover is held in place solely by magnets to the back of the monitor and thus it can pop out easily. Also, I had a little trouble with the spring-loaded semi-rotating menu control wheel on the monitor – pressing on it sometimes did not let me select some of the settings that I wanted to adjust. Even so, it worked well and I really enjoyed using it.
What is it?
The KYY K3 15.6″ 1080p FHD USB-C portable monitor is a full high definition (FHD – 1920 x 1080 pixels) monitor that you would use to connect to your laptop, computer, or phone/tablet to extend the display (if the connected device supports it) or mirror the display. The monitor only has mini HDMI and USB-C ports to connect to the desired device.
What's in the box?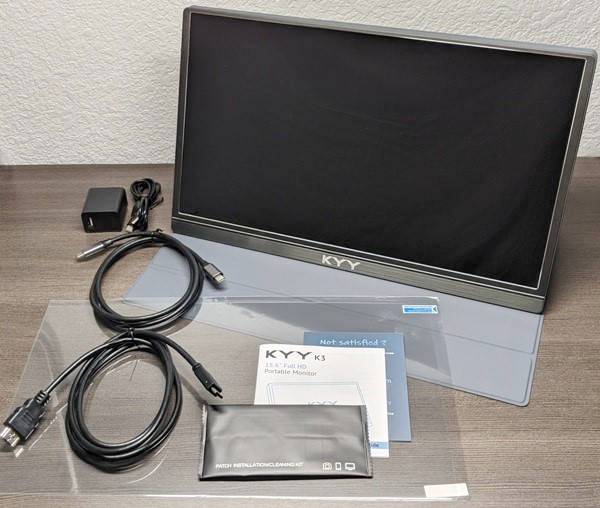 KYY K3 15.6″ 1080p FHD USB-C Monitor
USB-C to USB-C cable
HDMI to mini HDMI cable
USB-C to USB-A power cable and AC adapter
Magnetic smart cover
Plastic screen protector with a cleaning kit
Hardware specs
KYY K3 FHD 1080P PORTABLE MONITOR

Screen: 15.6" advanced IPS LCD
Viewing angle: 178° wide
Modes: landscape or portrait
Refresh rate: 60 Hz
Resolution: 1920 x 1080 pixels
Speakers: 2 built-in speakers, 1 W each
Visible area: 344.16 mm x 194.59 mm
Contrast ratio: 1000:1
Color temperature: 6800 K
Brightness: 300 cd/sq m
Aspect ratio: 16:9
Display colors: 16.7 M
Color gamut: 85%
Product dimensions: 368 mm x 225 mm x 9 mm
Weight: 1.7 lbs.
Features: HDR technology, blue light adjustment

COMPATIBILITY

Many laptops, smartphones, computers, PS4, XBOX ONE, Nintendo Switch, and more (devices need either a full-featured USB-C port that supports video (i.e. DisplayPort Alternate Mode), HDMI port, or appropriate adapter)
Design and features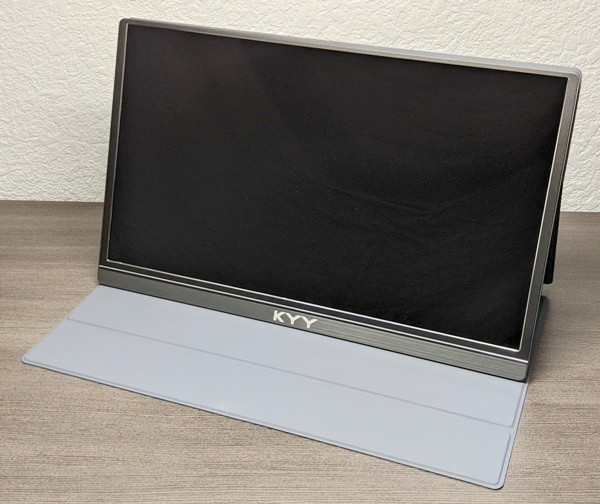 The KYY K3 15.6″ 1080p FHD USB-C portable monitor is a USB-C monitor with an IPS LCD screen (it is NOT a touchscreen monitor). It is encased in what appears to be gray metal (though it may be plastic) and feels like a nicely made monitor. It also comes with a smart magnetic cover made of PU (faux) leather. The cover can be easily slipped off because it is attached solely by magnets.
The screen protector that comes with the monitor is made of flimsy plastic which makes applying the protector more difficult without introducing bubbles. After applying the protector, and trying to remove all the bubbles, I noticed that it still has one bubble, which drives me crazy! I guess it's not quite as noticeable when using it.
The smart magnetic cover acts as a stand when used in landscape mode, and there are two viewing angles to choose from.
When facing the monitor, the ports are along the right side. The monitor also has two speakers located on each side.
The first photo above shows from top to bottom: a speaker, a USB-C power port (lightning bolt icon with a rectangle around it), a full-featured USB-C port (lightning bolt icon), and a mini HDMI port.
The second photo above shows the left side of the monitor which contains another speaker, the power button, a menu control wheel, and a headphone jack.
When using the mini HDMI port on the portable monitor to connect to your device (laptop, computer, phone, etc.), you will need to provide power to the monitor using the USB-C power port which is separate from the full-featured USB-C port just below it. When using the full-featured USB-C port to connect to a device, you do not need to provide any additional power since this port provides video, audio, and power.
Performance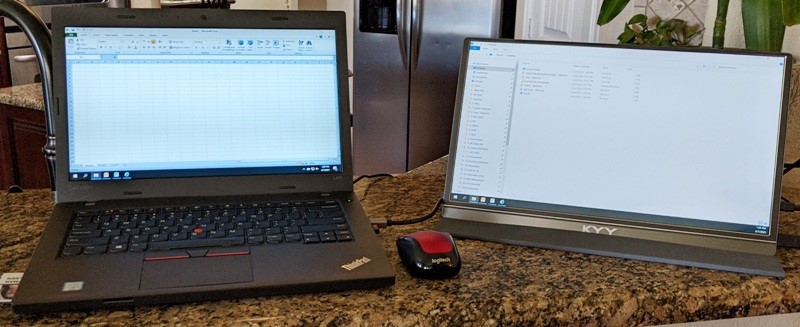 The KYY K3 USB-C portable monitor is really easy to use. It does not require any drivers so you just plug it in and you are ready to go. The only thing you need to be aware of is the type of video connections you have on your devices to connect them to either the USB-C video/audio/power port or mini HDMI port on the monitor.
My Lenovo Thinkpad laptop does not have an HDMI port or any USB-C ports, but it does have a mini DisplayPort. So before I was able to use the monitor with it, I needed to purchase a mini DisplayPort to HDMI adapter. I was then able to connect the laptop to the monitor using the provided HDMI to mini HDMI cable (shown in the photo above). I also needed to connect the monitor to power using a USB-C power cable (which was provided along with an AC adapter as well).
However, my personal laptop, a Lenovo Yoga 730, has a Thunderbolt 3 port and thus I only need one cable to connect it to the monitor. Sweet!
It is so nice to have two screens when working. I've extended my laptop's display as well as mirrored it using this portable monitor and it worked well for me.
The above photos show the settings for the monitor. As you can see, you can change such settings as the brightness, black level, aspect ratio, transparency, mute the speakers, and adjust the blue light levels among other things.
The only problem (intermittent) that I've had so far while using this monitor is when I press in on the menu control wheel to select a particular setting like the "Brightness", it periodically won't let me select it – it doesn't react at all. But I can select the other tabs located along the left side of the menu and adjust the individual settings within each tab. Go figure…
Aside from the settings issues, this monitor has worked well for me so far. It's traveled a couple of times without any travel-related problems. Gosh, it's handy to have when traveling! I've also used both the USB-C connection and the mini HDMI connections without any issues.
While I am not an expert on displays and TVs when it comes to viewing angle, response time, color reproduction and accuracy, and contrast ratios, the FHD resolution looks great for my purposes (Excel, Word, Outlook, PowerPoint, Adobe Acrobat Reader DC) and the screen is bright enough for me where I have used it (I haven't used it in direct sunlight and I don't need to). Though the ads state that this monitor can be used for gaming, I imagine that some gamers may opt for something else since this is only a 1080p monitor with a 60 Hz refresh rate.
What I like
The monitor has a USB-C full-featured port (Alt Mode port) that provides video, audio, and power when used with a compatible USB-C cable
It works well for my purposes (typical office applications), is clear and bright enough for me, and has traveled well so far
It comes with USB-C to USB-C cable, HDMI to mini HDMI cable, a USB-C power cable, and an AC adapter
It is compatible with many devices
It doesn't require a driver
It is inexpensive
What I'd change
The menu control wheel doesn't work consistently when changing some of the monitor's settings
The smart cover is only attached to the monitor with magnets
It is not a touchscreen monitor
Final thoughts
I enjoyed using the KYY K3 15.6″ 1080p FHD USB-C portable monitor. It's thin, lightweight, and easy to transport. It has a smart case that protects and acts as a monitor stand, comes with a USB-C to USB-C cable and HDMI to mini HDMI cable, comes with a screen protector (albeit a rather flimsy one), works well, is clear and bright enough for typical office applications, and can be used in landscape or portrait mode.
The only concerns I have are that the smart cover attaches to the monitor using only magnets and thus is easily bumped out of its case. The menu control wheel sometimes has issues where it is unresponsive when selecting some menu items. And last, it would be nice if the monitor had a touchscreen, but that's really a preference rather than a problem. Will it last? Only time will tell.
Price: $179.99 ($159.99 when you click on the checkbox for the coupon)
Where to buy: Amazon
Source: The sample of this product was provided by KYY.