We use affiliate links. If you buy something through the links on this page, we may earn a commission at no cost to you. Learn more.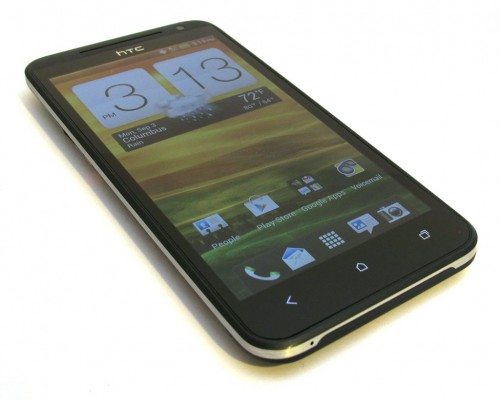 I was recently sent the HTC EVO 4G LTE Android Smartphone for Sprint and it reminded me of the fact that I used to enjoy building my own desktop computers by picking out the case, motherboard, video card, audio card, monitor, OS, etc. I would always get exactly what I wanted that way. I sure wish we could do that with our smartphones don't you? It seems like there's always  something missing from every phone I try, but if I could pick and choose the features I wanted, I'd have the perfect phone. Here's a quick look at the HTC EVO 4G LTE. Let's see if it has the perfect combination of features or if it leaves me wanting more.
Note: Some images can be clicked to view a larger size.
Hardware Specs
OS: Android 4.0
Processor: 1.5GHz Dual Core
Memory: 16GB ROM/1 GB RAM supports up to 32GB micro SD
Display: 4.7″ HD 720p Super LCD
Camera: 8MP back / 1.3MP front
Battery: 2000 mAh
Talk time: 7.5 hours
Dimensions: 5.3 x 2.7 x 0.35 inch
Weight: 4.7 oz
What's in the box
AC Charger
Micro USB Cable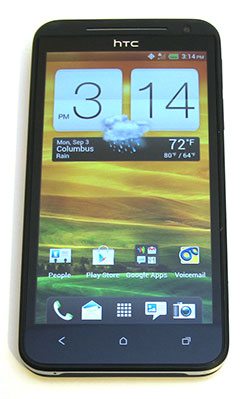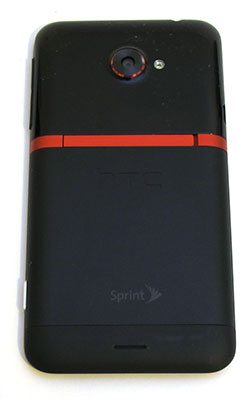 The EVO is a pretty large phone, which makes it less pocket friendly than the HTC Incredible 4G that I looked at a few weeks ago. But with a large phone, you get a large display and it's hard not to love this one because it is bright, crisp and almost goes from edge to edge on the face of the phone.
The EVO doesn't have any physical buttons, but it does have a set of backlit back, home and menu soft keys below the display.
When you flip the phone over, you will see the camera and LED flash. I like the fact that the plastic is raised around the lens to provide some protection.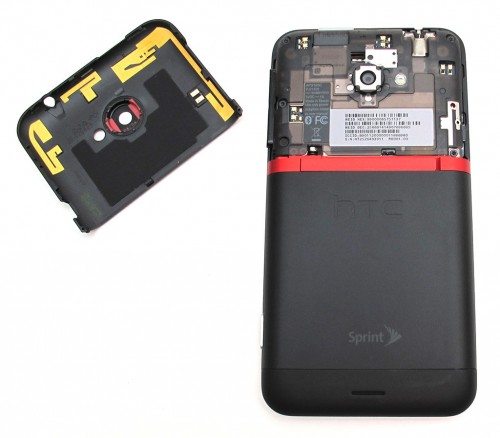 We run into what might be the biggest issue about this phone when we try to access the battery compartment. Why is that a problem? Because you can't access it. Although the top half of the back cover can be removed to gain access to the microSD card slot, the bottom half of the case where the battery is located is sealed shut. This is a somewhat unusual occurrence with Android phones, so I was surprised when I found out about it. I personally have never purchased a 2nd battery for any of my gadgets, but I do know many people that do… so this might be a deal breaker for them.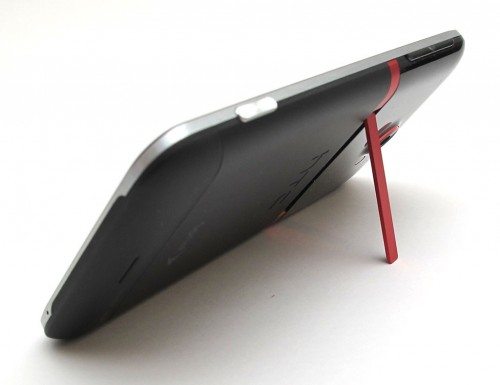 The Red stripe on the back of the phone isn't just for decoration, it actually has a purpose. It's a flip out metal kickstand that will allow you to position your phone in landscape orientation on a flat surface. This is a nice little feature that adds absolutely no bulk to the phone and is one of the features I'd like to have if I could build my own phone.

The micro USB charging connector is located on the Left side of the phone.

On the Right side you'll find the volume rocker and below it towards the bottom is a dedicated camera shutter button. The button is large, metal and has great tactile feedback. This is another feature I'd want for my perfect smartphone. However, I do wish there was a setting that would let you use that button to wake up the phone and go straight into the camera app.

The top edge has the power button, one microphone (there's another on the bottom edge) and the earphone jack.
The sides of the EVO have a brushed aluminum rail which give it a industrial tech style which I like.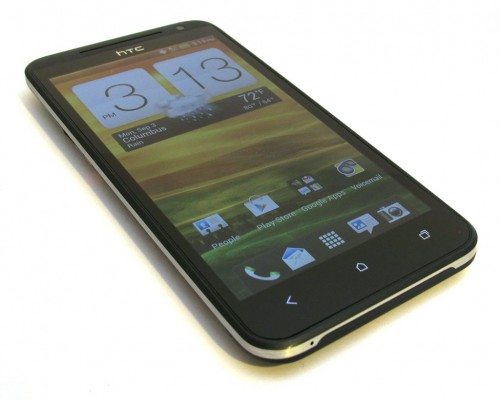 In hand, this phone feels solid and passes my ever popular gadgeteer squeeze and shake test with no creaking, popping, or rattling. When it comes to the physical design, I like it a lot. It's not flashy, but has some nice accents with the brushed metal sides, kickstand and dedicated camera shutter button.
A few quick snap shots from the built in camera didn't reveal any problems or gotchas. I was happy with the macro capability (always something I personally look for) and with normal shots.
This phone features Beats Audio, which is meant to enhance your listening experience no matter what brand of headphones you use. BTW, the there are no free earbuds with this phone… Using my new set of Urbanears Medis, I was very happy with the sound quality while listening to my favorite tunes.
Due to the fact that I didn't get a very long time with this phone, I wasn't able to get a handle on how good or bad the battery life might be. My guess is that it's on par with smilar 4G phones. Keep a charger handy and feel thankful if you can get a full day from one charge.
On the performance and software side of the equation, I'm happy to report, that the phone is snappy and doesn't feel much different than other Android smartphones that I've recently tested. Flipping between screens, loading apps, and surfing via wifi and 3G all felt smooth and lag free.
What about 4G? Well, in my area I really don't have very good Sprint coverage at all… at my house the phone defaults to roaming on Verizon towers. In town (Columbus, IN), I get a very strong 3G signal, but no 4G signal. That's because Sprint 4G hasn't really rolled out yet… Just be aware if you buy this phone, you won't get magically faster speeds over 3G until Sprint LTE actually rolls out.
I'm happy to report that Sprint didn't fill up the EVO's memory with a bunch of junk apps and game demos that you can't delete. There are just a couple Sprint specific programs, while the rest are default Android apps.
Using the EVO as a phone (imagine wanting to do that!) didn't result in any surprises. Call volume, audio quality, etc, all were just fine during the short time I've had with this phone.
Sprint customers looking to buy a top of the line Android smartphone currently have 2 main choices: the HTC EVO 4G LTE or the 16GB Samsung Galaxy S III. They come in at the same price, have the same processor speed, same amount of memory, same OS version , same camera resolution and close to the same display size. The main differences between them are the EVO's sealed battery vs. the user replaceable battery on the SGS III and the user interface. HTC has Sense and Samsung has Touch Wiz. The SGS III also has a physical button on the front, but no dedicated camera shutter button like the EVO. So I'm back to wishing I could take a few things from the HTC, a few things from Samsung and other phones and bake them into the ultimate Android smartphone. But if I had to make a choice, I'd go with the HTC EVO 4G LTE over the Samsung because I like the dedicated camera button, HTC Sense interface and overall look and feel of the EVO best.