We use affiliate links. If you buy something through the links on this page, we may earn a commission at no cost to you. Learn more.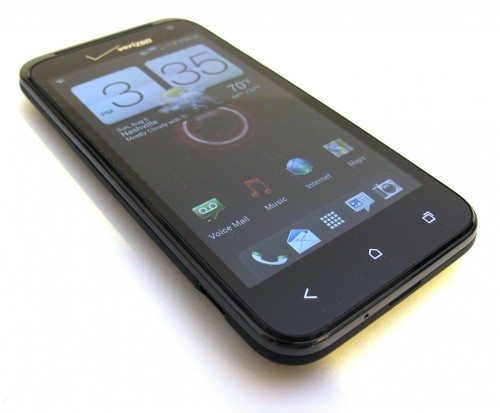 Sifting through the Android smartphone offerings from Verizon Wireless might seem like a daunting task for someone who is new to the world of smartphones. With around 20 different phones to choose from, a lot of buyers might just throw in the towel and opt for an iPhone. My primary phone actually is the iPhone 4S, but I've been considering hopping back into the Android pool for awhile… at least till the iPhone 5 gets released and pulls me back into the land of Apple. Bryan Sherman and I recently took at look at Verizon's flagship phone, the Samsung Galaxy S III. The SGS3 is at the very top of the list when it comes to high end Android smartphones. But its size and price might scare some potential buyers away. Is there an alternative? HTC hopes you'll consider their DROID Incredible 4G LTE Smartphone.
Note: Images can be clicked to view a larger size.
Hardware Specifications
Network: LTE 700 MHz (band 13); CDMA 1xRTT/EVDO REV A 800/1900 MHz
OS: Android 4.0, Ice Cream Sandwich
Processor: 1.2 GHz dual-core Qualcomm® Snapdragon S4
Memory / Processor: 1.2GHz dual–core Qualcomm® Snapdragon™ S4 processor with 1GB RAM
8GB internal memory (actual formatted capacity is less)
Supports up to 32GB microSD card (sold separately)
Display: 4" super LCD screen qHD
WIFi 802.11 a/g/b/n
Bluetooth 4.0
Camera: 8 MP rear facing camera with 28mm wide angle lens, VGA front facing camera
Battery: 1700mAh
Usage Time: up to 574.72 minutes OR
Standby Time: up to 447.3 hours
SAR: Head: 0.799 W/kg, Body: 1.05 W/kg
Dimensions: Size: 4.82 (H) x 2.40″ (L) x 0.46″ (D)
Weight: 4.66 oz.
Included in the box:
Standard Lithium Ion Battery (1700 mAH)
Micro USB cable with icon
AC adapter
RF Brochure
Product Safety & Warranty Brochure
Quick Reference Guide
Important Consumer Information Brochure
Hardware Tour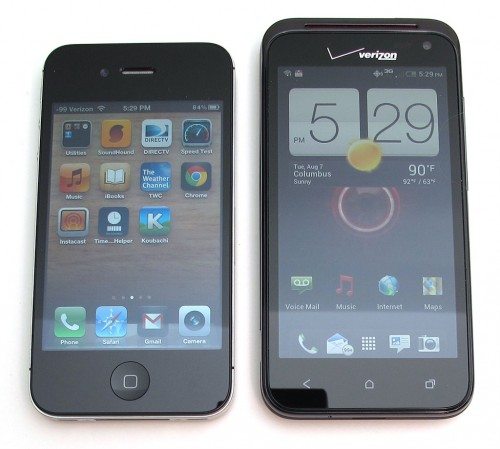 I wish I still had the SGS3 so I could show you how much larger it is than the Incredible 4G, but hopefully my iPhone 4S next to it will be enough to convey its size. Even though the Incredible is slightly longer and thicker than the iPhone, it still feels small and comfortable to hold. It's also much more pocket friendly than the SGS3.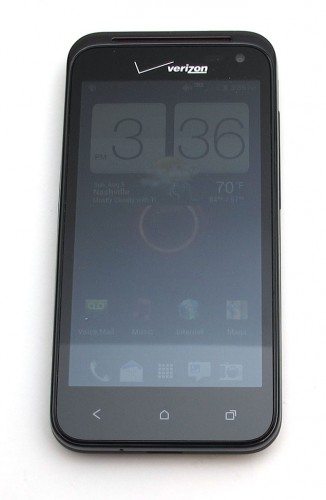 There are no physical buttons on the face of the phone. Below the display are 3 soft buttons that are mapped to Back, Home and Menu. These buttons light up when the ambient light sensor thinks you're in a dark room.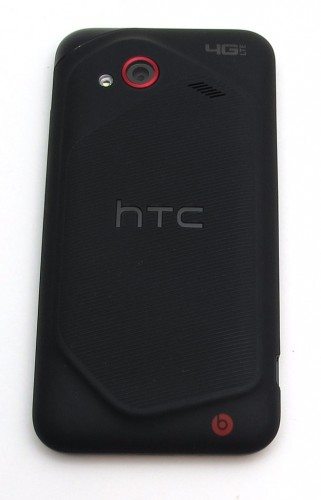 The back cover of the phone is made of a flexible grooved Black plastic with Red accents. If I have one main complaint about this phone it's that back cover. When you grip the phone in your hand, you can feel the cover flex and the sides pop. I don't know why it annoys me so much, but it does.
Also notice the speaker slots on the upper right side. I've run into volume issues when trying to watch a video because my hand muffles the speaker enough that I need to turn up the volume in order to hear it better.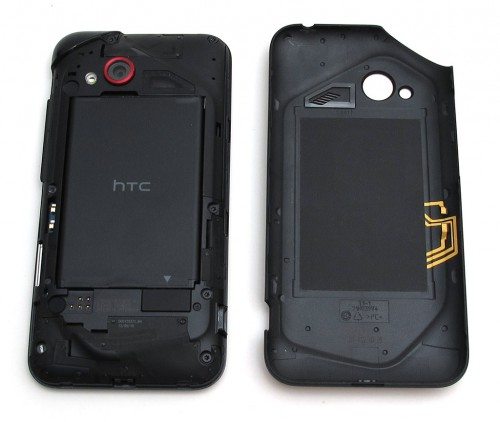 One positive thing about the back cover is that it's easy to remove when you need to get access to the microSD card slot or the battery.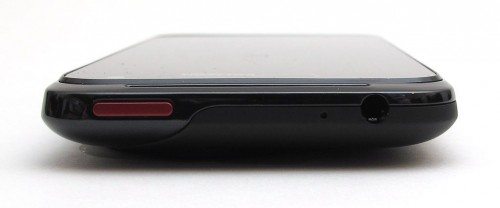 The back cover has a rounded shape which makes the phone comfortable to hold.
Along the top edge of the phone is the power button and earphone jack. The Incredible 4G has Beats audio which offers an improved audio experience. But surprisingly, the phone doesn't come with any earbuds…

The bottom edge is unmarked except for the microphone which you can barely see on the left side of the frame.

The micro USB charge / sync connector is located on the bottom left edge of the phone. As is the trend, Mac users will be required to install a special file manager if they want to view and/or copy files to and from the phone using an Apple laptop or desktop. Windows users will enjoy plug and play access to their files. Darn you Windows! 😉

The volume button is located on the right side of the phone. I'm not fond of this location and I'm equally not thrilled with the low profile button that has almost no tactile feedback whatsoever.
Display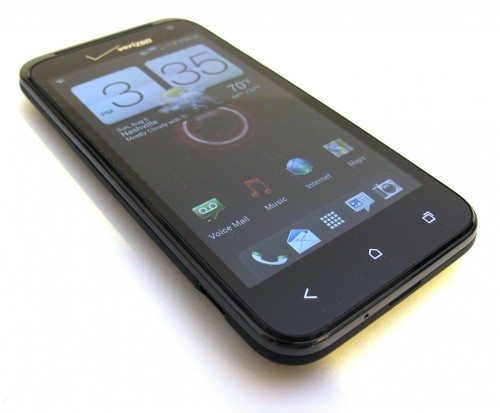 The Incredible 4G has a 4″ inch display, which sounds small compared to the 4.8″ Samsung Galaxy S3's display. It's still bigger than the iPhone 4S's tiny 3.5″ display.
I've found the Incredible's display to be bright, vivid, crisp and responsive to touch.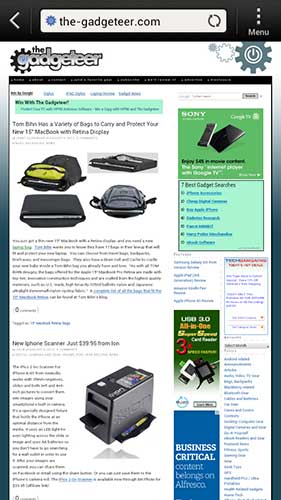 Text is a little hard to read on full screen non-mobile web sites when the screen is in portrait orientation.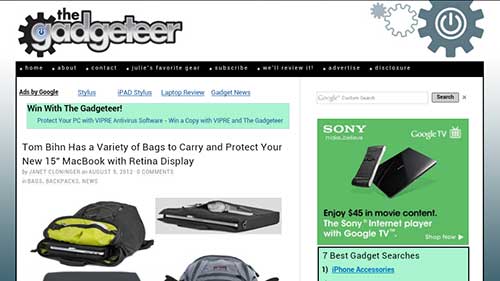 Landscape orientation is comfortable to read.
Camera
I found the the f/2.2, 28mm, 8MP camera to be above average. Especially when it comes to shooting close ups (macros). It also has a wider angle than my iPhone 4S, so it captures more detail.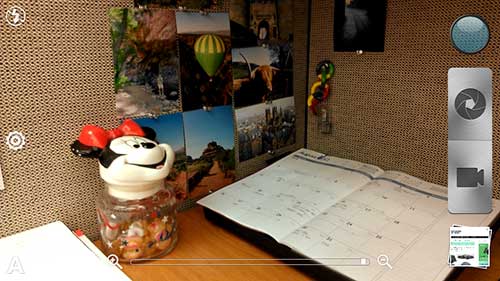 The camera interface is simple. You can tap anywhere on the screen to zoom on that area. Then touching the shutter button on the screen captures the shot. Too bad there's no hardware shutter button…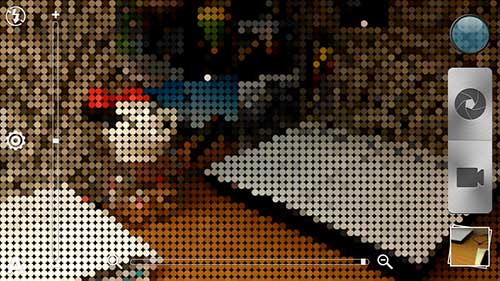 There are a a bunch of live filters that you can use to take creative photos.
Let's compare a few example shots from the Incredible 4G with the iPhone 4S to show the difference in the wide angle lens.
Macro iPhone 4S: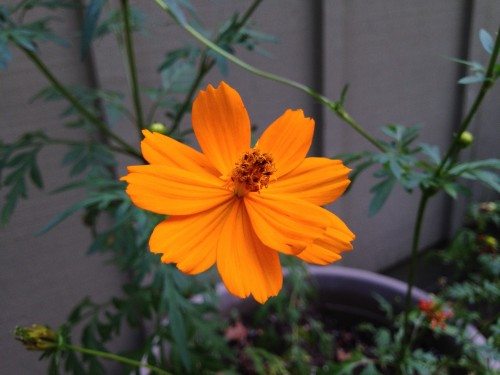 Macro HTC Incredible 4G LTE: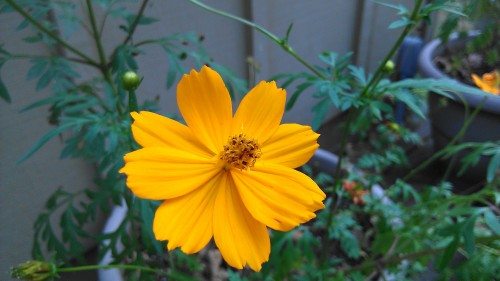 Normal shot iPhone 4S: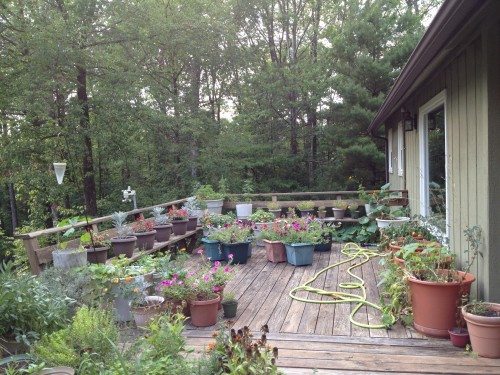 Normal shot HTC Incredible 4G LTE: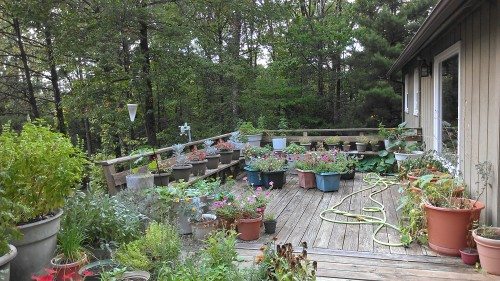 Normal shot iPhone 4S: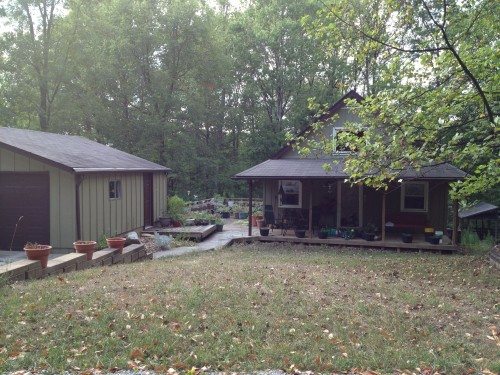 Normal shot HTC Incredible 4G LTE: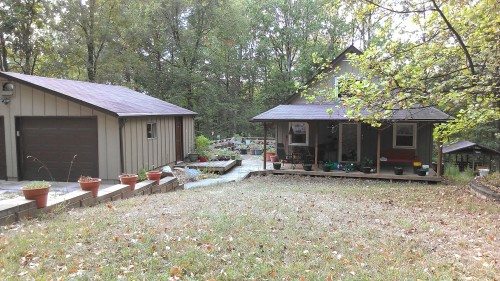 You'll notice that the iPhone has better color in the macro shot (at least to my eyes) and the Incredible captures more area due to the wide angle lens.
Making and Receiving Calls, GPS Navigation
I didn't have any problems making or receiving calls while testing this phone. Call audio quality and volume levels were equally good. It's been a long time since I've had problems with dropped calls, choppy audio or any other telephony problems. I don't make a lot of calls, but it's nice to know that I don't have to worry about reception issues. I was very happy with the clarity of phone conversations on the receiving and transmitting ends.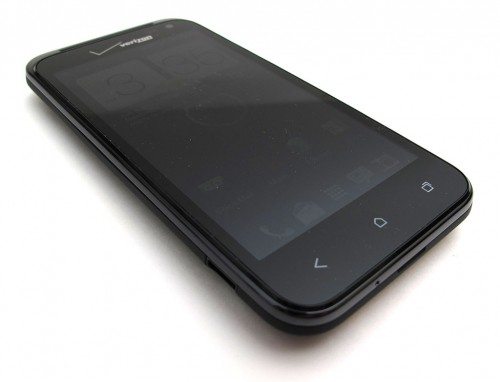 GPS performance was really good too. This phone latches on to satellites with blazing speed. When I'm traveling, I tend to pop in and out of Google maps, so I like that there's almost no lag.
Performance and Battery Life
Snappy performance – check
Decent battery life – check
Oh you want details? The Incredible loads apps quickly, switches between apps quickly and scrolls through lists with no lag. At this point in the game, it's hard to find a high end smartphone that's a dog.
Battery life can never be long enough in my opinion, but I can get a full day out of the Incredible 4G before needing to recharge, so I'm fine with that.
I have noticed that the back of the phone gets a little warm when I'm using it a lot. It's not hot, but it's toasty.
Software
Each phone maker likes to add their own special sauce to Android. That said, I like the look of HTC Sense more than Samsung's TouchWiz.
Thankfully Verizon hasn't added a lot of "junk" apps to the Incredible's software bundle. There are a few apps that are just teasers that prompt you to download the full app or get you to sign up for paid service. One example of this is the Let's Golf 3 HD game which prompts you to download a demo. Real Racing 2 is another example along with Slingbox.
Although you can't delete/uninstall the bundled apps, you can disable the titles you won't use, so they don't show up in the launcher.
Wrap Up
I like a lot of things about the HTC Incredible 4G. I like the price, pocket friendly size, Beats audio improved sound, decent battery life and snappy performance. My main gripes about this phone have nothing to do with speed, telephony features, camera, battery life or something else equally important. I mostly dislike the horrible volume button and the flexible back cover that moves every time I pick up the phone. Are those two things enough to keep me from buying this phone? Maybe… I'm still considering it along with the Samsung Galaxy S3. It's a toss up for me. I love the big display of the SGS3, but then the whole phone is huge, too big for my pockets and costs more. If you are wanting a smaller top of the line Android smartphone and don't mind the case flexing or a tactileless volume button, I happily recommend this phone.
Product Information
Price:
$149.00 w/2yr activation, $499.99 w/o contract
Manufacturer:
HTC
Retailer:
Verizon Wireless
Pros:

Pocket friendly size
Snappy performance
Good audio quality for music and calls

Cons:

Back cover flexs in your hand
Phone gets warm with use
Speaker slots on the back can be blocked by your hand while holding the phone