We use affiliate links. If you buy something through the links on this page, we may earn a commission at no cost to you. Learn more.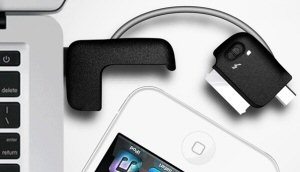 Multi-function gadgets are all the rage these days, especially ones that are small and portable.  Though many of us carry our iPhone and Android smartphones everywhere, we may not care to lug a charging cable.  The Mojo Tremble Keychain with Card Reader from iBattz aims to help.  In a small form factor, it provides a charging cable for 30-pin Apple iPhone/iPod touch and also a micro-USB for Android and other devices.  It has an eject pin for popping the SIM from iPhones and other devices, and it also includes a micro SD card reader which allows it to act as a USB flash drive.  A short lanyard and small carabiner are also included.  Available in black or white for $29.90 each.
I realize that it is heavily rumored that the much-anticipated (did I understate that enough?) iPhone 5 will do away with the tried and true Apple 30-pin and move to some other type of proprietary connector, which would render the Mojo Tremble obsolete for the iPhone 5.  However, there are still millions of us out there with the various 30-pin versions of iOS devices that could put this to good use.  I'm not generally a big fan of "keychains" (my car keys are big and clunky enough!), but I'm giving this serious consideration.  It might be a handy item to keep with your laptop or to toss in your gear bag for travel.