We use affiliate links. If you buy something through the links on this page, we may earn a commission at no cost to you. Learn more.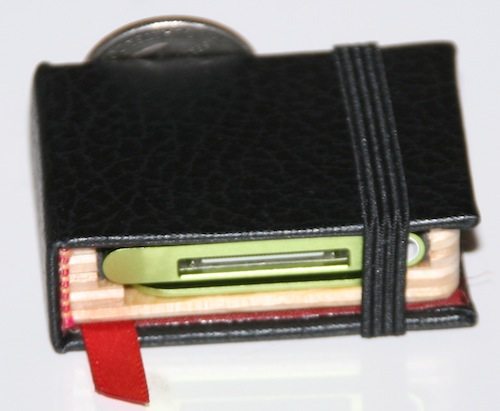 Pad & Quill, with their tasteful and elegant cases for iPad and iPhone have manufactured superior cases for electronic "i" devices. Hand constructed, well made and protective, Pad & Quill is at the top of their game.
So I was surprised and, literally, delighted to see the Pad & Quill case for Apple's Nano Mp3 player.  Regular readers of The Gadgeteer.com might remember my enthusiastic gushing review  for Pad & Quill iPad cases.   For those of us who want more classic, traditional styling to house our devices, these cases fit the bill.  The cases, made of hand tooled birch and book binding, look like a book you'd find in the University of Notre Dame library.
Now you've got the Littlest Black Book, the miniature case to house the iPod Nano.  I will go on record as saying that I did not have a Nano until I saw the Littlest Black Book.   Now I have both.  It's that addicting.  I've never once bought a pair of shoes that I had to build an outfit around and here I am purchasing an Mp3 player to go with the cute little Nano case.
Aside from that, what you get with the Pad & Quill cases for larger electronics, you get with Littlest Black Book.  As with the other products, the Nano case is meticulously hand tooled, finished with the book binding and rich linen end-paper that you find in fine books and the P&Q cases.  Everything is miniaturized right down to the elastic band that fits snugly around the case.
As with the other P&Q cases, if you saw it through a car window, you'd think it was a book belonging in a doll house.  If you saw it in a bag, you'd think it was a tiny notebook.  You could even mistake it for a tiny Bible. Either way, if someone is looking to steal your Mp3 player, they're going to overlook this.
And as with the other cases, you have access to all ports, except the clip.  the device fits in very snugly and securely due to the Sure-Lock bumpers that help lock in the device.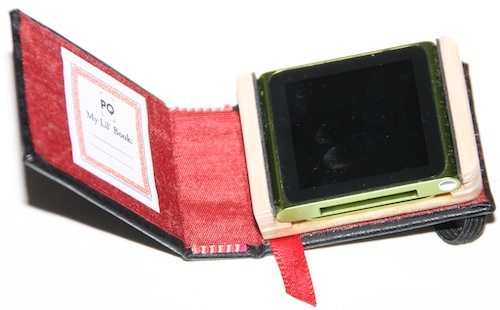 Fitting the device into the case was no problem nor is getting it out.  I rather like having it in the case and since I have easy access to all ports, there really is no reason for me to take it out.  I have the protection I need and it matches the other cases I have for my other "i" devices of which I am now the proud owner of.
If I had to point out a "con" and I guess I should, I would have to say that it would be hard to strap this to your wrist or waist if you go jogging.  You have to open the case up to access the applications inside and that can be tiresome but I would have to seriously say that's about it.  It certainly isn't a deal breaker for me.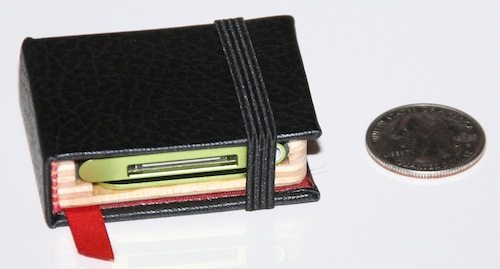 The Littlest Black Book offers tasteful elegant styling, security and protection that more exposed and sportier cases do not.  At $34.95, it certainly isn't the most expensive case being offered for sale and the Nano cost far more than that.  I am not as cavalier about the "disposable" element of my devices.  I use them and take care of them.  I don't trade them in the second Apple comes out with a new version.   Pad & Quill will help me keep the iPod Nano free from scratches both to the case of the Nano and the screen.  Frankly, if I am going to spend this kind of money for an Mp3 player and I did, I'm going to want a quality case to keep it safe.  Now I have it.
Product Information
Price:
$34.95
Manufacturer:
Pad and Quill
Requirements:

iPod Nano device. The case is made specifically for the Nano.

Pros:

Tasteful, elegant book styling
Protection for the screen of the Nano
Security as the case looks like a small book rather than an Mp3 device
Hand tooled construction
Sure-Lock rubber grips secure device in case.

Cons:

It is necessary to to open the cover anytime you want to access the applications of the device. Sometimes it's difficult to access the ear-phone port when the elastic band is securing the cover.