We use affiliate links. If you buy something through the links on this page, we may earn a commission at no cost to you. Learn more.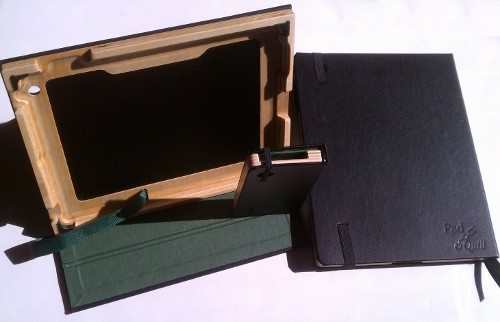 I get that a lot of  iOwners like the brightly colored cases for the iPads or iPhones or what have you.  But the iGadgets aren't just for one particular demographic anymore.  For those who prefer more classic styling, Pad and Quill offer tasteful cases, hand-tailored and fitted especially for iPad and iPhone.
Pad and Quill is a Minneapolis-based company that has created a line of accessories for iPad, iPhone, Nook, Kindle, iPod,  and MacBook Air cases, as well as a selection of accessories that are stylish, simple, elegant, and upscale.   Using hand-routed birch wooden frames and hand tooled leather, the craftmanship of Pad and Quill cases makes your devices look like a bound book.  The company keeps it real by not outsourcing any of the work and keeping all their artisans local and in house.
I received three cases from Pad and Quill for this review.  I got the Octavo for iPad 3, the Contega for iPad 3, and the Little Black Book for iPhone 4/4S.  Let's give them a look.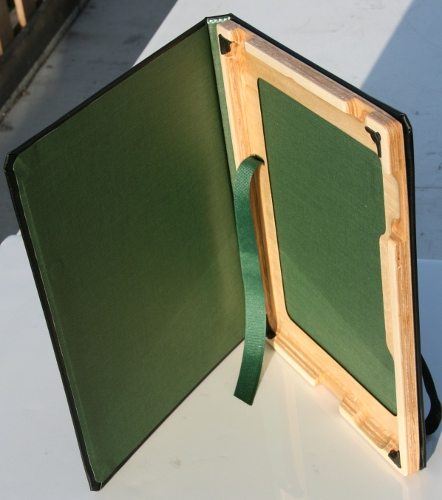 These cases are not your typical leather case.  Each has been hand-rubbed with a smooth satin finish, and the bindery involved holds the iPad or iPhone perfectly and tightly in the case.  So tightly that each case comes with a grosgrain ribbon to help loosen the device from the case when you want to remove it.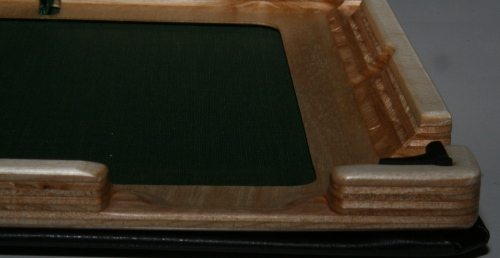 I get that iPad is popular, heck I love mine.  I purchased one of the overpriced Apple Smart Covers from the Apple store to protect the screen – and then immediately developed extreme paranoia.  I was always hiding my iPad.  The Smart Cover just screams "iPAD HERE!!!!  PLEASE STEAL ME!"    With the Pad and Quill case, my iPad resembles an upscale leather engagement diary filled with boring meetings or literary notations.  While the book looks nice, it looks like nothing that could be plugged in and ready for surfing. So your usual and sundry lowlife is going to skip you or your car and go find a victim who is so eager to show the world they carry an Apple product that they have an Apple cover or case for it .
At first glance, the Pad and Quill case thwarts the dirtbags.  It honestly looks like an old-world  leatherbound book.  Carrying it around with you, no one could really tell it housed an iPad or iPhone until you open it up. Lowlives and dirtbags don't usually occasion second glances  at these things and that's a good thing.  If they did, they would see the custom  openings cut into the birch wood for the charger, earphones, volume and power buttons or the opening cut into the back of the case for the camera eye.
I'm not sure if warding off sticky-fingered punks was Pad and Quill's intention with making cases that are bound like professional books.   If not, then it's a bonus.  These cases look like they would grace any CEO's desk, lawyer's briefcase, doctor's side table or literary professor's library.  They are unbelievably tasteful and elegant and are a perfect change from the loud, garish covers and cases that grace today's tech store accessories department.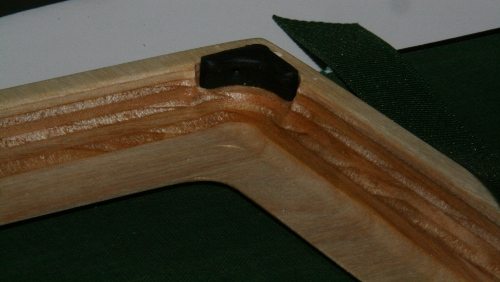 The Pad and Quill Octavo and Contega are cases that will run you $69.99 and $99.99, respectively.  Please note it's worth every cent you will pay.  The leather outside is black, but you choose the professional book endpaper cloth on the inside.  I chose dark green but you can choose cranberry, Camden blue, plum or toast.  All sophisticated, rich colors that add to the tasteful elegance of the case.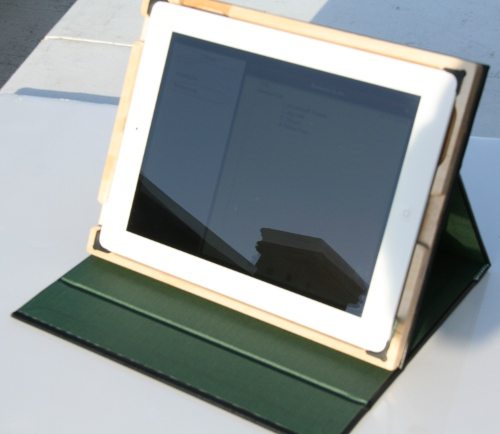 The Octavo is a case only.  It contains a neat little pocket on the left side for holding cards, papers, what have you. (Caveat Emptor: internal pockets are an additional $10.00)  The Contega case is a little more expensive and contains no pocket but folds out to form a stand to prop the iPad up on your desk or favorite coffee house table or lapdesk.  All of the cases come with a stretchy band that keeps the covers shut and grosgrain ribbons that help gently release the devices from the grip of the SureLock rubberized bumpers that hold the device snugly in place.  There are magnets  in the covers that sleeps/wakes the iPad. And the covers do not leave lines on the screen of your device like the interior suede-like lining of the Smart Covers do.
Smart Covers do not add bulk to your iPad, and the Pad and Quill cases do.  They add some (not a lot) of weight to the device, but they are made of birch wood and leather.  And I found that some of the ports are little difficult to access while the device is in the case as well.
The Little Black Book case for iPhone 4/4S is just as nice.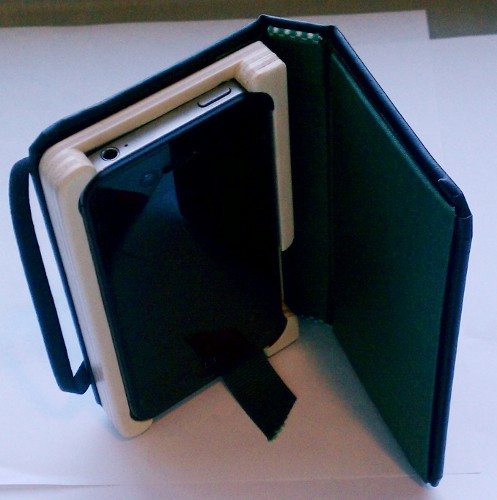 Its detailing cloaks your phone and makes it look more like a little black address book than an iPhone.  This case comes with the same construction, wood, cloth and leather features as its larger cousins, but it features an internal pocket for credit cards/ business cards which comes at no extra charge.  A thief seeing this inside your car will think it an address book or small journal and not so much a case for a phone.
I do not have an iPhone.  I borrowed a co-worker's iPhone for the photograph. (Thank you, Ruby!)  It fit nicely into the case, and I had no problems using the ribbon to lift the iPhone out of the case.
Pad and Quill cases will run you anywhere from $44.99 to $119.99
Overall, the cases from Pad and Quill are exquisite and well worth the price.
Product Information
Price:
$44.99 to $119.99, depending on style
Manufacturer:
Pad and Quill
Requirements:

iPad (all versions), iPod, iPhone, depending on case

Pros:

Rich, sophisticated binding
Elegant endpaper covers.
Beautiful hand-worked construction and finishing.
Also acts as a disguising device as it looks, on first glance, like an address book or engagement diary instead of an iPhone or iPad.

Cons:

Adds weight to the iPad.
Some ports, such as the audio jack on the iPad cannot be accessed with some speaker plugs.