We use affiliate links. If you buy something through the links on this page, we may earn a commission at no cost to you. Learn more.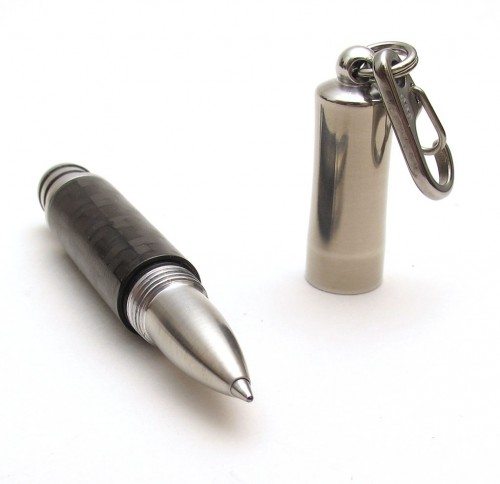 Creating a collection of every day carry (EDC) items is obviously a personal thing. What is an indispensable item for one person, may be completely useless to another. However, one item that almost all of us will agree is useful, is a pen. Even though the majority of people reading this review carry a smartphone and may use it to take quick notes, a ballpoint pen is infinitely faster and easier. If I would look in your pocket or gear bag, my bet is that you have a pen in there some where. Pens come in all shapes and sizes, but the Mini Pen from Sunshine Products USA that I am going to show you today, has been designed specifically for EDC fans.
Note: Click the images in this review to see a larger view.
Sunshine Products USA is father and daughter company based out of California. Frank and Ahmy Rossini started out using a metal lathe and drill press and have been offering quality products since 1976.

The Mini Pen is just that… mini. From end to end (with the cap on), the Mini Pen measures approximately 2.75 inches long. It's available in a variety of materials that include Stainless Steel, Brass, Aluminum, Stainless Steel with Carbon Fiber, Brass  with Carbon Fiber, and Aluminum with Carbon Fiber. The Mini Pen you see pictured above is Aluminum with Carbon Fiber. You can even get a Titanium version of this pen if the $225 price tag doesn't scare you away.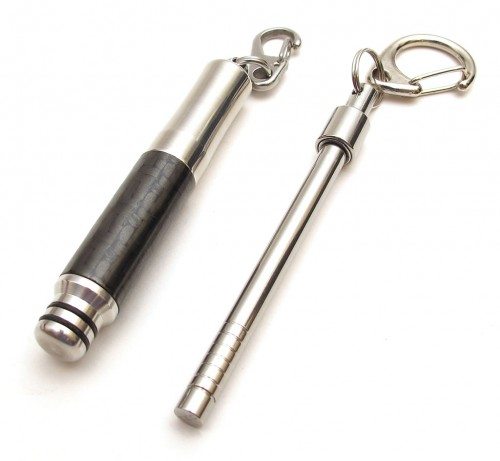 Another popular EDC pen is the TEC Accessories PicoPen. Here you can see it next to the Mini Pen to give you a comparison. The Mini Pen is the diameter of a normal sized pen (about .25), but just with a shorter overall length.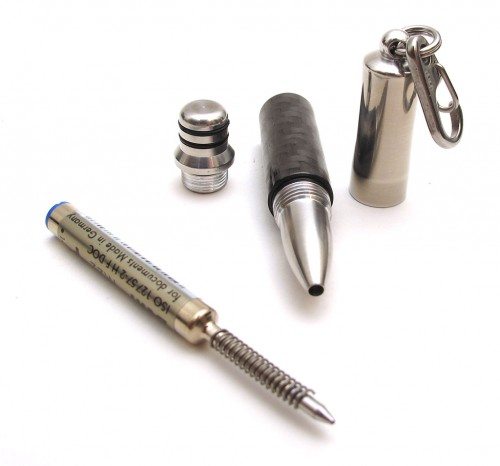 The pen disassembles into 4 pieces: Body, Lamy ink cartridge (available in Blue or Black), end cap and top cap. If you click the picture above to zoom in, you'll notice the two rubber O'rings on the end cap. There is an additional O'ring at the base of the end cap where it meets the pen body and there's another O'ring on the writing tip end, where the cap meets the body. These rings help protect the pen and components from moisture.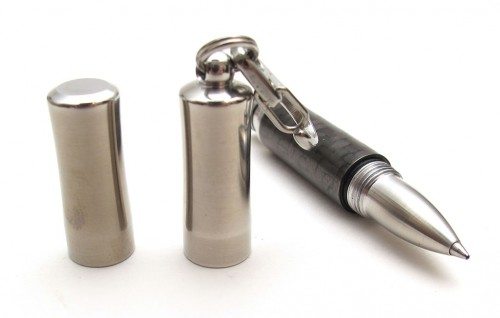 The great thing about the Mini Pen is that you can mix and match the components. If you want a Brass body with a Stainless Steel end cap and an Aluminum top cap, you can. You can also choose between a keychain cap and a pocket cap.
One thing to note… the top cap screws on to the writing end of the pen, but does not screw on to the opposite end of the pen. The O'rings perform as pseudo threads though and hold the cap in place while you're writing.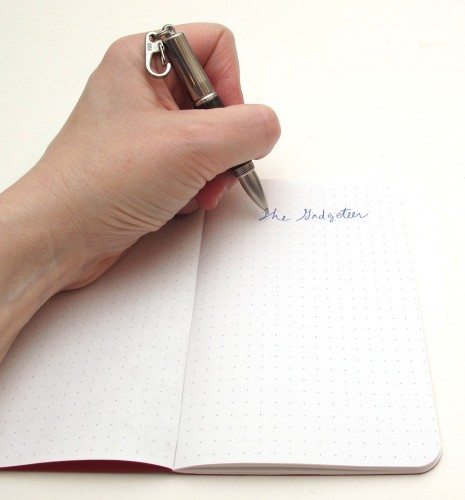 With the cap on the end, the Mini Pen grows to about 3 7/16 inches long. Although it's short and very light weight, it is still comfortable to write with. I find it to be more comfortable than the TEC PicoPen, which sometimes causes my hand to cramp.
The workmanship on this pen is excellent. I have no complaints at all about how it's made. The Carbon Fiber is definitely a head turner. When people see me use it, they almost always ask me where I got the pen.
If I could change anything about the Mini Pen, it would probably be the ink cartridge. The Lamy cartridge writes fine, but I think the ink cartridges in the Uniball Jetstream pens that I reviewed not long ago have completely spoiled me for other pens because the ink is so smooth and fine. That said, I really like the Mini Pen. It's a keeper and has replaced the TEC PicoPen as my EDC.
Do you EDC a pen? If so, let us know your favorite.
Product Information
Price:
Starts at $65, $96 as reviewed
Manufacturer:
Sunshine Products USA
Pros:

Handy
Comfortable to write with
Well made
Stylish

Cons: