We use affiliate links. If you buy something through the links on this page, we may earn a commission at no cost to you. Learn more.
Phone cases are announced almost daily, it seems. A quick internet search brings up about 60,600,000 hits on the search "iPhone 4s case" alone. With so many cases out there, companies are having to try various feature additions to differentiate themselves in this crowded marketplace. Recently, a company called Flicker Interactive has taken a two-pronged approach to the problem. Built into the back face are little "ears" that stick out to provide space for winding the cord of your earbuds around. There is even a clip to hold the cable at a certain length. While there have been more than a few cases that tried to help manage earbud cables, the folks at Flicker Interactive decided to use the "ears" and the popularity of iOS as a gaming platform to introduce a rather unique feature: handles for holding the iPhone in landscape mode for interactive gaming.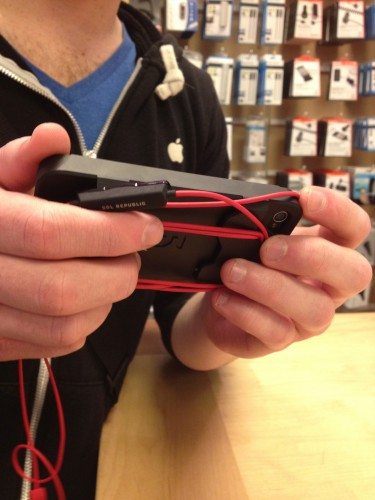 The case comes in either black or white, and it's made from a rather hard, yet flexible material. While it is possible to take the iPhone in and out, it's not something I would relish doing every day. I was sent both the black and white versions, and after doing some testing on my own, let some colleagues use them to get the benefit of their perspective. At first, they were mildly impressed with the cable wrap function, but when they turned it to landscape and they felt their fingers fall right into place for active game play, to a person, their face brightened into a smile and they said something like "Wow, this is perfect!"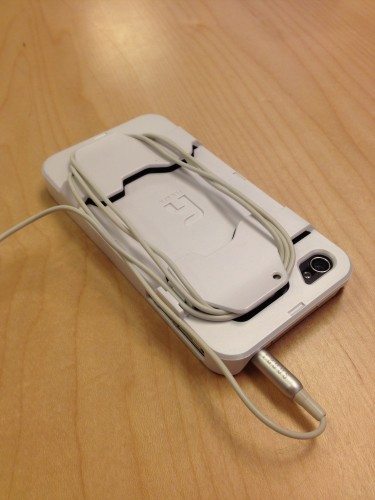 One of my friends, a professional woman with a ten year old daughter, said she continually has to buy new earbuds, because they keep getting wadded up and sinking into the depths of her purse. After a week or so of using the Flicker Interactive Classic, she was happy to report that she no longer had to buy new buds every so often – they were staying in place and easy to use on the winding ears. The male colleague likes the case, but did find that the addition of the cord wrapped around the "ears" makes it difficult to get out of a back jeans pocket when a call comes in. Instead, he tends to leave the earbuds off, and only use the case when he's not working, so that he can have the phone in a different pocket. In the flap pocket of his bag, it's quite at home, and let's him use social media, as well as play the odd game or listen to his music in private.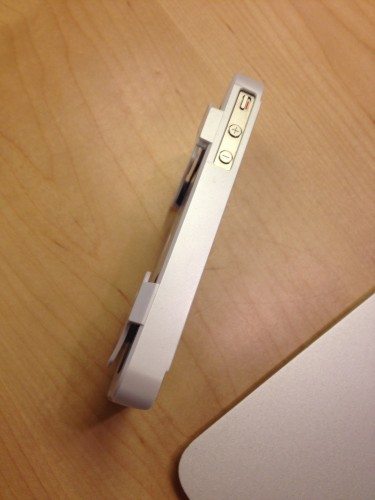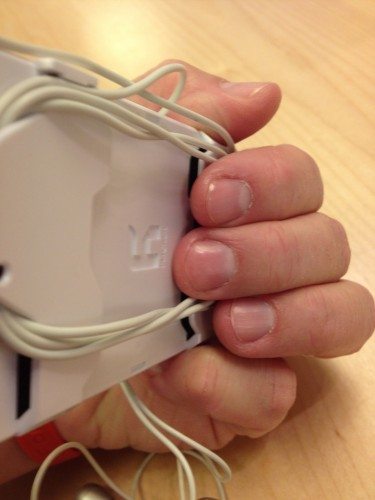 My personal experience was that it's really difficult to change out of the case to another case, and this was a deal killer for me. I have a photo lens that gives me a lot of photographic possibilities that the regular camera alone doesn't, but it only works on a naked iPhone 4/4s. Being able to pull my iPhone out of the Flicker case easily is very important in my use of the lens device.
Because each user has various needs, there will be no "one case to rule them all." But if you are frequently out and about, and need to have earbuds available for private talking, listening, or gaming, this just may be one to add to your case closet. Three out of five stars – great concept, durable, but difficult to remove and insert.

Product Information
Price:
$25
Manufacturer:
Flicker Interactive
Requirements:
Pros:

Cable management hooks
Good port access
Durable material and design (didn't feel flimsy or cheap)

Cons:

Difficult to insert iPhone and remove
Cable hooks make it difficult to remove from tight pockets
Cable clips are a little difficult to wrap cord around