We use affiliate links. If you buy something through the links on this page, we may earn a commission at no cost to you. Learn more.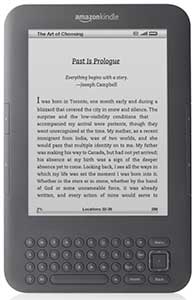 Gadgeteer reader Sandee Cohen writes in with some potentially good news for Amazon Kindle Keyboard owners:
Julie,

You might want to write this up as a post.

I got a Kindle Keyboard model Christmas 2010. ByNovember 2011, some of the letters on the keyboard had started to fade. (I play a lot of word games that require typing on the keyboard.)   By the end of January 2012 the "I" "O" and "A" were completely blank. And it was very hard to read the "S".

I wrote to [email protected] and told them how disappointed I was with the situation.   Almost immediately I got an email back telling me to contact Amazon by phone. (They have a cool way of entering your phone number on their web site and then your phone rings and Amazon is on the line.)   After explaining the situation, the fellow told me that "your machine is out of warranty, but we make an exception for this issue."   I take that to mean that this is a known problem with the Kindle Keyboard versions. And although Amazon doesn't sell the keyboard models anymore, they do have ones available to exchange for damaged ones.

The new machine arrived and indeed the letters on the keyboard are raised from the plastic and look like they will last much longer.   I think this information should be made more public so those who are struggling with faded letters can get a new machine.

Perhaps you will use the Gadgeteer to publicize it.

Best,
Sandee Cohen
Note: Images can be clicked to view a larger size.
I asked Sandee to send me some close up images of her old Amazon Kindle Keyboard reader and the replacement she just received.
| | |
| --- | --- |
| | |
| Old Amazon Kindle Keyboard | New Amazon Kindle Keyboard |
In the image on the Left, you'll notice the I, O and L keys are worn pretty badly. Sandee commented that they look much worse in real life than they do in these macro shots.
It's good to know that Amazon will replace this older model eBook reader even when it's out of warranty. That's great service!
Thanks to Sandee for sending in this info. Hopefully it helps someone else.