We use affiliate links. If you buy something through the links on this page, we may earn a commission at no cost to you. Learn more.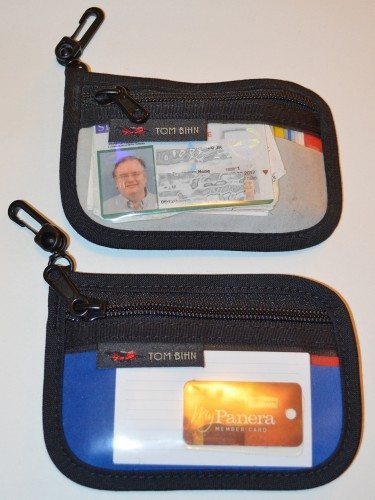 When I bought my Little Swift bag from Tom Bihn, I also ordered a couple of their Clear Organizer Wallets.  I wanted one of these little wallets to carry my "overflow cards" that don't fit in my regular wallet, and my husband, Butch, was looking for something to replace the leather brick he'd been carrying in his back pocket.  So, what do we think of our Tom Bihn Clear Organizer Wallets?
All images can be clicked for a larger view.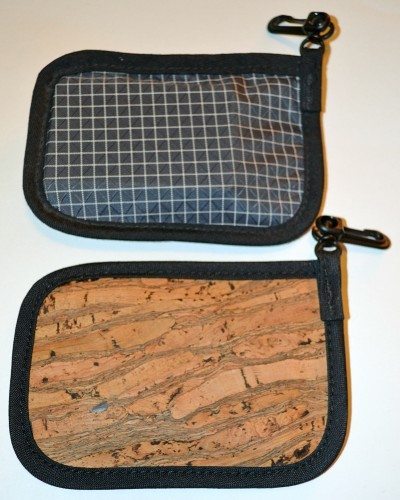 The wallet has a clear front made of 0.015″ Urethane.  The backs are made of either 500 or 1000 denier Cordura, Vulcana hemp/recycled rubber (like my Little Swift), or cork.  Butch chose the steel Dyneema fabric.  His wallet perfectly matches the lining in my Little Swift. If you read my Little Swift review, you'll remember I was torn between choosing the Vulcana hemp/recycled rubber or the cork version of that bag.  I selected the hemp bag, and thought I'd order the cork wallet so I could see what that fabric was like.  I didn't consider the Dyneema because I thought it would "disappear" inside my bag.
Butch's wallet looks "lumpy" compared to the cork wallet in the above photo.  When empty, both wallets lay flat.  Both wallets were photographed "fully loaded", and his wallet has roughly twice the cards in it.  The Dyneema fabric isn't stretchy by any means, but the wallet is flexible enough to mold around the contents.
The cork wallet measures about 5.75″ wide X 3.8″ tall X 0.25″ thick and weighs 0.7 oz when empty.  It closes with a plastic zipper along the top front.  A Tom Bihn logo ribbon is sewn into the zipper seam.  The edges are bound with a very sturdy-looking fabric.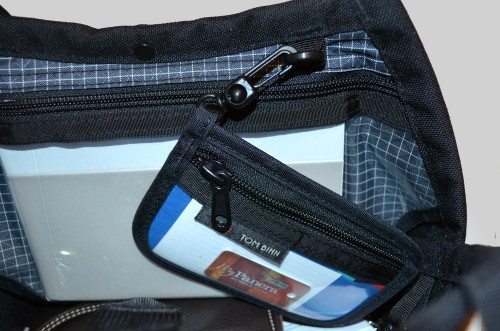 One of the top corners has a plastic clip that's used to attach the wallet to the O-rings sewn inside Tom Bihn bags.  Although it works great clipped into my Little Swift, I usually carry it inside one of the large clear pockets inside my bag, like the one holding my Sony PRS-T1 reader seen in this picture.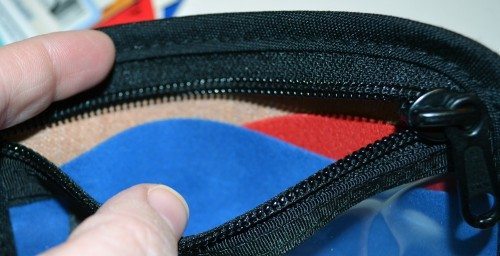 It's called an organizer wallet because of the two Ultrasuede dividers found inside.  They are cut with "tabs" that extend above your cards so you can easily see how the cards are divided.  The dividers in my cork wallet are blue and red, but the colors vary.  The Dyneema wallet has light gray and red Ultrasuede dividers.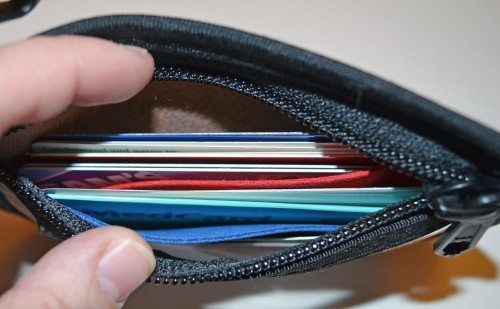 Here's my wallet loaded up with my overflow cards.  You can clearly see the Ultrasuede dividers inside.  I don't carry my driver's license in this wallet, but Butch does (see lead photo in the review).  The Urethane front is clear enough that you can present your license for an ID check without having to remove it from the wallet.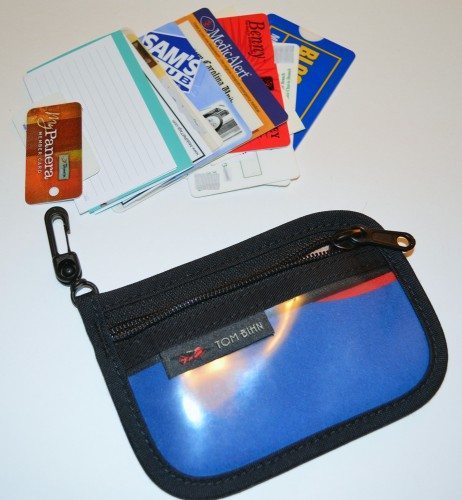 I have 12 cards and a couple of Levenger wallet-sized note cards in my Clear Organizer Wallet, and it's barely 0.5″ thick.  Butch's wallet has 27 cards inside (6 paper, 21 thick, plastic cards) and is about 1″ thick.
As I mentioned, I carry mine inside my purse, but Butch carries his Clear Organizer Wallet in his pants pocket.  He always used to carry his wallets in his back pocket.  Always having a wallet in that pocket made the fabric wear faster, and sitting on it caused him back and hip pain.  He didn't like to carry his normal wallet in his front pocket, but he always carries his Tom Bihn Wallet in a front pocket.  The thinner profile of the Clear Organizer Wallet looks nicer in a front pocket than the leather brick does.  And not sitting on his wallet all day has greatly reduced the pain in Butch's back.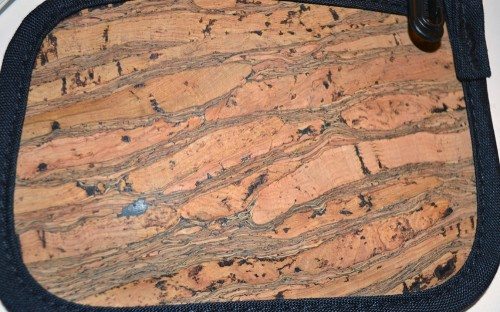 Here's a closer look at the cork.  I've seen cork tiles before.  They're thin and flexible, but they can be broken.  I was a bit worried about the structure and strength of the cork used in Tom Bihn bags.  There's an article in the Tom Bihn blog that shows a cork bag after five years of daily use; the bag looks in great shape, so I decided I'd risk buying the cork wallet.
The cork has a matte surface and a vaguely woodgrain-like appearance.  (Cork does come from trees.)  It has a mostly smooth texture, but you can feel a few very low "ridges" in the surface.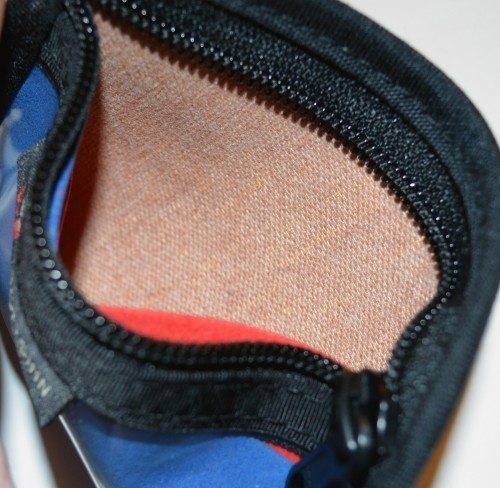 It appears the cork "fabric" structure is similar to a vinyl fabric.  Inside the wallet, you see the woven backing for the cork.  It seems that a thin layer of cork is adhered to a fabric backing.  I'm sure this fabric is there to add strength and to stabilize the structure of the cork layer.
By the way, the cork bag has absolutely no smell that I can detect.  And I have a sensitive sniffer.  I used to be called "the canary" at work – as in the canary in the coal mine.
Both Butch and I love our Tom Bihn Clear Organizer Wallets.  Mine fits easily in my bag, and his makes a great front-pocket wallet.  Both wallets are so lightweight that they don't seem to be any heavier than the cards themselves.  At $15, they are an inexpensive, sturdy, convenient alternative to traditional leather wallets.  If our previous experiences with Tom Bihn products are an indication, we can expect years of use from these Clear Organizer Wallets.
Product Information
Price:
$15.00; $16.00 for the cork version
Manufacturer:
Tom Bihn
Pros:

Clear front keeps your ID visible without having to remove it from the wallet
Can hold a lot of cards
Comfortable in pants pockets
Can clip it to the O-rings in Tom Bihn Bags
Inexpensive

Cons: