We use affiliate links. If you buy something through the links on this page, we may earn a commission at no cost to you. Learn more.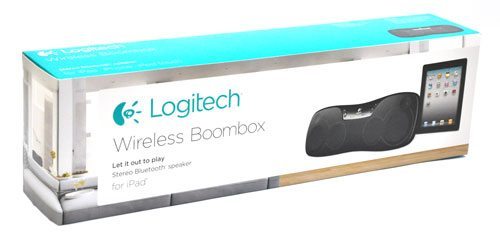 I have reviewed more than a few speaker systems over the years. Many of these speaker systems are still situated in various rooms of our house providing music while I putter around the garage, workout, fold laundry, get in the Holiday mood, etc. The speaker system I use most is the Altec Lansing iMT800 MIX BoomBox, which provides good, solid sound throughout the upper floor of our house. The one issue I have with the iMT800's setup (and others like it) is that you do not get to carry it with you or use your iPhone while listening to music. You must insert it into the dock for a hard-connection. Thankfully, Logitech's new Wireless Boombox for the iPad solves this issue. It allows you to pair your Bluetooth-enabled device to the wireless speaker system so that you can move about or use your device (think Words with Friends) while the speakers crank the tunes (am I showing my age?!?).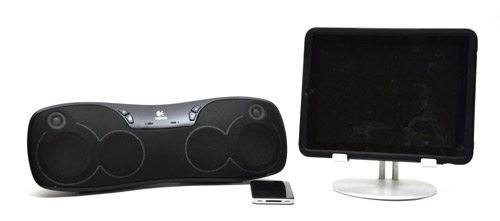 While Logitech specifically references the iPad in the Wireless BoomBox's name, it can pair with up to eight Bluetooth (with wireless audio profile [Advanced Audio Distribution Profile (A2DP)]) enabled devices. I guess they thought that since the iPad is the hottest thing since sliced bread, having it in the name would help sales. My point is, it can/should be able to pair with any Bluetooth 2.1 enabled device. I have tested it with my iPhone 4, MacBook Air, the Gadgeteer Kid's iPad 1, and my wife's first generation Android Incredible. All paired/connected quickly and easily. After the initial bonding, it quickly re-pairs with the last connected device as soon as the Wireless Boombox is turned on.
As stated above, the Wireless Boombox has the ability to pair with multiple devices, but cannot switch between them without a manual input being made from the (new/latest) device's Bluetooth settings menu. Instead, the Wireless Boombox continues to attempt to connect again to whichever device it last paired with until it's told to look elsewhere. For me at least, this operational logistic really is not a big deal.
Package Contents: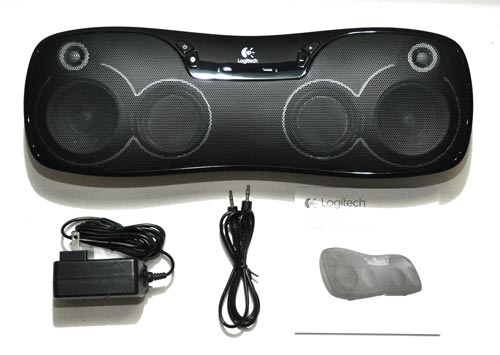 Wireless speaker
Power supply (6-foot cable)
3.5 mm auxiliary cable
User documentation
Specifications:
Wireless audio: Bluetooth (A2DP)
2 – 3" laser-tuned neodymium drivers
2 – ½" neodymium tweeters
4 – 2" passive radiators
Rechargeable nickel-metal hydride battery
Battery life: 6 hours
Auxiliary input: 3.5 mm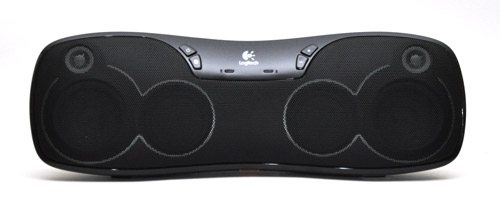 I have reviewed many Logitech devices over the years, ranging from fancy universal remote controls to wireless surveillance cameras. Logitech's Wireless Boombox is just as nicely made and well-engineered as the previous products I have looked at. This speaker system is a very nice size, not too big and not too small, and looks great. Its unassuming size and all black exterior will look/work in a majority of settings. It measures approximately 15.5 inches wide, 4.75 inches high, a sleek and slim 2.25 inches deep, and weighs just 2.5 pounds.
As you can see, the Boombox is completely black, except for a small orange button on the underside to release the foot and has green (power) and blue (connection) indicator lights and a silver Logitech logo on the front.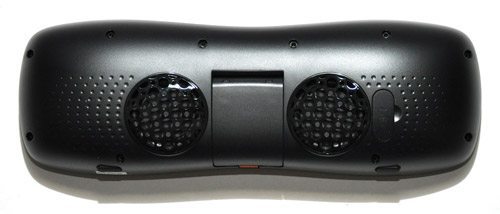 The back has two passive speakers/radiators, foldout stand, and input and power ports.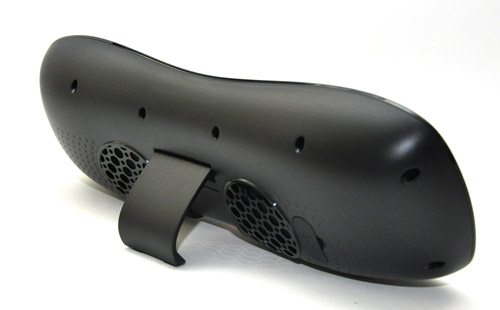 As you would expect, there is a well designed kickstand/leg/foot that comes out to hold the wireless boombox upright.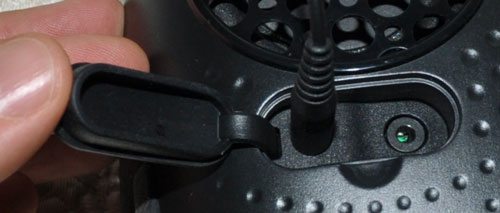 Under the back (rubber) port cover are the power and 3.5mm plug ports.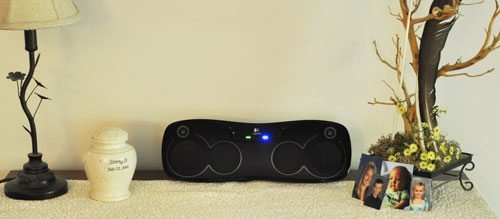 As I have said, the Wireless Boombox for the iPad is definitely well sized and has a nice form factor….good sounding as well. Considering the size of the speakers, the overall spectrum of sound is well represented, even the bass. The Boombox did not distort at all, even at its highest volume levels.
I can meander around a majority of our home (main floor and upstairs) and still maintain the connection between my iPhone 4 and the Wireless Boombox. Depending on what is between your Bluetooth device and the speaker system, its range is between 30-60 feet. I love how you can control song selection and volume via your paired device (vs having to use a remote or [worse yet] having to walkover to the system and press a button). Sitting there in my cushy chair making the teenagers listen to old-folk music…..'Ooooo, have you heard this one?!?' 😉
Another great feature of the Wire Boombox is it's built-in rechargeable nickel-metal hydride battery giving it six hours of play time on a single charge.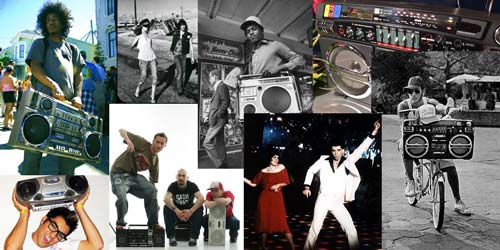 Alright, I just had to use this BoomBox collage I created for my MIX review on more time. My point is, that I do not consider this device a true 'boombox' from back in the day…..it would have to have a handle, large(r) speakers, thumping bass (aka be able to shake/vibrate the popcorn off the ceiling) to be considered a BOOMBOX from the 80's. That not withstanding, the Logitech Wireless Boombox (for the iPad) is a great cable-free speaker system. It works very well with every device I paired it with. For under $150, it is a great wireless music playing solution for any moderate sized room.

Product Information
Price:
$149.99
Manufacturer:
Logitech
Requirements:

Bluetooth enabled music device

Pros:

- Well built/engineered
- Wireless stereo streaming
- Can pair up to 8 devices
- Good size and weight
- Sounds great
- Built in battery giving up to 6 hrs of play time

Cons: