We use affiliate links. If you buy something through the links on this page, we may earn a commission at no cost to you. Learn more.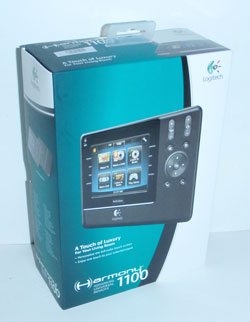 A good friend of mine needed a universal remote with RF to control his new media room.  All of his A/V equipment is behind his couch in the back of the room. He needed the remote for a few months and looked to me for a good tech-solution and a good deal as well. I immediately thought of the Logitech Harmony line of universal remotes. I love and continue to use the Harmony 900 I reviewed earlier this year.  But as the story goes, it was Black Friday 2010 and there was a great deal on Logitech's Harmony 1100 Advanced Universal Remote…..so I went for it.
My plan was for my buddy to have my Harmony 900 and for me to to play with and review the 1100. Other than my desire for a new tech-toy, the main reason he would be better off with the 900 is that it includes the RF accessories he needed to make his system work, whereas the 1100 does not include the RF Blaster system.

The Harmony 1100 was introduced back at CES 2009 and won Best of Innovations that year. Even now, at nearly two years old, this high-end universal remote remains Logitech's 'flagship' remote-control.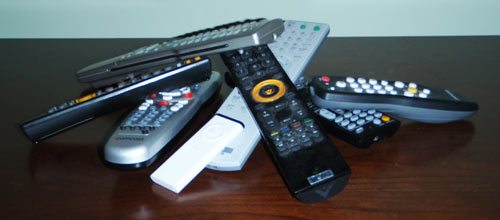 The entire purpose of the Harmony 900, 1100, and other (universal) remotes like it, is to replace the ever growing mountain of remote controls with a single all-powerful/controlling device.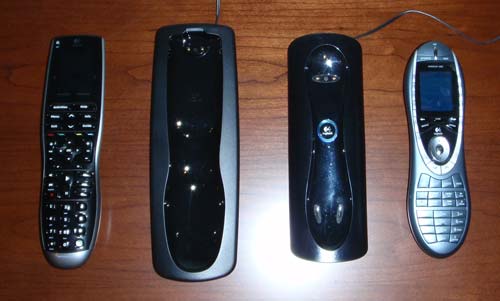 The rest of Logitech's remotes are shaped classically, long and narrow like the 890 and 900 pictured above.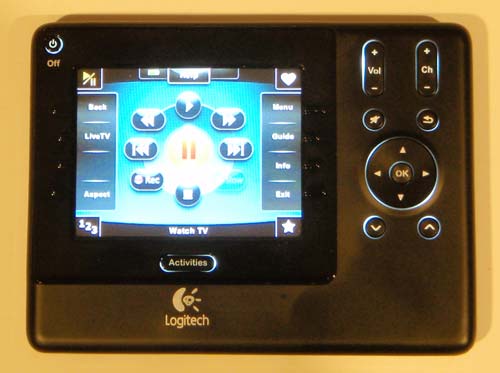 As you can see, the Harmony 1100 is wider than it is long. Where other remotes can be used one handed, the 1100 is designed to be effectively used by two hands. This is primarily because of its large 3.5-inch QVGA color touchscreen and lack of physical buttons.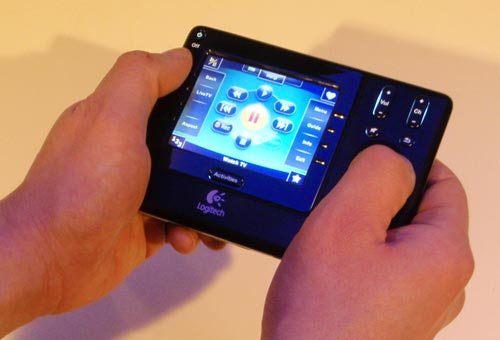 Other than its unique design, the 1100 has a clean, easy-to-use layout; six buttons, two rockers, and a directional pad along with its touchscreen. The back is nicely shaped with a large indentation running down the center of the rubberized back of the remote, making it easy and comfortable to hold one handed and operate the buttons on the right which are directly under your thumb. However, the majority of the functionality of this remote is accessed through the touchscreen interface on the left.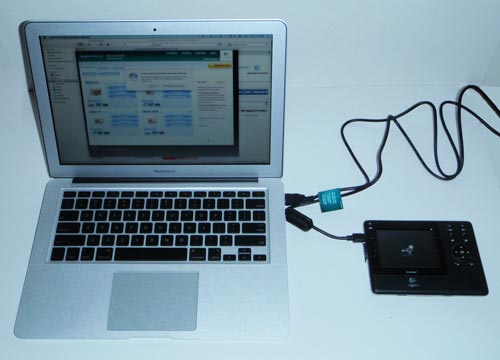 I had a few bumps getting my 1100 setup and operational. The first hassle was one of my firewalls was not letting the Harmony application see the remote when I connected it to my computer. The Harmony FAQ page got me past that stumbling block relatively quickly. The second bump happened once I got the two talking, the application demanded that I create a new Logitech Harmony Remote account because my 'old account is not compatible with the 1100'.  Because of that, it was not a 5 minute setup…..more like 30 minutes plus.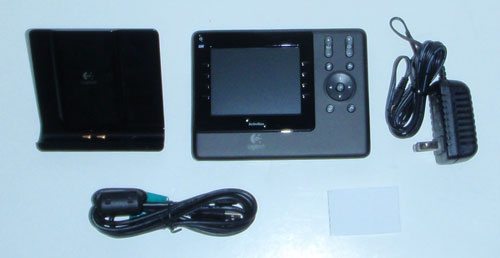 Package Contents:
Harmony 1100 remote control
Charging station
USB cable
AC adapter
Lithium-ion battery
Installation CD
Quick-start guide
Features guide
1-year limited hardware warranty
Features:
One-touch activity controls
3.5-inch full-color touch screen
Works with 225,000+ devices
RF wireless capability
Customizable commands and icons
Guided web-based setup
Replaces up to 15 remotes
Rechargeable
1-year limited hardware warranty
Specifications:
Computer: Windows-based PC with Windows 2000, XP, Vista, 7, Mac computer with Mac OS X (10.3 or later)
Additional requirements: Internet access, USB port, CD-ROM drive
Dimensions: (L x W x H) 5.48 x 4.09 x .68 inches
Weight: 204 grams (with battery)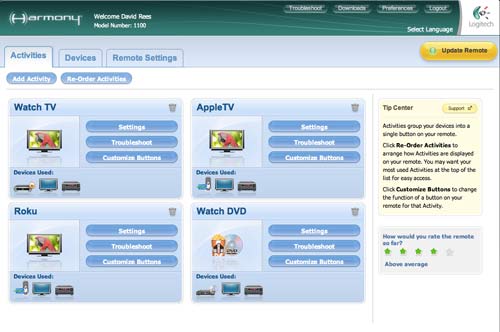 Once I created a new Harmony account, like the 900 and the 890 before it, I had to input all of my devices by manufacturer and model number. After completing that, I had to tell the application how my media system is setup and what 'activities' I needed it to control. The web-based application Logitech includes with their remotes leads you through programming of the device and tailoring the controls to each individual A/V setup. The account retains your preferences enabling you to tweak your remote's programming at anytime without having to re-input all of your info.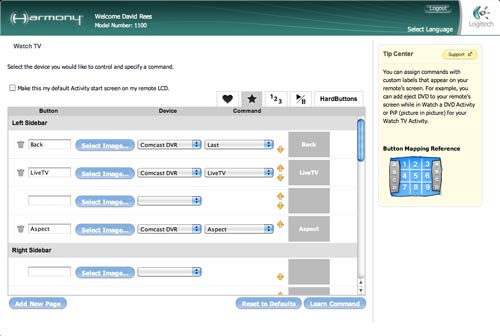 The best feature of the Harmony 1100 is that you can tailor each of the screens for all your activities with whatever command you want.  For example, I added Comcast's Menu and Guide commands to the side buttons on all my 'Watch TV' activity screens.

The 1100's screen is nice enough and gets the job done. But it's definitely not an iPhone's or iPod Touch's Retina Display. The screen is pixelated but functional.
Like Logitech's Harmony 900, the 1100 universal remote definitely works as advertised. It interacted perfectly with my TV, receiver, cable box, and AppleTV. At $400, it is expensive. If you do not need or want the touch screen and programmable layout, there are less expensive options; such as Logitech's Harmony One that can be found on the Net for under $200. To end my story, my buddy loves the Harmony 900 I gave him, and I guess I am still adjusting to the 1100's form factor and touchscreen interface.
Product Information
Price:
MSRP $399
Manufacturer:
Logitech
Pros:

- Well made
- Powerful IR transmitter
- Customizable button layout

Cons:

- Only 90 days of tech support
- Known issues for Mac users
- Had to create a new account/new setup
- Expensive
- Two handed use