We use affiliate links. If you buy something through the links on this page, we may earn a commission at no cost to you. Learn more.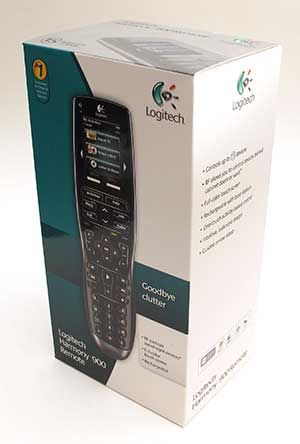 This past holiday season, my wife and I remodeled our basement putting in a relatively nice media room with fancy in-the-wall speakers, A/V receiver, big LCD TV, Blu-ray player, AppleTV, and Nintendo Wii. All of those components having their own remote which adds up to a fair amount of juggling just to do something as simple as watch TV. Admittedly, some of those remotes have the ability to control other devices but sadly none can control them all. To alleviate this type of hassle, Logitech has been making universal remotes for a very long time. Logitech has recently released a new high-end device to their line, the Harmony 900 universal remote that allows you to seamlessly control up to 15 devices in one.
Having helped many friends and family members setup their TV/DVR/DVD systems I know there are a lot of folks out there that could bring a bit more Zen to their Tech-World with one of these.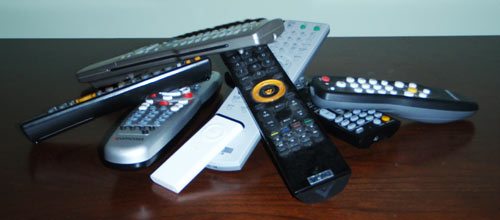 The whole purpose of the Harmony 900 and other universal remotes like it, is to replace our ever growing mountain of remote controls with a single all-controlling device.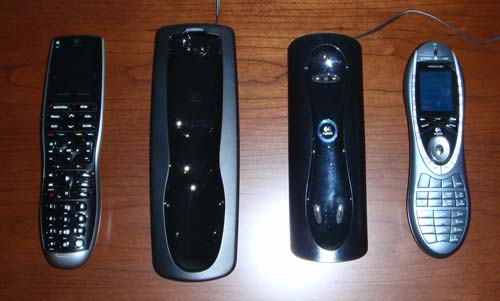 I purchased a Harmony 880, Logitech's former flagship of a few years ago, early last year, however I never really embraced it. I played with it for a couple of weeks, but after several failed attempts at making it work I boxed it up and went back to the quasi-universal remote that came with my Comcast HD DVR. When I found out that I was going to be reviewing the Harmony 900, I decided to dust off my old 880 to see if I could get it fully operational in the interim. I do not remember the details of why I did not continue using the Harmony 880, but after setting it up I could not believe I had not been using it all along.
As you can see from the above picture, the Harmony 900 is a sleek modern version of Harmony's older remotes….very evolutionary.  Along with the new look, better button layout, more controls, and more ergonomic feel; the 900 has a high resolution touch screen, backlit buttons, and RF (radio frequency) transmit capability.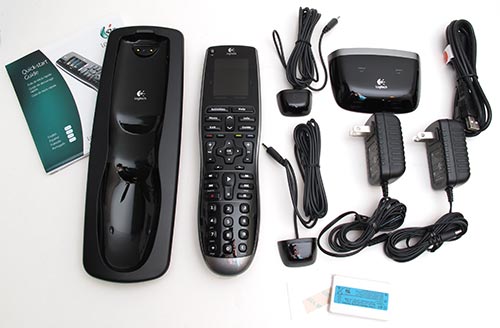 Package Contents:
Logitech Harmony 900 remote control
RF receiver
Charging station
USB cable
4 IR transmitters
2 AC adapters
Lithium-ion battery
Installation CD
Installation guide
Cleaning cloth
Features:
Includes RF System
Color Touch Screen
Ergonomic design
Sculpted, backlit buttons
One-touch activity controls
Replaces up to 15 remotes
Guided online setup
Works with 225,000+ devices
Rechargeable
1-year limited hardware warranty
A majority of the Harmony 900 has a high gloss finish with the top black and half the back in light gray. The upper half of the back is a matte black, rubbery material for better grip.

The Harmony 900 has a great ergonomic form-factor, very comfortable to hold and easy to click/reach all of the buttons with your thumb.

The Harmony 900 has an internal rechargeable battery that charges while in its cradle (charging station). The battery can be removed/replaced if necessary.

The Harmony 900 has a very bright, high resolution screen. It is vibrant, responsive, and relatively large given the limited amount of space available to the Logitech designers. The picture above illustrates just how much better the screen is compared to its predecessor. The two screens on the left are clear and crisp (Harmony 900) where the two on the right are pixelated and bland (Harmony 880).

Setting up the remote is a relatively easy process. It communicates with your computer and Logitech application via usb cable.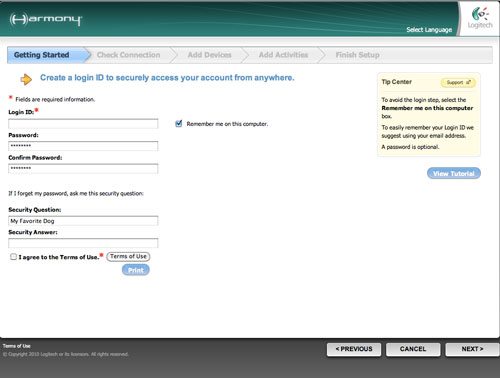 The web-based application Logitech includes with their remotes leads you through programming of the device, tailoring the controls to each individual A/V setup. To begin the setup process, you have to create an account which then takes you through the process, remembers your devices/activities and enables you to tweak your remote's programming at anytime without having to re-input all of your info.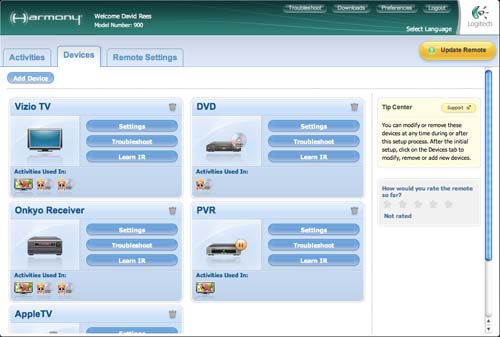 You will need the make and model numbers of all your media devices. The setup application makes it nearly impossible to mess up inputting your profile.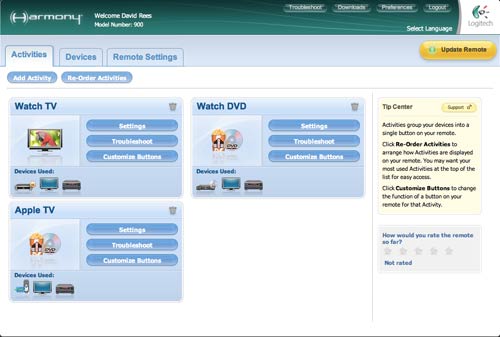 Once you have all of your components inputted, you can set up Activity profiles on how you plan to use these devices together, such as  'Watch TV', 'Watch DVD' or 'Play a Game'.  The 'Watch TV' activity for example would be configured to watch TV through your LCD TV, with the signal (channel changing/recordings) coming from your Comcast DVR, and sound being controlled by your A/V receiver. That means when you change the channel the remote talks to your DVR, when you raise/lower the sound, it talks to your receiver, and when you turn on/off that 'Activity' it turns on/off all of those devices in one fell swoop.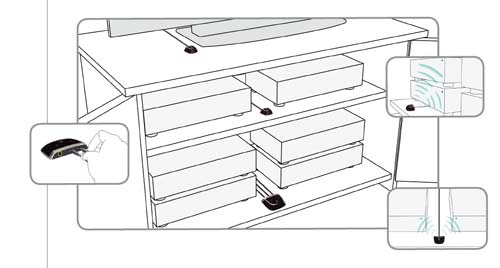 The Harmony 900 is almost identical to its less costly sibling, the Harmony One Advanced Universal Remote. The 900 has one major feature that the One does not, the ability to transmit in RF and the included IR Extender System. Unlike the usual infrared (IR) only remotes, where you must have to have line of sight between the remote and components, RF technology lets you control devices through cabinet doors, walls, etc. The Harmony 900 includes Logitech's IR Extender System, which receives your command via RF and retransmits it to your components in IR. A very nice ability if your media setup calls for it (although it does add to your wire clutter).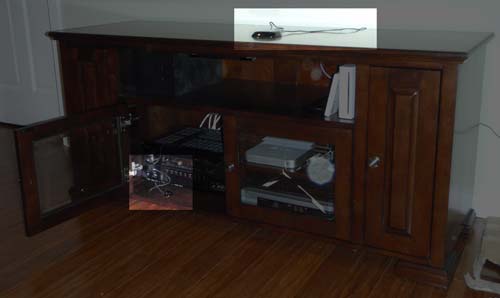 The entertainment cabinet we chose has glass doors and I do not need to change things from another room, so I do not need this feature. But for the purposes of this review I set it up and it worked perfectly from a nearby room. The top highlight box is the main blaster and the lower-left shows the mini-blaster.
I really like the remote but it did/does have a few issues I should mention. First off, Julie was not able to make it work with many of her older devices (Personally, I thought she should have used it as an excuse to upgrade everything). Second, I had issues getting it to communicate to my MacBook, which was the computer I was using to program my Harmony 880. I had to use my wife's iMac to program the Harmony 900. I have yet to get it communicating with my laptop but I have contacted Logitech and hopefully they can help me fix this problem soon.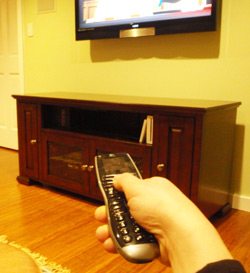 That said, the remote definitely works as advertised. It works perfectly with my TV, receiver, cable box, and AppleTV. At $400, it is expensive. If you do not need the RF capability, I would suggest Logitech's Harmony One as a comparable universal remote that can be found on the Net for under $200. But if you have a solid faced cabinet and do not like to have the cabinet doors open when using your system, the Harmony 900 is a great answer to eliminate remote clutter and bring greater Tech-Zen into your World.

Product Information
Price:
$399.99
Manufacturer:
Logitech
Pros:

Well made
Ergonomic design
Great button layout
High resolution touch screen
Highly programmable via computer
Controls up to 15 devices
Included RF system

Cons: